Shopify Thrives on Ecommerce Avalanche
Building organic sales is the mainstay of great businesses. Executives at these firms have the foresight to see new sales where none existed.
Amazon.com (AMZN) reported in February that its advertising business had grown to $31 billion in sales, up from only $4 billion in 2017.
For context, that is bigger than YouTube, and growing faster.
Amazon.com is a great business, full stop.
Since it was founded by Jeff Bezos in 1994, the Seattle-based company has operated under a unique business model, similar to a flywheel.
Bezos first built an online store with the potential for enormous scale, and it eventually became a quintessential business.
To accommodate the growth, he expected he invested in foundational elements like data storage, computer processing power and ecommerce software.
He called that business Amazon Web Services (AWS).
As a fledgling business, AWS got the benefit of having Amazon.com as its first and fiercely loyal customer.
Sales to Amazon.com allowed AWS to build tremendous scale. Eventually, the excess capacity at AWS was sold to other enterprises on a pay-as-you-go basis.
That business in 2021 had a $71 billion annualized sales run rate. (Full disclosure: My business has run on the AWS platform for nearly two decades.)
The foray in online ad sales followed a similar path ...
Amazon.com executives started the ad business by using digital display space to promote its private label goods and services.
Related Post: Tech Winners vs. Weaklings
The early success of the Kindle e-reader and Alexa smart speakers was built on the efficacy of those ads.
Later, key word searches at the online store were monetized, with the inventory sold off to ad buyers and agents.
It helps that digital advertising is the future of marketing.
Although some analysts worry about user privacy measures, ad buyers have moved all-in on digital. It's cheaper, more measurable and effective. It's also where the potential customers are.
Although trends were already in place several years ago, the pandemic rapidly accelerated the trend toward online shopping.
Along with that incredible trend … four dark, unstoppable forces are stampeding toward us … and millions of investors could be trampled underfoot.
Dr. Martin Weiss calls them the Four Horsemen of the Economic Apocalypse, and they're likely to disrupt everything about the way we live, save and invest now through 2024.
This week, Dr. Weiss and Sean Brodrick will share the proof. They will reveal how to protect your wealth from the dangers ahead.
If you value your wealth and your future, I suggest you learn more by clicking here now.
People understand that they can get the things they need by searching online, then using a mobile app or website to place orders. It's extremely easy and simple.
In turn, it makes sense for advertisers to seek those customers. The opportunity is ringing loud.
American shoppers spent a staggering $791.7 billion online in 2020, which is up 32.5% from 2019, according to the U.S. Census Bureau.
Shop Till You Drop
So, where's an incredible potential opportunity for investors to get in on this avalanche of sales?
With Shopify (SHOP).
Shopify builds an ecosystem for third-party sellers to move their retail business online.
By most accounts, the Canadian firm has a best-in-class platform that includes software for payment services, customer relationship management, accounting, logistics, financing and data analytics.
All these services compete with Amazon Marketplace, the third-party seller platform at Amazon.com. And that's not a problem.
This is not really a zero-sum thing. Many sellers use both platforms.
Shopify executives have been especially good at courting large vendors.
Given the strength of the Shopify backend, Meta Platforms (FB) announced Shops in May 2020. Walmart (WMT) Marketplace came only a month later. TikTok For Business began in October 2020, an ambitious plan to bring ecommerce to its social media members.
And at the Google I/O conference in May 2021, Alphabet (GOOGL) CEO Sundar Pichai announced the search giant was on working a technology partnership with Shopify.
Shopify reported in February that $175 billion in gross merchandise value occurred on its platform during 2021.
This is a revenue stream that is about half of the size of Amazon Marketplace, yet Shopify currently has no digital ad business.
Related Post: Google Doubles Down on Security
Digital ads are a no-brainer for Shopify, according to a February report on Stratechery. With its more than 1 million online retailers, and its ShopPay payment processor, the company has perfect knowledge of sales conversions.
This data could be used to build an ad network that buys digital inventory at scale on behalf of advertisers.
It's the perfect flywheel. With Shopify as the largest and most loyal customer, a new ad network would be assured of success.
It could quickly build scale and other the use of the network to partners that have been crippled by Apple's ad tracking measures.
At $737.94, Shopify shares trade at around 145 times forward earnings and around 13.6 times sales.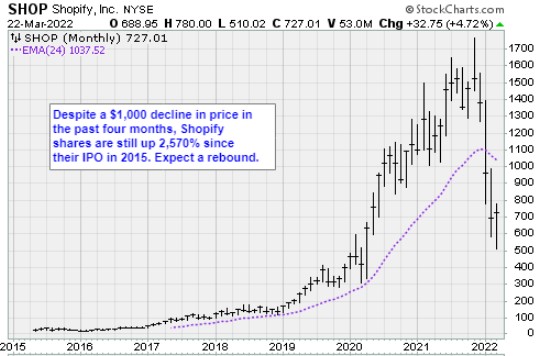 The stock has been under pressure this year as investors bet that COVID-19 sales growth will decelerate. This view misses the potential of the Shopify flywheel.
Longer-term investors should consider buying Shopify into weakness. Like always, be sure to do your own due diligence before buying anything.
Best wishes,
Jon D. Markman