Who Needs Flashy When Simplicity Delivers?
Last week, Warren Buffett collected on a $1 million bet with Ted Seides, a hedge fund manager at Protégé Partners.

In 2007, the famed investor and CEO of Berkshire Hathaway wagered that an unmanaged S&P 500 index fund would perform better than Seides' fund of funds during the following decade.

It was a bet of simplicity over sophistication. Personally, I'm a big fan of keeping things simple when it comes to investing. So, I'm not surprised Buffett came out on top of this bet.

He knows listening to Wall Street is not the way to beat the market. Broker fees are too high, and their longer-term performance is too weak. It's a lesson all investors should learn, and quickly.

The New York Post reports Seides' funds posted an average annual return of only 2.2% during the last 10 years. A $1 million investment would have grown to $1,220,000.

A gain is still a gain, yes. But consider this …

Socking away the same $1,000,000 in a low-cost index would be worth $1,854,000. That is an annual growth rate in excess of 7%!

Now, some would argue it was an exceptional period:

In 2008, the entire world was gripped by the financial crisis.

The Great Recession ensued.

Asset prices collapsed, and central bankers worldwide flooded the monetary system with cheap cash.

With only the 1980s Japanese experience as a point of reference, managers prepared for a decade of deflation.

While the gloomiest forecasts never materialized, the perilous period left many in shock. They spent the next several years underexposed, waiting for more fallout. In the process, they underperformed.

During the era, Buffett's own legend grew.

Now 87, and a billionaire 75 times over, Buffett built his fame and fortune by identifying great businesses, then giving talented managers the time and space to perform.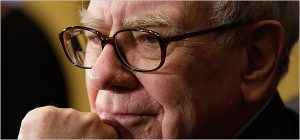 Buffett's formula is really quite simple.
He didn't require they build the best mousetraps. He simply wanted to ensure they ran consistently profitable enterprises with great cash flow, competitive advantages and high barriers to entry.

It's a very simple formula.

And I put it to work every day for my members. In my brand-new newsletter, The Power Elite, I'm interested in finding companies with terrific financial performance and a long, consistent history of rewarding shareholders. I'm not looking for celebrity managers or flashy products. You will not find Tesla or Snap Inc. on this list.

Rather, the companies I'm targeting have built dominant franchises in everything from water heaters and warehouse shopping clubs to pizza and cell phone towers. They make the products that people and businesses simply need to have.

The best news is they have made shareholders rich. My work shows that owning these shares meant an average annual rate of return of 15.6%. To put that in perspective, $1,000,000 invested over the past 10 years would be worth $4,261,655 today.

Many years ago, Warren Buffett described his initial investment in Wrigley …

The Chicago company had been making chewing gum since 1891. Buffett told the story of its simplicity. It used its scale advantages to squeeze out competitors. It was consistently profitable and accountable to stakeholders.

Wrigley never wandered too far from the things it did well. Juicy Fruit and Doublemint still exist today. And Wrigley, now a wholly owned subsidiary of Mars, is the largest maker of chewing gum in the world.

Like most things from Buffett, there is a lesson hiding there in plain sight …

Performance and consistency are everything in investing.

It's like speed and strength in football. It can't be faked.

The financial pages are full of stories about Wall Street money managers failing to beat the averages. CNBC ran a story in April claiming "almost none" have beaten the market over the past 15 years. Yet, the tools to find individual companies that have consistently won are bountiful. It's the will that is lacking.

I'm helping my members put together a winning portfolio of those names. While the list is not flashy, the numbers are undeniable. In the end, that is all that counts.

Best wishes,

Jon Markman

P.S. Every month, I introduce my Power Elite subscribers to a pair of stocks where the most-glamorous thing about them is their returns. Just since July, one of those names is showing a tracked gain of 11.6%. And our August additions are showing 3.4% and 2.7% gains, respectively. See why our simple stock-picking strategy works by clicking this link here. And follow the instructions at the end to see how you can go for these kinds of gains every month.