Space Is the New Frontier for Investors
The space race reignited last week when a SpaceX crew hooked up with the International Space Station nearly 250 miles from Earth.
The successful mission means the United States government is now pushing full speed ahead with plans to take astronauts back to the moon, to Mars and beyond.
It's a windfall for space exploration … and for many companies you may not be aware of.
Institutional investors have been looking forward to this moment for several years. According to a November 2019 report from CNBC, analysts at UBS, Morgan Stanley, Goldman Sachs and Bank of America believe space could be a multitrillion dollar opportunity during the next 10 to 20 years. That would be a giant step forward from the current $400 billion run rate.
The optimism is the result of new markets.
When the space shuttle Columbia exploded Feb. 1, 2003, NASA changed. Withering political confidence led to reduced funding. The federal agency that put a man on the moon was forced to nurture relationships with innovative commercial partners.
SpaceX, founded by Elon Musk in 2002, was the direct beneficiary of that shakeup.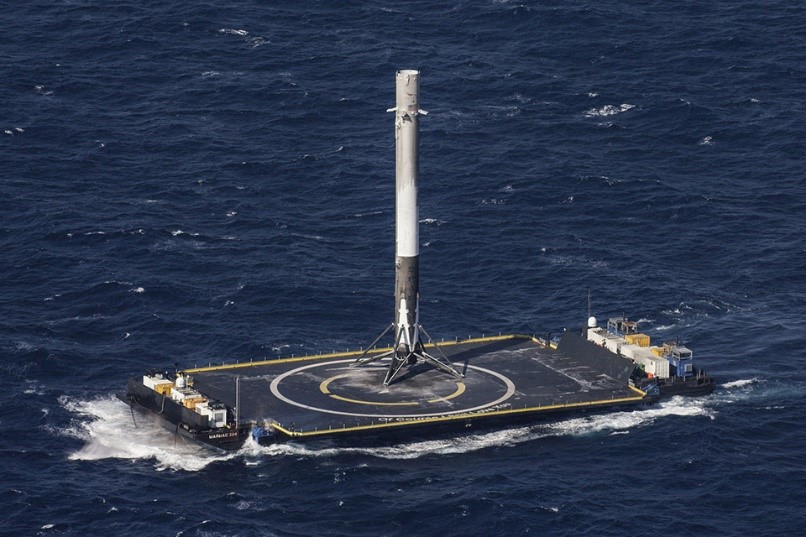 The Hawthorne, Calif.-based company reimagined rocketry. Its reusable solid rocket boosters changed the economics of space. The cost to deliver a kilogram to the cosmos under the space shuttle program was $54,500. Reusable gear from SpaceX, according to The Conversation, reduced that expense to only $2,720.
This new math opens up lots of new business models.
In addition to ferrying astronauts to the ISS, Musk has commercial ambitions for space tourism and Starlink, a really big idea to deliver high-speed internet access to the entire world. The project would blanket the planet with a constellation of 12,000 Low Earth Orbit communication satellites.
However, they certainly will not have the market to themselves.
Last April, CNBC reported that Amazon.com (Nasdaq: AMZN, Rated "C+") began working on Kuiper, a competing constellation of 3,236 LEO satellites. This follows a 2018 announcement to build AWS Ground Station, a network of 12 ground stations to transmit data to and from space.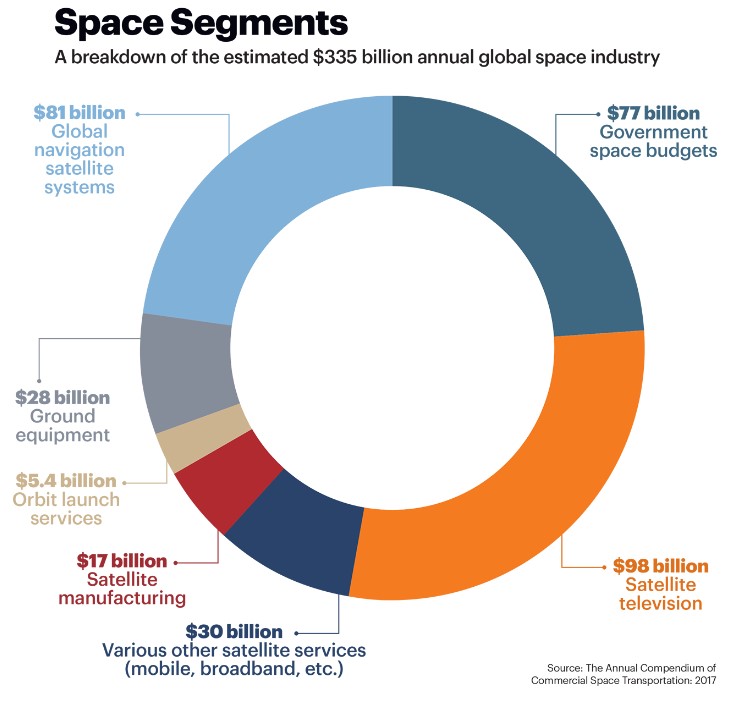 The new economics of satellites is breathing life into the communications businesses of legacy aerospace firms, too.
In addition to their defense contracting businesses, Teledyne (NYSE: TDY, Rated "B-") and Lockheed Martin (NYSE: LMT, Rated "B-") have significant exposure to extraterrestrial communications. Northrop Grumman (NYSE: NOC, Rated "C+") in 2017 spent $9.2 billion to acquire Orbital ATK, a maker of launch vehicles and satellite systems. And L3Harris Technologies (NYSE: LHX, Rated "C+") builds components to make satellite data actionable for the military.
Maxar Technologies (MAXR, Rated "D") may be a small fry comparted to big aerospace firms, but the Colorado company is on the cutting edge of space imagery and data analytics. The company operates a constellation of geospatial satellites that managers claim is the evolution of GPS. Their tech helps application developers understand where things are in the world and where they are moving to.
Related Post: Space Exploration Will Be Rocket Fuel for Investors
Meanwhile, many companies are still working through the heavy lifting of traditional aerospace. They are still building infrastructure to get machinery and supplies to space.
Boeing (NYSE: BA, Rated "D") is building the Space Launch System, the most powerful rocket ever conceived. If all goes according to plan, SLS will carry astronauts to the moon and possibly Mars. Space News reports that the first SLS launch is expected in the second half of 2021.
Components companies like Raytheon Technologies (NYSE: RTX, Rated "D+") are helping build spacecraft for crewed missions, space suits and momentum and reaction wheels, which are cooling devices used to control the altitude of a space vessel without rockets.
Heico Corp. (NYSE: HEI, Rated "C") and TransDigm Group (NYSE: TDG, Rated "C") make mission critical specialty electronics and specially engineereed parts. Often, these firms are the sole supplier of such items, resulting in extremely high profit margins. As the sector expands, sales momentum is also certain to grow.
Aerojet Rocketdyne Holdings (NYSE: AJRD, Rated "C+") operates in a similar capacity. Since 1945, the California company has been involved in the design and manufacture of aerospace and defense components. The company has helped power 1,600 rocket launches and is a major contractor to NASA, the U.S. government and leading aerospace companies like Boeing.
Related Post: Opportunities in the Final Frontier
Rocketdyne and Boeing are also vital to space tourism, another new space business model. Last year, Virgin Galactic Holdings (NYSE: SPCE, Rated "D") became the first public company in the sector following a merger with Social Capital Hedosophia. The company received 400 refundable deposits, and 7,957 online reservations to transport space travelers as soon as 2021, according to an Investor's Business Daily post.
The company is also working on rocket technology for hypersonic intercontinental travel.
All of these businesses are possible because the aerospace industry is at an inflection point. Innovations are leading to new business models and new end markets.
Savvy investors should look for weaknesses to get in on some of these positions. The future is here.
Best wishes,
Jon D. Markman