Stack Your Chips With This Semi Star
The semiconductor sector continues to experience tremendous growth, and trends suggest a lot more of the same in the years ahead.
The weakness in key stocks is an opportunity, and investors should really consider stacking their chips while they have the chance.
And all this news comes at a time when the global economy is still facing a major chip shortage.
But it's no surprise to see why …
Computer processors have become commonplace in everything from appliances and automobiles to the next-generation factories where those items are built.
To make these chips at scale, manufacturing is now mostly farmed out to massive contractors like Taiwan Semiconductor Manufacturing (NYSE: TSM).
One big issue: Factories are concentrated in Asia, and capacity is tight.
When Ford (NYSE: F), General Motors (NYSE: GM), Toyota (NYSE: TM) and other automakers cut orders in 2020 as the global pandemic spread, firms like Apple (Nasdaq: AAPL), Nvidia (Nasdaq: NVDA) and Advanced Micro Devices (NYSE: AMD) stepped in to fill the void.
The automakers — and their orders — moved to the back of the queue.
Over the course of 2021, that miscue might have cost the auto sector $210 billion ... and legacy automakers are still nowhere near being out of the woods.
As the sector races toward electric propulsion, Secretary of Commerce Gina Raimondo says carmakers will need even more microcontrollers and microprocessors.
Whereas internal combustion engine (ICE) vehicles may rely on approximately 200 chips, she claims a typical electric vehicle (EV) will need a staggering tenfold of that, according to remarks posted at the U.S. Department of Commerce.
Chip contractors are getting ready by building new capacity all over the globe at breakneck pace.
On Friday, Intel (Nasdaq: INTC) executives announced a plan to build a new $20 billion facility in Ohio.
The project could swell to $100 billion and augments the construction of a pair of new facilities under development in Chandler, Arizona.
And the growth in the industry doesn't come close to stopping there.
Taiwan Semiconductor is also building new factories in Arizona. When its Phoenix facility comes online in two years, it should help the Taiwanese company add to its staggering lead in contract chip manufacturing.
Related Post: Negate Nvidia News
TSM is responsible for 24% of the world's semiconductor output. And the company makes 92% of all high-end chips, including those used in iPhones, game consoles, data centers and 5G radio towers.
All this industry growth points to one major winner: Lam Research (Nasdaq: LRCX).
But Lam Research doesn't make chips.
Based in Fremont, California, this company makes the equipment used to manufacture chips.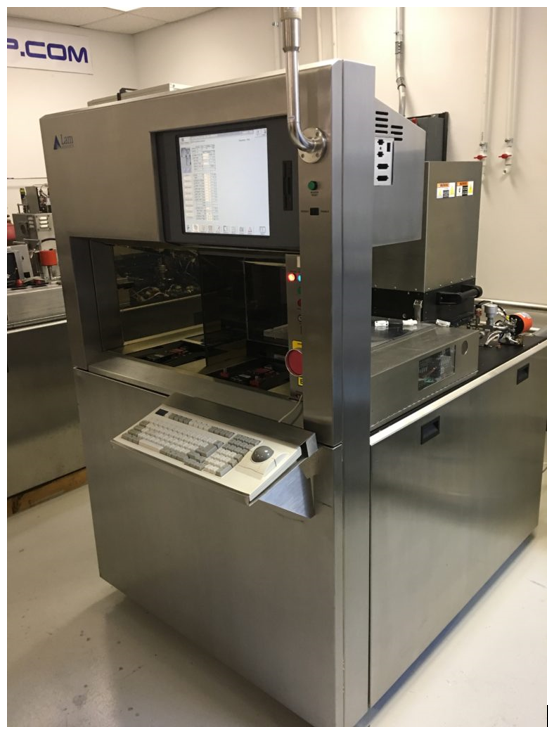 One of Lam Research's products. Source: SemiGroup.com
And as the leading supplier of these machines and processes, Lam Research works with all the biggest chipmakers, including TSM, Intel and Samsung.
Investors should understand what is happening: The entire world is racing to build chip-making capacity.
This is a long, expensive process that is being tempered by rising demand and politics.
From China to Europe and the U.S., the public sector is investing billions in chip-making infrastructure to ensure regional access.
The goal is to prevent a repeat of the shortages that crippled the auto sector in 2021.
A $52 billion bill pushed by Raimondo in June passed in the Senate. It is now working through the House of Representatives.
Related Post: Power Up With This Chip Champion
Public sector investment and structural growing demand for semiconductors are big parts of the reason Deloitte is so bullish on the industry. Their analysts predict this growth trend will persist well into 2030.
Companies like Lam Research will unquestionably be the beneficiaries.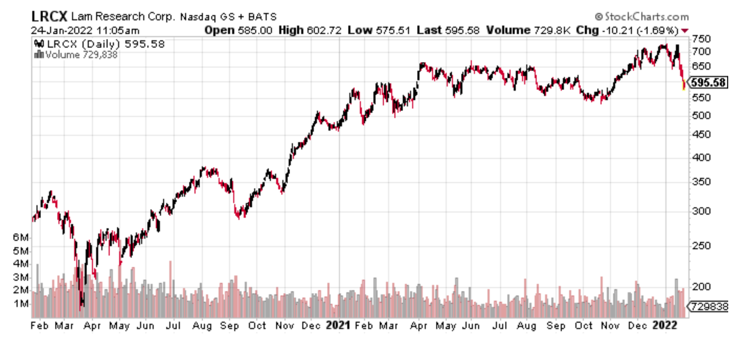 At a price of $605, shares trade at only 16.4 times forward earnings and 5.5 times sales.
The stock has fallen from a high of $730 in early January despite upgrades this year from Barclays (NYSE: BCS), Bank of America (NYSE: BAC) and Jefferies Financial Group (NYSE: JEF).

According to FactSet data published at Barron's, the average 12-month price target for the 28 analysts who cover Lam Research shares is $752.57, or 24.3% above current levels.
And given the political rush to build new infrastructure … that target may be low.
Longer-term investors should strongly consider buying Lam Research into the current weakness.
Best wishes,
Jon D. Markman