Stock Indexes Are at an Inflection Point
I don't usually use this space to write about the stock market. I prefer to tell stories about (1) tech businesses, like those I focus on in my service, Weiss Technology Portfolio, and (2) durable competitive advantages, like those I focus on in my service, The Power Elite.
I'm breaking with that today.
The major stock indexes are at an inflection point. The S&P 500 touched its 200-day moving average on Tuesday and a sell-off quickly ensued. Bears say the bear market rally is complete.
They better hope this is true. If not, they are looking at a world of hurt.

Let me explain and offer a few contingent ideas.
Bear markets live below the 200-day moving average. The tech-heavy Nasdaq Composite was rebuffed in both February and March on rallies toward that marker. Large sell-offs immediately developed. As a point of reference, on Tuesday, the Nasdaq got close to its 200-day moving average at 13,475 before sellers swooped in.
Bears have a lot riding on killing this advance.
What's different this time around is the corresponding 50-day moving average for the Nasdaq is on the rise. This is important. After meandering sideways for most of May, June and July, many key component stocks have completed base breakouts. They're ready to begin new upward trends. That was not true in February and March.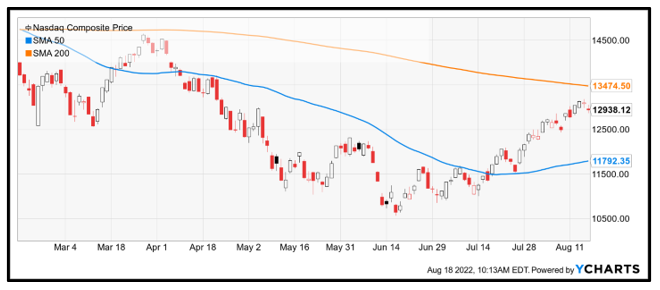 In the short term I'm expecting the Nasdaq to decline toward the 12,530 level. That pullback would work off some of the recent bullish enthusiasm. It would also give buyers a chance to circle back to the best investment stories. Focus on these three.
Apple (AAPL) has been on a tear since bottoming in June at $130. At $174.55, shares trade at 27.1 times forward earnings and seven times sales. At the time of writing, the stock is up over 18% in the past month and nearly 40% since its year-to-date low.
Apple's sitting on a treasure trove of new products, including the September release of iPhone 14, Apple watch Series 8 and a new Apple watch Pro, according to a report from MacRumors.
New AirPod, iPad, Mac Pro and Mac Mini desktop computers are due in October. The Apple ecosystem is the investment story. New products bring new upgrade cycles, and booming sales growth.
Longer-term investors should consider using any near-term pullback to $165 to add new shares.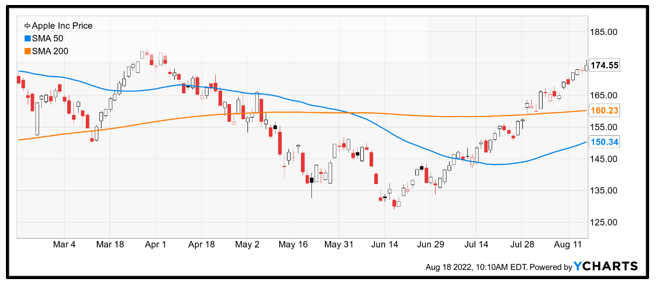 Cadence Design Systems (CDNS) is riding a wave of impressive design wins and surging revenue. The maker of microprocessor design software reported in July that Q2 revenues jumped 17.8% to $857 million. Profits during the quarter rose to $186.9 million, a gain of 19.9%.
Despite all of the talk about a semiconductor glut, business is booming as more companies build bespoke processors. John Wall, senior vice president of CDNS, noted that during Q2, the company recorded double-digit growth across all categories.
A pullback to the $181 level looks like the right entry point.
The Trade Desk (TTD) shocked investors on Aug. 8 when executives reported that Q2 revenues expanded 34.6% to $377 million and cash on hand ballooned to $88.5 million, a gain of 1,578%.
The Trade Desk often gets lumped in with Roku (ROKU), although its business is not at all the same. Its software platform allows ad buyers to programmatically place ads across most of digital media, including streaming services such as Disney (DIS) and Spotify (SPOT). This is a big business that will only get larger as all of advertising transitions to digital.
A pullback to $68 is the right place to take on new positions.
I wouldn't be surprised if the stock market retreats in the short term. Bears need this to happen, and stocks have become extended following an impressive rally from the June lows. Buyers need a breather.

However, long-term investors should neglect bears and use that weakness to take new positions in the best tech businesses.
Best wishes,
Jon D. Markman
P.S. On Tuesday, Aug. 23, Dr. Martin Weiss is offering a free tutorial for an "all-weather" strategy for consistently beating the market. Testing shows this simple strategy would've beaten the S&P 500 nearly five to one over the past 19 years! See how it works by signing up here.