Tesla Leads the Electrification Charge
A massive green-energy tsunami is fast approaching our shores, and electric vehicles (EVs) are at its forefront.
On Saturday, Tesla (Nasdaq: TSLA) reported it produced a record 237,823 EVs in the fiscal third quarter. And given the chip shortage that's plagued the auto industry, the number is even more jaw-dropping.
The EV boom is knocking on our door, and Tesla's winning the early battle. Investors would be wise to grab some exposure now while prices are low.
Tesla bears have been panning the company since 2010 when shares were first publicly issued. The initial complaint was that there was no discernable market for underpowered EVs that lacked range. When Tesla made a souped-up roadster with decent range, the argument shifted to scale.
•  Then, bears said Tesla could never make enough EVs to be profitable. Now that argument's been slayed, too, and Tesla's inevitable dominance is clear as day.
Unlike other automakers that manufacture vehicles then hope sales match production, Tesla's EVs are made-to-order. This business model has obvious advantages, and we're seeing them in plain sight.
Related Post: How Tesla Is Building an AI Powerhouse
As legacy car companies deal with the global semiconductor shortage, Tesla's nimbleness is paying off. The EV company's been able to substitute alternative chips and wire new firmware.
On the other hand, traditional automakers have hit a crunch: Incomplete inventory has piled up, and customers can't get new cars even if they wanted them. The results speak for themselves. According to a Detroit News report on Oct. 1:
•  Domestic Q3 sales at General Motors (NYSE: GM) plummeted 33%.

•  Despite the popularity of its popular Ram truck and Jeep lineup, Stellantis (NYSE: STLA) sales fell 19%.

•  A report from Ford (NYSE: F) is due today … and analysts expect a decline of 37% in sales.
And the news isn't much better for European and Asian rivals.
Tesla is at the forefront of three important automotive trends:
1. Electrification.

2. Digitization.

3. New manufacturing processes.

•  And while legacy automakers fight over a depleted stock of semiconductors without revamping production protocols, they risk being left behind. Consumers will upgrade to vehicles that are greener, cost less to maintain and connect more seamlessly in the digital world.
At the same time, Tesla is building game-changing factories, like its new plant, Gigafactory Berlin, which is currently under construction.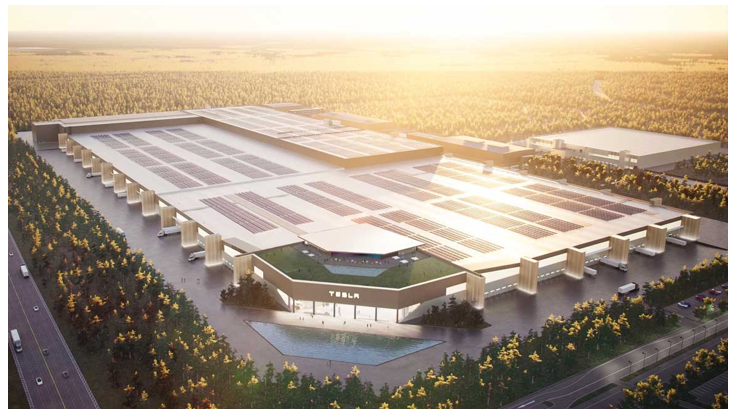 Tesla's Gigafactory in Berlin-Brandenburg will be the most advanced high-volume EV production plant in the world. Source: The Driven
Executives at Volkswagen (OTC: VWGY) — the largest carmaker by volume — are particularly concerned, according to a story from Business Insider Germany.
The company held a meeting on Thursday with 120 executive managers. Ralf Brandstatter, co-chief operating officer, told managers Volkswagen must change course to compete with the Tesla's Gigafactory Berlin.
•  Brandstatter noted that Tesla's new plant will be capable of producing vehicles three times faster than the most efficient Volkswagen manufacturing plant.
New Teslas rolling out from Berlin are going to set the standard in terms of profit margins … but competition, especially in terms of model design, will remain stiff.
Ford, GM, Volkswagen, BMW (OTK: BMWYY), Mercedes and the Asian automakers bring expertise crafting vehicles. And the Detroit companies are also building terrific-looking EVs. On Wednesday, GM will hold an investor day when executives are expected to announce how the company will spend $35 billion on its EV transition. The strategy involves making the leap from a car making business to a software platform company with much higher profit margins and more stable sources of revenue.
Related Post: Sleek, Fast Electric Vehicles Ready To Go Mainstream
Some of the new GM cars and trucks are impressive and will be big sellers … but investors would be wrong to assume this is a bad thing for Tesla. It's not. The EV story is one of a rapidly growing pie. There will be plenty of customers to go around.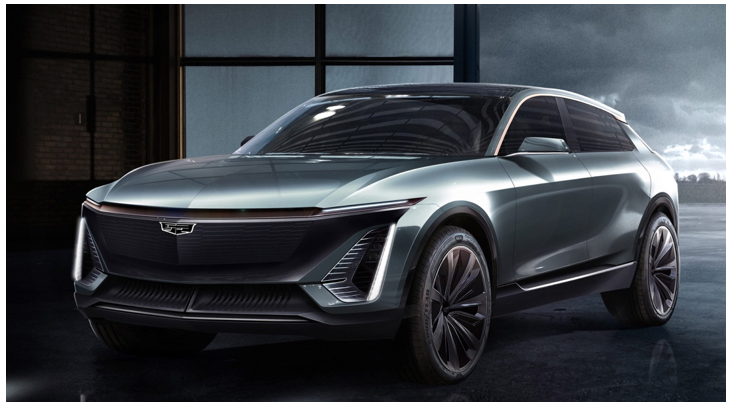 A prototype of Cadillac's first EV. Source: Detroit Free Press
EVs are an evolution of cars and trucks — not a new category. For most consumers, EVs will be better at everything than traditional internal combustion engine (ICE) vehicles: quicker, more durable and with better features … especially connectivity given their entirely digital platforms.
•  Currently, EVs comprise about 3% of the global market for vehicles. Dan Ives, an analyst at Wedbush, believes EVs will make up 10% of auto sales by 2025. His estimate for 2030 rises to 50%.
In 2020, 4.7% of new passenger cars sold were EVs. But, as analysts at Canalys report, that number could be ready to explode:
Tesla is scaling production to meet the growing EV market. The part many investors are missing is the Palo Alto, Calif.-based company is also in the best position to make those vehicles.
At the current price of $792.87, Tesla shares trade at 109 times forward earnings and 17.8 times sales. Longer-term investors should strongly consider buying the stock into significant weakness.
Best wishes,
Jon D. Markman