Digital ad spending has become the epicenter of advertising, and more and more companies are committing to digital ad strategies.
It's not getting any attention in the press, yet companies are spending more than ever to advertise their products and services.
For investors, this is a gigantic opportunity.
Advertisers spent $126 billion in 2021, according to Magna Global (NYSE: MGA), a media investment and intelligence company. The new spending is 19% greater than pre-pandemic levels, with digital ad sales growing fastest.
As bright as digital ad spending's future is, there's a business already thriving within the industry that's a proven digital transformation winner with no signs of slowing down.
I'm talking about The Trade Desk (Nasdaq: TTD).
The company, based in Ventura, California, programmatically matches up top-tier ad buyers like Nike (NYSE: NKE) with ad inventory everywhere on the internet not controlled by Meta Platforms (Nasdaq: FB) and Alphabet (Nasdaq: GOOGL).
It's a big business that will unquestionably get bigger as more brands sync up their digital transformations with ad buying.
What's So Great About TTD?
It boils down to strong leadership.
Although the company is competing with Google and Meta Platforms (formerly Facebook), The Trade Desk offers the best-in-class platform for ad buyers to quickly purchase inventory everywhere from websites and podcasts to connected TV platforms like Hulu, Fox (Nasdaq: FOX) and Paramount Plus.
Related Post: How Trade Desk Skirted Apple on Ads and Won Big
When Apple (Nasdaq: AAPL) made changes to the operating system that runs iPhones and iPads, several ad technology companies cried foul. The new OS promised to make tracking users far more difficult.
Trade Desk CEO Jeff Green didn't even blink.
His plans for innovation proved superior and his company was far ahead of the changes with a universal ID system. He correctly predicted no impact.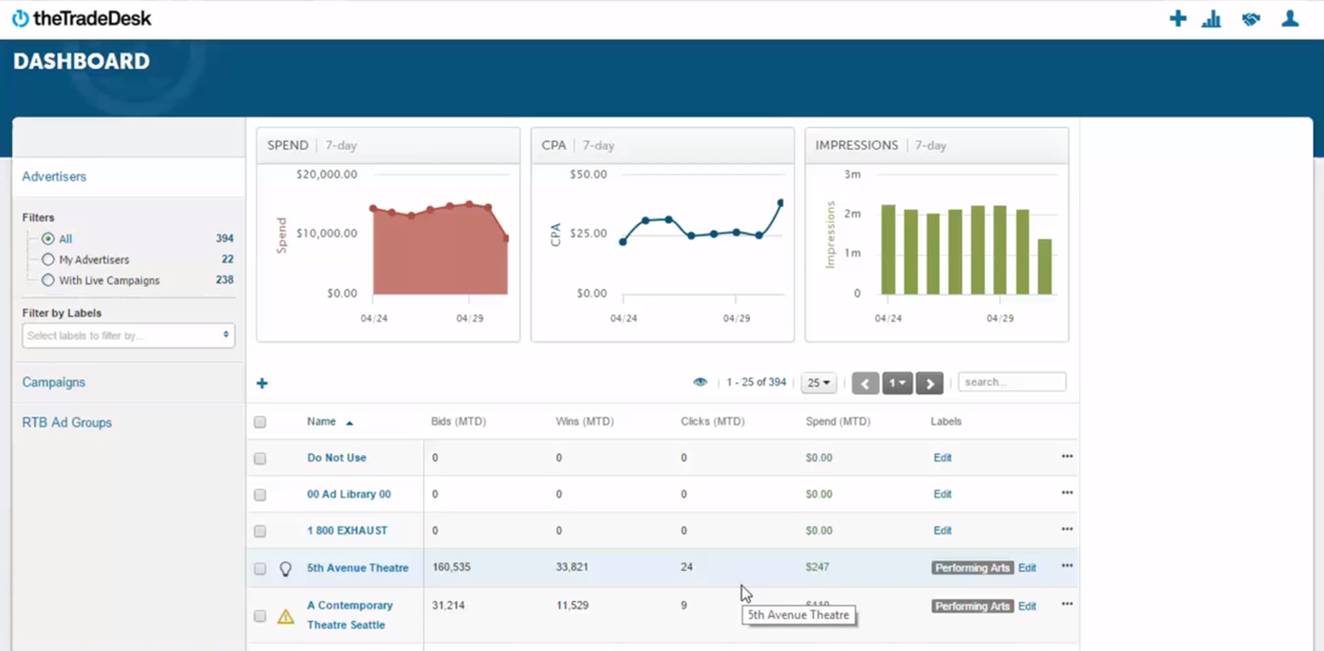 The Trade Desk's user-friendly data tracking system allows ad buyers to easily manage and optimize data-driven digital advertising campaigns. Source: GetApp
The company reported third-quarter financial results in November that were another blowout, beating earnings per share (EPS) consensus by 12.5%.
Revenue at the programmatic digital ad platform was $301 million, a 39% increase from a year ago.
Excluding political spending related to the 2020 U.S. elections, growth was up an impressive 47%. And Unified ID — its ad tech platform standard — continued its strong industrywide momentum.
Sector momentum is the second piece of the story at The Trade Desk. The company is riding a huge tailwind that is only going to get bigger.
There's no denying it: Digital ads are the future of advertising, and ad buyers want to be able to marry the data they are collecting with customer relationship management (CRM) software to targeted demographic profiles online.
And they want to do all of this in cost-effective real time. The Trade Desk provides an open platform that lets them buy ads using algorithms in the blink of an eye. This programmatic approach is fast, measurable and reliable.
This is impossible with traditional TV, radio, billboards, print and cinema.
Magna Global researchers did find that advertising revenues from traditional formats is rising. Those sources in 2021 will reach $268 billion, a 9% increase.
Related Post: Believe in the Digital Transformation
However, digital ad sales — consisting of search, social, video, banners and digital audio — should surge to $442 billion, up a staggering $105 billion, or 31% year over year.
That means the increasing competition from traditional formats is nothing to worry about.
Digital ad sales now represent 62% of total ad sales globally ... and that number is rapidly rising.
There is a lot of nonsense being spread about the digital ad sector. Contrary to what some would have investors believe, digital ads are not going away, either through OS level privacy changes or regulation ... and there is no slowdown in momentum.
The largest brands in the world are transforming their businesses with digital inputs.
Advertising is a big part of that new model. This means clear sailing for companies like The Trade Desk for the foreseeable future.
The big opportunity is shares have been knocked back in recent days. After climbing to $115 following the Q3 earnings report, the stock has settled back to $88.33.
This is a terrific bargain. The current business is only a fraction of what it will likely be as enterprises fully commit to digital strategies.
And it's no longer a matter of if this will happen ... it's happening right now.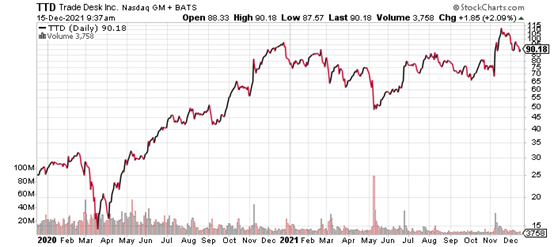 Trade Desk trades at 96 times forward earnings and 38 times sales. While these metrics might seem steep, they are within the historic range, considering the business has 81.6% gross margins.
They're justified and I expect them to keep growing.
I first recommended The Trade Desk to my Weiss Technology Portfolio subscribers on March 3. Shares are already up around 37% since then.
There is more to come.
And if you'd like to get more information on top tech picks like TTD, check out my Weiss Technology Portfolio service. Subscribers are currently sitting on open gains of 467%, 409%, 395%, 311%, 177% and 117%.
The digital transformation's incredible inertia is unlike anything we've ever seen.
Best wishes,
Jon D. Markman