The Gas Crisis in Europe Heats Up
Winter is coming and Russia is threatening to cut off natural gas supplies to Europe.
While politicians panic, investors can take advantage of the big opportunity here.
Gazprom announced last week that it would cut gas flowing to Germany to only 20% of capacity. The Russia-owned company transports natural gas to Europe through the Nord Stream-1 pipeline.
This crisis is a boon for nuclear power, and that includes companies like Cameco (CCJ).
Russia cutting Europe's natural gas supply was a likely outcome. In retaliation for Western sanctions, President Vladimir Putin began threatening to choke off supply only weeks after the invasion of Ukraine.
Related Post: War Fuels Inflation
This is Europe's nightmare scenario, being that the International Energy Agency notes 45% of natural gas supplies in 2021 to the continent flowed from Russia. Now Putin is playing his ace card, only months ahead of winter.
The decision could have a big impact in the U.S., too.
Global inflationary pressures have finally started to wane. Commodity prices —lumber, copper and wheat in particular — have all been in steep decline since June.
However, depleted supplies of natural gas in Europe are causing prices to spike. Those prices cause electricity costs in the U.S. to surge, where 38% of power plants use the commodity as feedstock.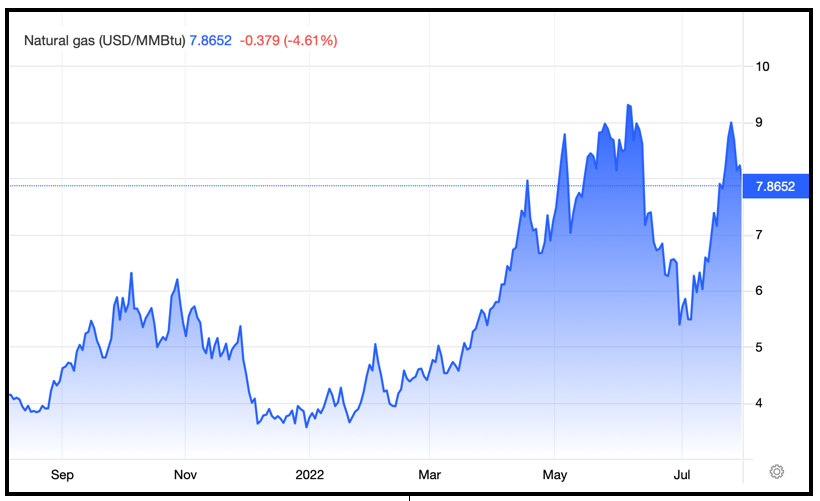 The Biden Administration has been pressing Europeans to offset gas shortages with increased nuclear power production … and there has been notable headway.
The European Parliament voted earlier in July to label some nuclear projects as green energy. The move paves the way forward for more nuclear power use on the continent, according to report in The New York Times.
Nuclear power has been derided for four decades. Germany previously planned to phase out all nuclear power by 2022, and the number of global plants peaked in 1996, when 17.5% of all electric power was generated in those facilities. Since then, public opinion has soured and the political will to keep plants open waned badly.
In 1986, a complete meltdown at the Chernobyl nuclear reactor in Russia led to the depopulation of 68,000 people across 1,000 square miles in northern Ukraine. And in 2011, 154,400 Japanese were evacuated when a nuclear plant in Fukushima was damaged following a tsunami.
Nuclear power plants all over the world began to close. Today, these facilities generate only 10.3% of the world's electricity.
Now winter, and Russia, are forcing governments to rethink closures and consider new investment.
The World's Largest Uranium Company
Cameco is uniquely positioned to take advantage of both the current geopolitical crisis and the inevitable transition back to nuclear power.
The Canadian uranium producer holds the world's largest deposits of the heavy metal. Executives at the Saskatchewan-based company are strategically removing supply from the market in an effort to maximize the value of those assets.
Related Post: NATO Growth Means Big Bucks
Without uranium, the fissionable material used in all nuclear facilities, there's no power generation.
During a conference call in February, CEO Tim Gitzel told analysts that since 2016, Cameco has removed 190 million pounds of uranium from the spot market.
Gitzel notes that the Netherlands, Poland, Estonia, Slovenia and Serbia are now studying their nuclear options. Also, the European Union has labeled nuclear power as a climate-friendly investment, giving ESG funds a green light to begin investing in the sector.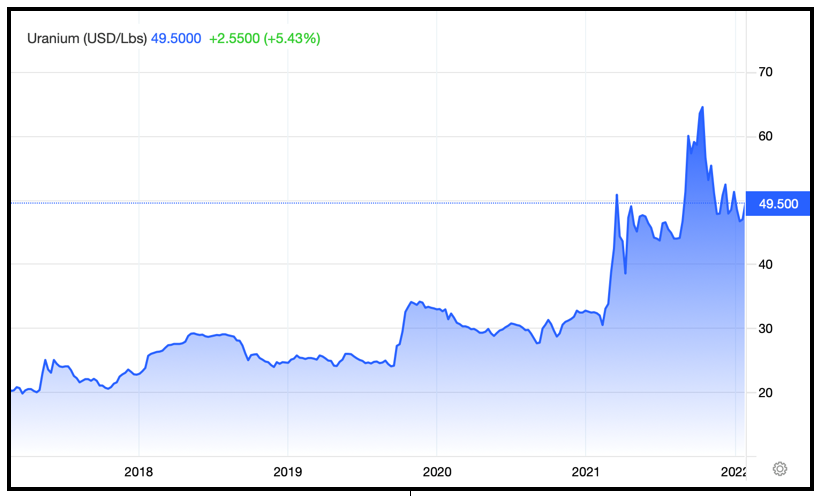 Uranium prices are currently at $49.50 per pound, down from a high in June of $64.50. Despite the weakness, prices in 2022 are still ahead 16%. And the heavy metal has more than doubled since January 2021.
Icing that cake, Cameco is licensed to produce 53 million pounds annually.
At a price of $25.77, Cameco shares moved out of a downtrend earlier this month. The stock trades at only 25.7 times forward earnings and 8.6 times sales. The current market capitalization is a modest $10.6 billion.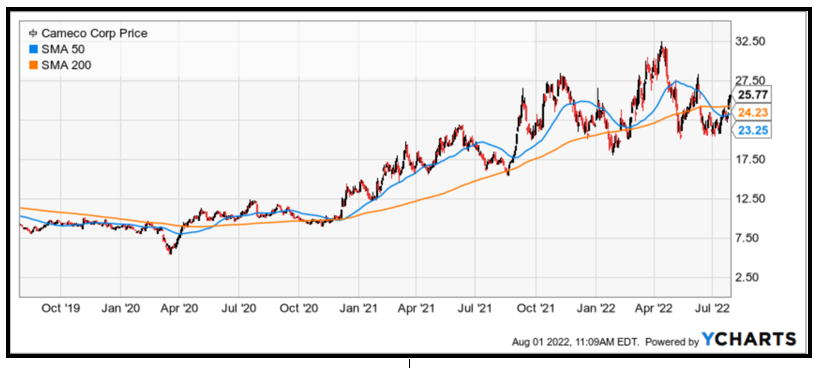 Five-year chart of CCJ prices. Source: YCharts
Prior to the war in Ukraine, the prospects for nuclear power seemed dim. Now, with colder months fast approaching and a Russian power play to choke off natural gas supplies to Europe, the power source is given new vigor.

Cameco is cornering the market for uranium, the key commodity at the center of the nuclear power rebirth. Longer-term investors should consider buying shares.
As always, be sure to conduct your own due diligence.
Best wishes,
Jon D. Markman
P.S. Within just a few hours of revealing the first Alpha Round investing opportunity, over $1.2 million was invested from Deal Hunters Alliance members. To learn about how you can join them in early-stage investing opportunities, click here now.