Forget fancy F-35 fighter jets … because in today's day and age, the real war could be digital.
China is waging a devasting digital war against the United States, and the Asian superpower is winning, according to former Pentagon software chief Nicolas Chaillan in a Financial Times exposé that broke on Monday.
Chaillan spent the past three years at the Department of Defense (DOD) working on cybersecurity and artificial intelligence. He retired in September, arguing China is already so far ahead that the battle is lost.
The expose is full of details about incompetence and the sorry state of unpreparedness at the DOD.
•  Chaillan says China is winning the global cyber war because of its dominance in artificial intelligence (AI) and machine learning. The state of cybersecurity at the Pentagon — in his opinion — is at the kindergarten level.
There's also some Congressional concern.
A mandated national security commission review in March found that China is making serious inroads in AI. The 756-page report warns that the U.S. is unprepared to defend or compete against a hostile China that is determined to weaponize cutting-edge technologies.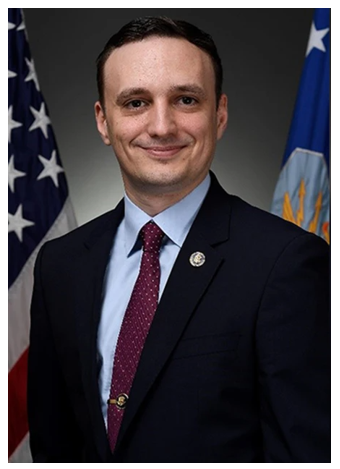 Nicolas Chaillan's government photo while working for the Department of Defense Source: NY Post
The commission called for the U.S. government to more than double its $32 billion AI research and development budget.
Normally, this would be good news for private sector firms like Alphabet (Nasdaq: GOOGL), which is considered the global leader in AI development. However, Alphabet has faced considerable employee backlash to DOD contractual work.
Related Post: Google on Track to Connect the Cloud to Space Superfast
Thousands of Google employees, including several managers, signed a petition in April 2018 to protest involvement with a Pentagon AI project called Maven.
The work would have used Google AI technology for video imagery for better drone strikes. Employees argued that Maven might also be used to target humans, potentially killing innocent civilians.
Google backed out of the Maven project three months later.
The Chinese Communist Party (CCP) faces no such corporate opposition. All Chinese companies are bound by law to help the CCP with technology initiatives.
•  Although U.S. companies don't have nearly this same kind of alliance to their government, there's still a way for savvy investors to consider playing this trend. 
And it's with Lockheed Martin (NYSE: LMT) … for reasons that might not be obvious.
Lockheed Martin is best known for those expensive F-35 fighter jets, yet the Bethesda, Md.-based company is also a major Pentagon provider for cybersecurity.
For decades, the company has been building platforms and tradecraft for military customers. Almost 99% of its $65.4 billion in 2020 sales came from public sector clients.
All of these accounts must be hardened against attackers. From cross domain solutions to cyber kill chains, platforms must identify intruders and quickly kill access.
While these systems are considered legacy by modern standards, they are the systems installed for the DOD. They're also the very software tools that will need serious upgrades if Congress and the DOD get more serious about cybersecurity.
•  The comments from Chaillan will change the narrative about cyber security. His assessment is as important as it is scary … and Washington politicians have made China a deserving bogeyman.
Since leaving the Pentagon in September, Chaillan has met with leaders at both the Air Force and the Marine Corps to discuss what can be done right now. Both leaders publicly acknowledged, according to the Financial Times, that a more disciplined approach was necessary.
Related Post: Data Migration Could Be a Year-End Winner
It would be nice if that approach involved cutting-edge software from companies like Google, but that is probably not realistic. The DOD is stuck with Lockheed Martin.
Shares trade at 13.9 times forward earnings and only 1.5 times sales. The company also has a $147 billion backlog of orders.
Although the stock has been mired in a trading range between $350 and $390 since February 2020, it looks like better times could be ahead, especially as politicians feel the pressure to increase spending on cybersecurity.
Best wishes,
Jon D. Markman