The Winner of Connected Cars Is Here
Politico ran a story last week about the future of connected cars … and the possibility that winners in the smartphone race might parlay that success into vehicles.
I wholeheartedly agree with this analysis.
The rationale made perfect sense, and there's already a pick I would suggest looking into to play this trend: Alphabet (Nasdaq: GOOGL).
The search giant is going to win connected cars.
Let's start with an important fact: Focusing on cars is the wrong idea. It's the connection — and how to pay for it — that's important.
It has always been about the connection, not the device.
Alphabet and Apple (Nasdaq: AAPL) found success in the smartphone race because executives focused on building out the respective operating systems that control connections to the networks. Foundational control of the connection is important.
From there, it's only a matter of deciding how much others must pay to play in those ecosystems.
Related Post: Why Ford Could Be the Next Tesla
Apple executives chose complete top-down control of iOS. They locked down everything, from the plugs and docks that connect to their devices to the software applications sold in its App Store. To win approval, third-party developers must pay Apple a fat seller's fee.
Alphabet chose a slightly different structure. The software giant, based in Mountain View, California, snags a 30% fee from software developers in addition to the use of vast streams of digital data.
The current incarnation of the internet, web2, is a two-way street: (1) Users collect information and (2) also willingly surrender data about their browsing history, location and other bits and pieces of metadata.
Companies like Google use these digital building blocks to erect giant software platforms supported by ad-based business models: platforms like Google Maps, for example.
And that is the reason Alphabet is destined to win connected cars.
Ford Motor (NYSE: F) signed a deal with Alphabet in February. Like Honda, Volvo, General Motors (NYSE: GM) and Stellantis (NYSE: STLA), the automaker based in Dearborn, Michigan, will toss its makeshift software operating system in 2023 in favor of Android Auto, which brings better infotainment and Google Maps integration.
That's a really big deal.
Politico notes that future riders are likely to do everything from ordering groceries and scheduling meetings to consuming entertainment inside the vehicle.
And all this information can be used to augment live Google Maps while serving as a valuable commodity for Alphabet to build other services.
Related Post: Tesla Leads the Electrification Charge
This is a brand-new business projected to grow to $56.3 billion by 2026, according to research firm MarketsandMarkets.
Alphabet shares have quietly outpaced the rest of big tech in 2021. Through Monday, the stock was up 69% year to date, compared with a gain of 54% for Microsoft (Nasdaq: MSFT) and only 36% for Apple.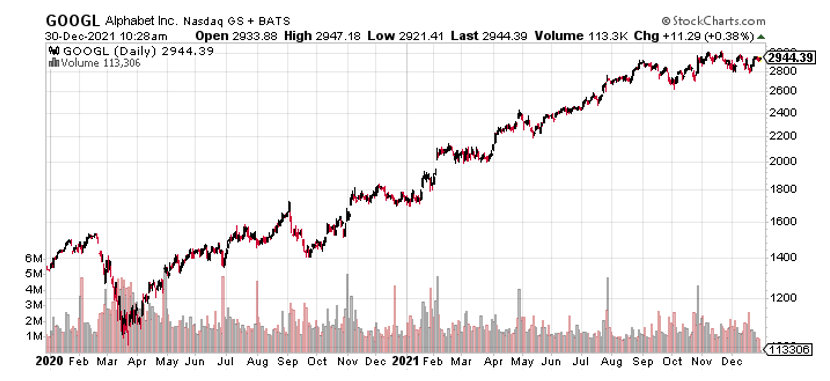 Although the market capitalization for Alphabet is now approaching $1.95 trillion, shares are still relatively cheap at 26.2 times forward earnings and 8.1 times sales.
Given the likely growth from new markets like connected cars, the stock could very well be a bargain.
Savvy long-term investors should strongly consider using any near-term weakness as a buying opportunity.
Best,
Jon D. Markman