This Semi Superstar Is Set to Shine Brighter
The center of the chip-making world is slowly moving West, and it's a big trend that investors should get in front of now.
On Friday, The Wall Street Journal reported that Samsung Electronics has finalized plans to build a $17 billion chip-making factory in Taylor, Texas, marking the latest in a series of major chip investments in the United States.
But this isn't surprising at all. The migration of the chip-making world was inevitable because semiconductors are now vital to modern manufacturing.
Savvy investors should ignore the politics and chip makers to focus on the companies supplying the tools ...
Related Post: 2 Semiconductor Makers Cashing in on the Chip Shortage
As devices get smarter and more connected, semiconductor use has skyrocketed. Consumers often think chips are relegated to smartphones, tablets, televisions and computers ... yet microprocessors are now important components in toys, appliances, healthcare and automotive applications.
According to a report from International Data Corporation, semiconductor growth surged 11% in 2020, and is expected to grow in 2021 at a faster 17% clip.
Given the rising importance of chips, controlling the supply chain has actually become a national security concern. This is especially pressing given that so much production capacity is currently concentrated in Asia.
When the pandemic hit in 2020, many automotive companies cancelled orders for the chips they needed for advanced driver-assistance systems like digital speedometers and anti-lock brakes.
Executives at Ford (NYSE: F), General Motors (NYSE: GM), Toyota Motors (NYSE: TM) and other firms assumed demand for new vehicles would be reduced with so much of the global economy shuttered.
The foundries that make the chips moved ahead with other orders, sending auto companies to the back of the queue. The result was a self-induced chip supply shortage.
The political response has been to move production stateside. The Biden Administration pushed a $52 billion bill through Congress to fund new investment in domestic semiconductor fabrication.
We're already seeing the bill's direct impact.
Intel (Nasdaq: INTC) and Taiwan Semiconductor Manufacturing (NYSE: TSM) are spending $20 billion and $12 billion, respectively, to bring new Arizona facilities online. Texas Instruments (NYSE: TXN) announced earlier in November that it would spend $30 billion to build a new manufacturing facility in Sherman, Texas.
The new Samsung facility in Texas is expected to make high-end chips for smartphones, fifth-generation wireless communications and artificial intelligence when it comes online in 2024.
It's the tip of the iceberg in terms of investment, though.
Related Post: The New War Is Digital
The South Korean tech giant is expected to spend $205 billion upgrading its global chip making operations during the next three years. TSM and Intel will spend $100 billion apiece.
That's an awful lot of spending, and it paints the picture that the companies supplying the components will be the biggest beneficiaries. One of those winners looks like ASML Holding (NYSE: ASML).
ASML Holding makes the advanced lithography systems used to print circuit boards onto silicon wafers. The Dutch equipment company has a virtual monopoly by controlling 90% of that market, and this includes all of the big customers like Intel, TSM and Samsung.
The windfall in new spending at the big chip makers is great news, yet that only tells half of the story. The other part is the democratization of chip design.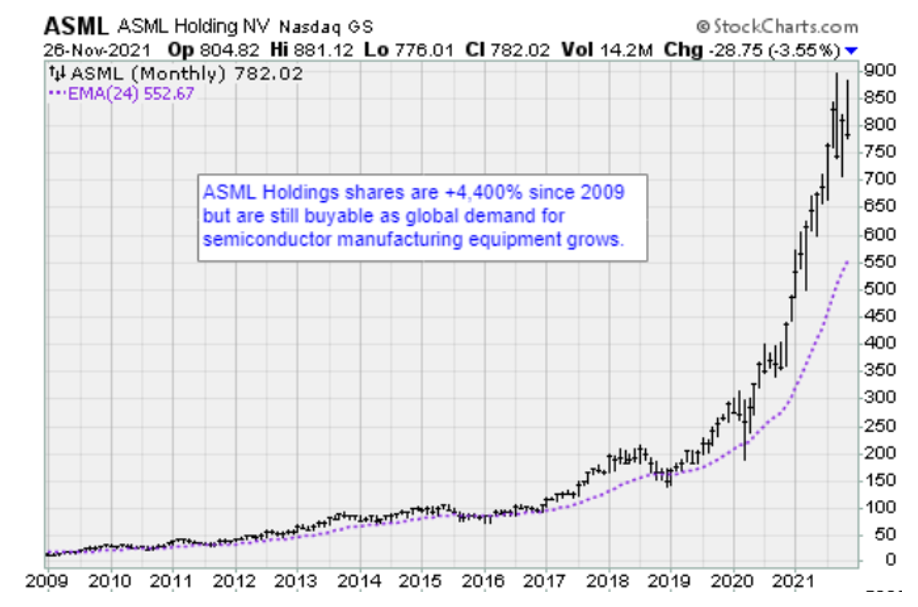 As companies like Apple (Nasdaq: AAPL), Alphabet (Nasdaq: GOOGL) and Amazon.com (Nasdaq: AMZN) begin to design more chips to meet the needs of specific applications, it will lead to more customers for chip makers, and better pricing power.
This trend is funding the hectic pace of capacity expansion.
The company reported in October that sales rose to a record $5.2 billion euros during the third quarter of 2021, up 32% year over year. Gross margins expanded to 51.7%, and operating margin hit 36.6%, according to a filing at the Securities and Exchange Commission (SEC). Profits shot up to $1.74 billion, a gain of 64%.
Given the rapid buildout of new semiconductor manufacturing facilities, CEO Peter Wennink expects sales could reach between $24 billion and $30 billion euros by 2025. Gross margins should be about 54%. Beyond that time frame, he sees 11% annual compound growth.
I first recommended this pick to my Weiss Technology Portfolio subscribers in August 2021, and they're currently sitting on a slight gain.
I still recommend savvy investors get in on this pick because the future looks awfully bright.
Best,
Jon D. Markman