This Start-up is Planting the Seeds to Disrupt Farming for Good
Plenty has a great name. It also has a compelling vertical farming idea that could change agriculture forever.
Last week, the San Francisco agricultural technology company scored $200 million in financing from some notable names. That list includes Softbank (the Japanese firm led by billionaire Masayoshi Son) and investment companies associated with Alphabet chairman Eric Schmidt and Amazon.com founder Jeff Bezos.
These well-heeled investors are betting on big disruption. And we should be paying close attention.
Farming has not changed much in centuries. Sure, there are self-driving tractors and even drones. But the basic process still involves sowing seeds and waiting patiently for Mother Nature to bless the soil with bountiful crops.
Plenty wants to change all of that.

As you might expect, given its Bay Area roots, the company wants to supercharge farming with information technology and a healthy dose of idealism.
According to a story at Inhabitat, Plenty claims advances in data science and micro sensors that will limit the use of water by 99%.
For some crops, those advances include the use of LED lighting, humidity control and planting techniques that can push yields to 350 times more than a typical farm.
And all produce will be free of pesticides, herbicides and GMOs.

Because the farms are indoors and no bigger than a suburban Wal-Mart or Home Depot, farms can be placed near large urban populations.
That's where the idealism kicks in.

Plenty has made getting nutritious, organic food closer to the people part of its mission statement.

A company blog explains that, over the past several decades, foods have actually become less rich in vitamins and minerals.
As weird as that seems, agriculture as a business changed from a patchwork of local farms to large, international agribusinesses.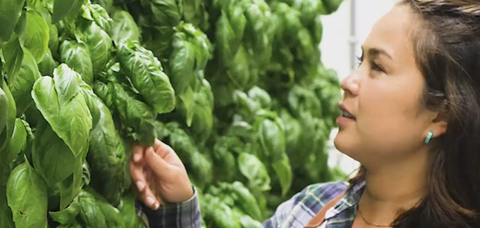 Innovation is focused on the economics of 3,000-mile supply chains. Fruits and vegetables are engineered to withstand the scars of long truck rides and the bruises of extended stays on shipping docks.
Matt Barnard, Plenty's young CEO, has a different take on innovation …
Controlling every aspect of the environment reduces costs. Reducing the farm footprint puts produce closer to the market. It also means the company can experiment with heirloom seeds like Black Vernissage tomatoes and Violetta Italia cauliflower.
Shrinking the supply chain to 50 miles has its tasty advantages.
In many ways, vertical farming is the type of innovation that science fiction promised us years ago. It just makes sense.
However, even just five years ago, the economics did not make sense. Falling prices for cloud computing, Internet of Things sensors, and machine learning have been key.
Information technology is being commoditized.
Just like fruits, vegetables and livestock.

That commoditization is changing entire sectors. It is reinvigorating old business models and inventing new ones — like vertical farming.
This is the type of change that most investors miss.

Some pretty smart investors already see it coming.
That's why Son, Schmidt and Bezos invested in a tiny San Francisco startup that's determined to turn farming on its end. Software modeling and sensor technology are pushing the world to a point where almost anything can be predicted with a high degree of certainty.
That opens up plenty of opportunities for investors.
Best wishes,
Jon Markman