VIDEO: Thanksgiving's Next, but the Halloween Effect Is Going Strong
Thanksgiving is next week. People are finalizing travel plans, menus and seating arrangements. And although Halloween might be in the rearview mirror, the Halloween indicator is alive and well.

Last month, I sat down with Weiss Ratings Financial News Anchor Jessica Borg to discuss the "Halloween effect" … the tendency for stocks to perform better in the six months from Oct. 31 to May 1 than they do from May 1 through the end of October.
And since the end of October, the S&P 500 is doing just that. After dipping below its 50-day moving average in mid-September, the index has since rebounded and is just off its 52-week high at the time of writing.
With massive inflation making headlines this week, investors are increasingly uncertain about where to turn for sound investments. The Consumer Price Index (CPI) hit 6.2% in October, making it the largest surge in more than 30 years.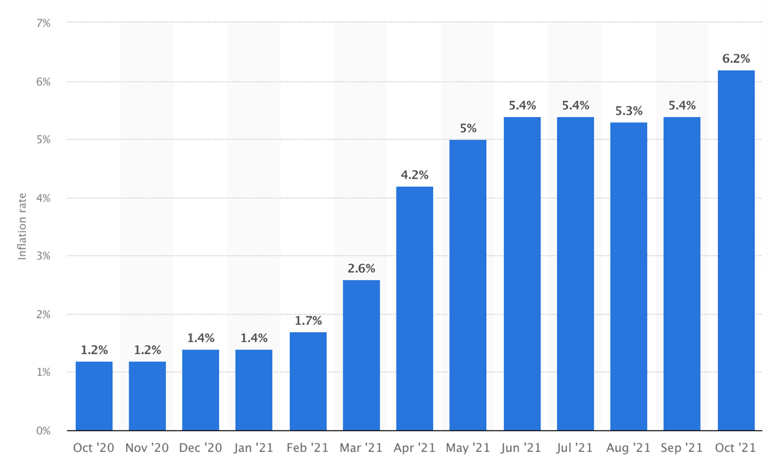 Monthly 12-month inflation rate in the U.S. from October 2020 to October 2021 Source: Statista
Wholesale price inflation, as measured by the Produce Price Index (PPI), was even higher. October PPI showed an 8.6% year-over-year increase.
The issue isn't specific to the U.S., either. It's global:
• China and Japan are experiencing record-high inflation.

• The U.K., Canada and the European Union are dealing with inflation at 20-year highs.

• Argentina is experiencing a 12-month inflation rate of 52.5%!
But despite those very real inflationary concerns, the growth of the population and an increase in productivity are two factors at the heart of a thriving market. And with those two factors currently in play, it's a signal the market will continue to climb higher.
In my interview, I explain the Halloween indicator in greater detail and recommend some large-cap stocks that are poised for a run under current market conditions.
Enjoy the video and your weekend.
Best wishes,
Jon D. Markman