Why Qualcomm Will Win the Augmented Reality Wars
Augmented reality (AR) is the next big thing in technology and investors need to get prepped for the new view.
Executives at Qualcomm (Nasdaq: QCOM) announced on Tuesday that the firm will collaborate with Microsoft (Nasdaq: MSFT) on next-generation chips for lightweight AR glasses.
This is a really big deal, and it means savvy investors need to strongly consider buying Qualcomm shares.
It's important to note that this is not the first time Qualcomm and Microsoft have worked together.
Snapdragon 850 chips power Microsoft's HoloLens headsets. The goggle-like headset debuted in 2010 as an expensive toy — a $3,000 add-on for the Xbox gaming console. The headset evolved to mixed reality, industrial and even military applications.
In March 2021, Microsoft announced that it was awarded a $21 billion contract to supply military-grade units to the United States Army.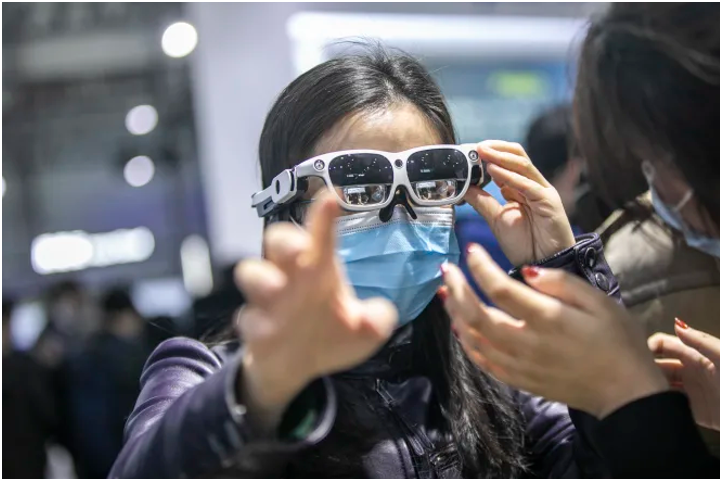 The attraction of AR technology is hands-free operation. The ability to immediately see information in real time makes a lot of sense for maintenance workers repairing power lines, or military recognizance officers out in the field. A lightweight device might have even wider appeal.
Related post: AI Stocks Aren't the Answer … Yet
That is clearly the market Qualcomm is focusing on.

At the Consumer Electronics Show in Las Vegas on Tuesday, Qualcomm CEO Cristiano Amon revealed Snapdragon Spaces XR, a development platform that will integrate into Microsoft Mesh software for lightweight AR glasses.
The last part is important. These devices are glasses, not goggles or a headset.
Moving into AR glasses would put Qualcomm and Microsoft in direct competition with Apple (Nasdaq: AAPL).
Tim Cook, Apple's CEO, told analysts in 2016 that AR could be huge and he then promised the Cupertino, California-based company would invest accordingly.
Since then, Apple has filed numerous patents, bought start-ups, hired new product managers and launched ARKit — its AR software developer kit. Apple's AR glasses are clearly in the product pipeline.
And Apple is a juggernaut that sets trends.
The company launched AirPods in 2016 to widespread derision. The wireless, white earbuds were expensive, had poor sound quality and looked like a pair of golf tees dangling from users' ears.
AirPods had the earmarks of a colossal failure … then cool kids started wearing them. Apple might have sold 90 million pair during the final two months of 2021, according to Ming-Chi Kuo, an analyst at TFI Asset Management.
Now it looks like Apple is about to do the same to AR … but Qualcomm is getting ahead of the wave of new buyers.
It's wrong to assume that Apple will be the only logical winner as AR goes mainstream. Qualcomm won the high-end smartphone chip wars by making a microprocessor that worked well across the entire Android ecosystem.
Today, its Snapdragon family of processors are used in 70% of higher-tier Android smartphones, including most new Samsung devices … even though the Korean electronics giant makes a competing processor.
Related post: 5 Ways to Play the 'Digital Transformation'
What Amon and his predecessors got right was integration and partnerships.
The deal with Microsoft continues in the tradition. The Redmond, Washington-based software giant has the marketing muscle to scale lightweight AR glasses in the market.
In the interim, Qualcomm has a strong portfolio of chipsets across various sectors that already exemplify its dominance.
Qualcomm was a featured partner in January 2021 at Nio (NYSE: NIO) Day. The Chinese carmaker revealed its ET7 sedan that features always-on network connectivity for high bandwidth/low latency 5G, Bluetooth 5.0, Wi-Fi 6 and the full vehicle-to-everything user experience.
Apple also relies on Qualcomm for 5G modems. After several years of litigation, the two firms inked a $4.5 billion deal in April 2019 to bring Qualcomm's best-in-class wireless technology to iPhones and iPads. The license will last until 2025.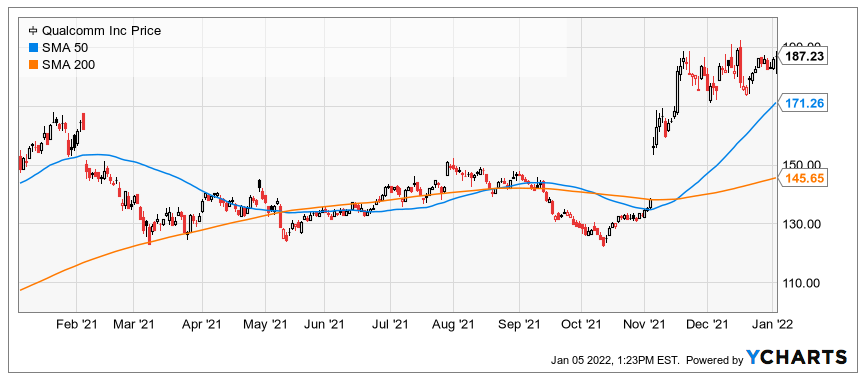 Qualcomm has been strong in a turbulent market. Shares are trading at $187.23 at the time of writing, less than 1% from record levels. The stock trades at only 16 times forward earnings and 6.2 times sales.
Given the strong prospects for growth in AR, these ratios look exceptionally cheap.
Best wishes,
Jon D. Markman