The 12 Weakest Cryptocurrencies
Many newcomers rush into cryptocurrencies precisely at the wrong time — when speculative buying has reached a frenzy, crypto exchanges are overwhelmed and prices are on the brink of the next crash.
That's a shame for two reasons: They lose a lot of money. Then they lose interest, bow out and miss out on the truly big opportunities.
To avoid this double disaster (and others), I recommend that both novice and experienced investors adhere to a few basic guidelines of crypto investing.
First, don't bet the farm. Unless you're a high roller, limit your stake to about 5% of your liquid assets.
Second, avoid parabolic surges. I know it's tempting. But it's the worst time to buy. Instead, start buying in small increments when the market is down. Then, add a bit more if it falls even further. Right now, for example, it looks like the cryptocurrency market is sliding into a relatively quiet sideways chop. Given the tremendous future potential of this new kind of money — and this new kind of Internet — it could be a good time to build a portfolio of the best currencies.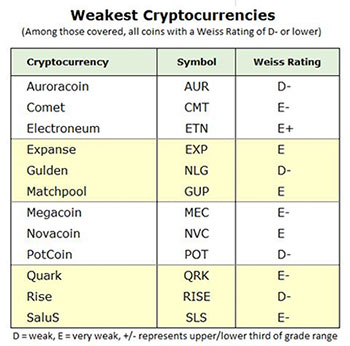 Click image for a larger view
Third, the most-promising cryptocurrencies aren't always the biggest.
Some of the most popular, like Bitcoin, can make you good money. But they are not always the coins offering the best combination of investment potential and advanced technology. Also consider newer projects like EOS or NEO.
Fourth, be sure to give the weakest cryptocurrencies a wide berth.
Based on our ratings model, which considers each coin's investor risk and reward plus technology and adoption fundamentals, coins with a Weiss Cryptocurrency Rating of D- or lower include the following 12:Auraracoin (D-), Comet (E-), Electroneum (E+), Expanse (E), Gulden (D-), Matchpool (E), Magacoin (E-), Novacoin (E), PotCoin (D-), Quark (E-), Rise (D-) and SaluS (E-).On the Weiss Ratings scale (from A to E), D is described as "weak," and E is "very weak." The plus and minus signs indicate the upper and lower third of each grade range, respectively.(Note: Weiss Cryptocurrency Ratings can change frequently. To get the latest as soon as they're released, subscribe here.)
Fifth, don't store your cryptocurrencies on an exchange.
It could leave you vulnerable to possible hacks and possible mishaps. Instead, move your crypto to a wallet that you control with your own personal key.
Last, always appoint a designated successor.
This is not just for estate planning. If something should happen to you — or you just happen to forget critical info — it's important for someone you trust to have all your login credentials and keys.
Best wishes,
Martin