4 coins lead surge in transactions
When cryptocurrencies fell sharply in price last year, many observers seemed to assume there was an industry-wide decline in usage and practical applications.
Nothing could be further from the truth.
As we'll explain in a moment, there has been a surge in transaction volume among leading coins, plus a major improvement in other adoption metrics as well.
The Internet Boom on Steroids
We saw a similar pattern in the late 1990s and early 2000s.
Prescient investors foresaw a new cyber age, rushed to buy dot-com companies, and rejoiced as their stocks soared …
… Only to watch in horror as the tech-heavy Nasdaq-100 Index fell 83% in the ensuing dot-com bust.
But they weren't wrong. They were just premature.
Even during the bust, the technology never stopped evolving. Internet speeds improved dramatically. Mainstream usage soon followed. Within 15 years, the entire world was transformed: One billion websites. Four billion users online. A single online shopping platform larger than all U.S. chain stores combined. The world's first trillion-dollar company.
Similarly, the blockchain superboom began when far-sighted investors predicted a new era of cyber money, rushed to buy cryptocurrencies, and exulted as their investments skyrocketed; only to watch in shock as the average cryptocurrency plunged 89.7% in 2018.
Again, they weren't wrong; just premature.
Even as crypto markets fell in 2018, development of the underlying technology continued. New cryptocurrencies were launched with far faster processing speeds. Greater adoption soon followed.
4 Coins Lead the Way with a Boom in User Transactions
Since February 2018, the volume of user (on-chain) transactions among the most widely used cryptocurrencies has grown dramatically:
Between February 2018 and March 2019, EOS saw its volume of transactions grow from fewer than 7,000 per day to nearly 4.6 million. That's 14 times more volume than Bitcoin's and eight times more than Ethereum's.
During the same time frame, Tron, an EOS clone with some modifications, saw its daily transaction volume surge from 3,000 in its prelaunch phase to 1.9 million.
WAX, a cryptocurrency used by a platform for trading gaming items, also enjoyed spectacular growth in transaction volume – to 4.4 million per day.
BitShares, one of the most widely used decentralized crypto exchanges, grew from 789,000 transactions per day to 1.5 million in the same period.
All told, these four alone grew their volume from 433,000 transactions per day in February 2018 to 12.4 million by March 2019.
In addition, newer cryptocurrencies rose to the top. So, in order to capture this growth, we compare the top ten in on-chain transactions in February 2018 to the top ten in March 2019: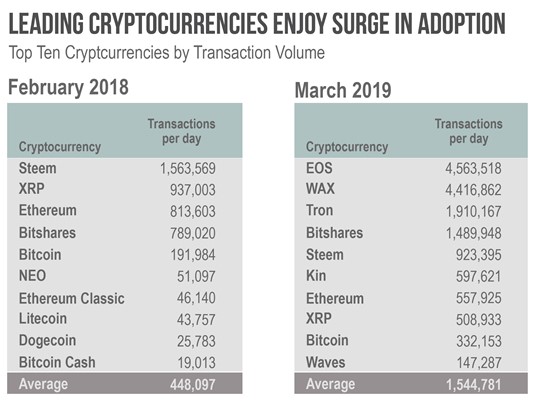 Among the ten cryptocurrencies with the highest on-chain transaction volume in March 2019, the average daily volume was 245% greater than the average among the top ten of February 2018. Although transaction volume is an important facet of adoption, the Weiss Crypto Ratings adoption model also looks at network security, network capacity, speed, scalability, market penetration, decentralization, developer participation, public acceptance and other key factors. All figures cited are based on a seven-day moving average of daily figures.

Of course, not all transactions are qualitatively the same.
A $10 million Bitcoin transfer is obviously more important than a simple vote or "like" on Steem.
Therefore, to fairly evaluate the adoption levels of each cryptocurrency, the Weiss Crypto Ratings model also deploys a wide range of other metrics, most of which also improved during the crypto bear market.
Among all rated coins,
Network security improved 115%.
Network capacity gained by 170%.
Developer participation grew 28%.
Popular interest, as measured by social media activity, was the only area where a decline occurred, down 22%. But with prices now recovering, that metric is also likely to bounce back.
Bottom line: We now have a unique convergence of both low prices and improved fundamentals, providing new opportunities for investors.
Just be sure you an afford the risk. Then, use our ratings to avoid the worst and invest in the best.
Cheers!
Martin and Juan