Beyond Bitcoin: Here's where the REAL crypto revolution is taking place
Without question, 2018 has been a trying year for cryptocurrency investors. However, the worst mistake you could make right now is to let falling crypto prices scare you away from this exciting revolution.
Of course, you have to ignore the hyperbole that the mainstream media throws at you each day, such as these two inflammatory headlines — one from January and one from August — from The New York Times.
Jan 13 vs. Aug 20 pic.twitter.com/IXm1lu20je

— Joshua Davis (@karbonbased) August 20, 2018
The media devotes all its attention to cryptocurrency prices, but it gives scant coverage to the underlying Distributed Ledger Technology (DLT) that makes these cryptos possible.
That's where the real revolution is taking place … and where savvy stock investors can make a lot of money.
Thousands of new blockchain projects have been launched around the globe. Some of the smartest nerds in world are right now building the blockchain ecosystem.
It includes — or soon will include — exchanges … better ways to process digital transactions … and public blockchains that can handle applications for finance, energy, healthcare, insurance, data storage, real estate and internet security.
Remember, it's still early morning in crypto. And there are plenty of upstart companies that will do very well as this cryptocurrency revolution evolves. There is also a select group of large companies with liquid stocks that had the foresight to stake their place on the front lines.
Like these four …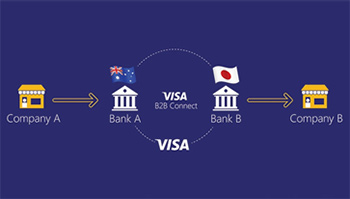 Visa B2B Connect uses technology based on blockchain architecture to process bank-to-bank transactions across the globe.
Example 1: Visa (V) has a new blockchain-based, business-to-business payment service called B2B Connect. It facilitates direct payments between institutions that cuts out the middleman for international transactions.
Think of all the trillions of dollars of international trade each year. Visa is positioning itself to grab billions of it. And that's just one of this company's major revenue streams!
Example #2: Oracle (ORCL) has a blockchain-based service, Autonomous Blockchain Cloud. This supply-chain tool can track a raw product from its beginning all the way to the retailer's shelf … and everywhere in between. If Autonomous Blockchain Cloud takes off, Oracle shares could be headed much higher.
Example #3: Microsoft's (MSFT) widely successful Azure cloud service has developed a blockchain application — Azure Blockchain Workbench — that developers use to build their own apps and prevent piracy. Software piracy is a multibillion-dollar industry, and I expect developers to stampede into a service that makes sure nobody uses their applications without paying for them.
Related story: Are Microsoft-style mega-IPOs coming back?
Example #4: Bank of America (BAC) is not only America's biggest bank, but it also owns the most — 50 and counting — blockchain patents. That's double IBM's cache, which is legendary for its patent accumulation. But Bank of America's internet security patent that authenticates personal and business data may be the most valuable of all.
There are hundreds more examples of publicly-traded companies that are investing serous amounts of money into blockchain initiatives. Investing in the right ones could make you a mountain of money. This list provides you with a good starting point.
And here's the clincher: All of these blockchain applications are centralized. In other words, they are owned and/or controlled by major corporations.
With decentralization, we can accomplish even more.
Banks and credit card companies won't need wire transfers to begin with.
In the health industry, all medical records can be uploaded, processed by AI.
Big pharmaceutical companies, who are addicted to the profits they make from addictive drugs, will have to change their ways.
Elections can be more accurate, more democratic and completely hack proof.
We've recently recorded a new video on these amazing blockchain opportunities. If you click here, it will begin playing on your screen immediately.
Best wishes,
Tony