Bitcoin Corrects After Almost Reaching $42,000
It was a volatile week for crypto.
Bitcoin (BTC, Tech/Adoption Grade "A-") set new highs close to $42,000 before falling all the way down to $31,000. Indeed, our timing model suggested we'd see a brief but sharp selloff before we approach new milestones.
And, sure enough, the King of Crypto and the broader market mostly recovered from what looks like that short-term correction. Bitcoin and most of the other biggest names ended the week in the red, but it was very encouraging to see such a forceful rebound after the quick drop.
The Weiss 50 Crypto Index (W50) fell 6.24% this week, but it rebounded nicely after the swift correction.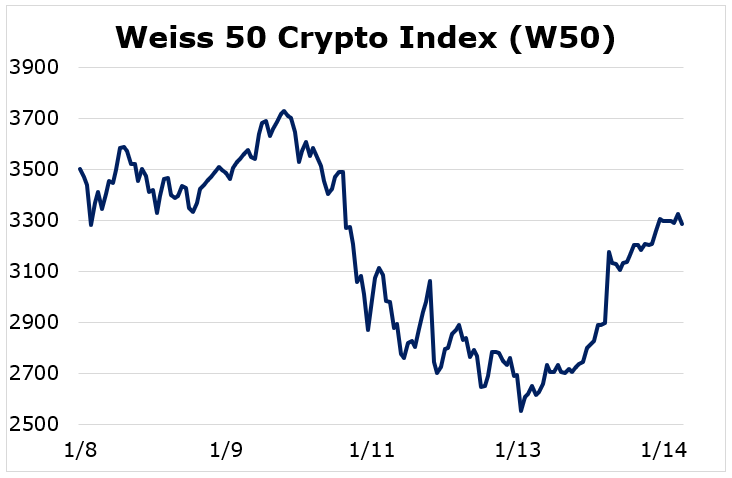 The Weiss 50 Ex-BTC Index (W50X) shed 3.83%. This was a bit unusual because Bitcoin typically holds its value better than altcoins during corrections … but they have been on a tear recently.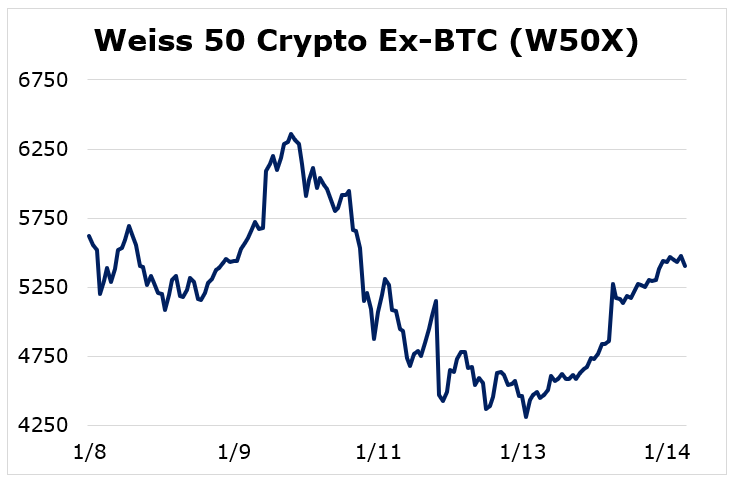 Breaking down this week's performance by market capitalization, we see that smaller and mid-sized altcoins outperformed the large caps.
The Weiss Large-Cap Crypto Index (WLC) sank 8.23%, but it rallied nicely after bottoming on Jan. 13.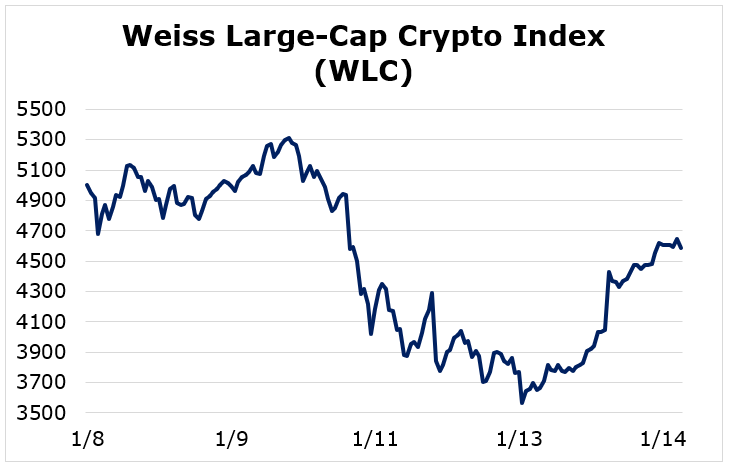 Mid-sized altcoins performed the best this week, as the Weiss Mid-Cap Crypto Index (WMC) grew 12.82%.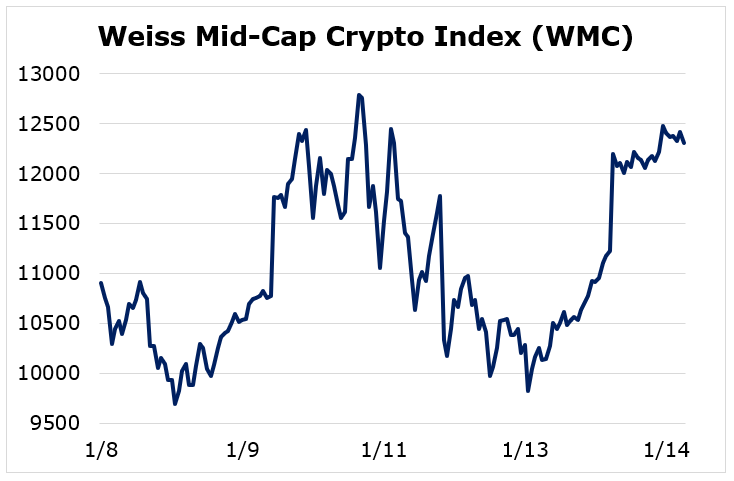 Small-cap cryptocurrencies weren't far behind. The Weiss Small-Cap Crypto Index (WSC) gained 10.83%.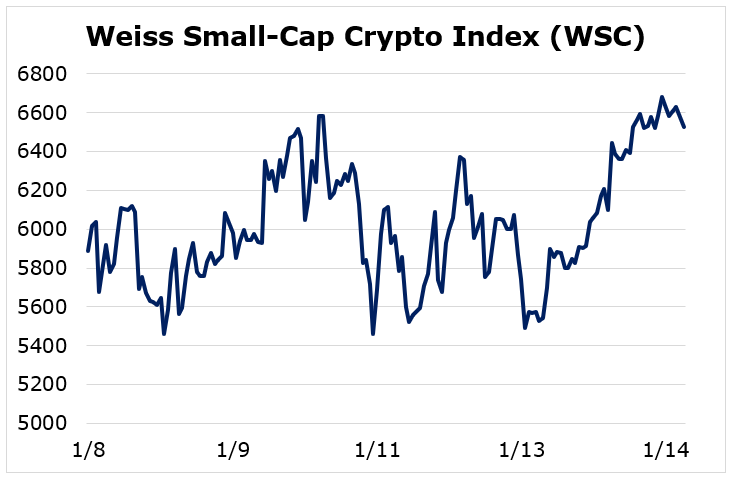 The crypto market saw an overdue correction this week, but that's a healthy sign moving forward. It's very encouraging to see a sharp rebound after a precipitous 25% drop: That kind of action shows this bull run is nowhere near finished, although I should point out that our Timing Model continues to warn the correction may go on a bit longer before running its course.
Bitcoin's crypto market dominance decreased to 69%, which was telling because altcoins managed to gain ground this week.
Normally, Bitcoin is able to sustain its value the best because it is crypto's "safe haven." This week, it wasn't the case because altcoins have continued their rally despite the substantial mid-week pullback. This makes sense as most of the buying recently has been focused on Bitcoin solely and, as a result, it stands to reason that this would be the asset that traders liquidate as some capital rotates into the altcoin space.
Ethereum (ETH, Tech/Adoption Grade "A"), the second-largest cryptocurrency and the primary enabler of enforceable smart contracts, traded flat this week. It still trails its all-time high of $1,400 per coin set during the 2017 bull run.
Given the importance of Ethereum's platform for decentralized finance (DeFi), the King of Crypto's little brother could be a sleeping giant.
All things considered this week ... at least we're not in the situation of one fateful German Bitcoin holder. Stefan Thomas, ex-chief technology officer of major crypto tech company Ripple Labs, told the New York Times that he's forgotten his IronKey wallet password. He's used up eight of 10 tries for accessing his digital wallet.
On an exchange, there are backup protocols for recovering funds, but this external hard wallet encrypts after 10 wrong guesses. His funds will be lost forever if he's unable to recall his old password. The funds in question? $240 million worth. Ouch.
Still, it's always safer to keep funds in an offline wallet. This is an example of an unfortunate situation, but our crypto is always safest in our own possession … just never forget to back up your keys and store them in a secure location!
With the way crypto is exploding, it will likely prove to be an even more expensive forgotten password. Macroeconomic factors and institutional adoption will continue driving the market to new heights during this phase, and we get more favorable news each week.
President-elect Joe Biden proposed his new $1.9 trillion relief package, and this is just the beginning of the new administration's spending. While the announcement of a new stimulus package was priced into the crypto market, the true effects on the dollar aren't yet revealed.
Federal Reserve Chair Jerome Powell will be forced to print outrageous amounts of money to keep interest rates from rising. This is why institutions are diving in headfirst, and it's why our long-term bullish stance on all things crypto remains unchanged.
Best,
Juan
Weiss Ratings is the only financial rating agency that covers cryptocurrencies. Click here for more in-depth information about Weiss Crypto Ratings, including the Weiss Crypto Price Indexes and crypto-asset reviews.