Bitcoin Corrects as Yellen Notes Crypto's Utility
It was another week marked by sharp, volatile swings across the cryptocurrency industry that were like honey to somnolent bears.
At the same time, the longer-term story remains bullish, as one of the most famous, most highly placed crypto skeptics conceded to no less a body than the U.S. Senate that there may indeed be some utility here. Yellen encouraged exploring their use for improving efficiency.
Bitcoin (BTC, Tech/Adoption Grade "A-") retreated again during the seven-day trading week ended Thursday, as it pared back the gains from last week's quick rebound. The King of Crypto's progress halted in the short term, but we did see a rotation into altcoins.
This led to Bitcoin underperforming the broader market. Our timing model suggested we'd likely see a pronounced short-term correction, but the overall health of the current bull-market still looks strong.
The Weiss 50 Crypto Index (W50) fell 9.57%, as Bitcoin dragged it into the red.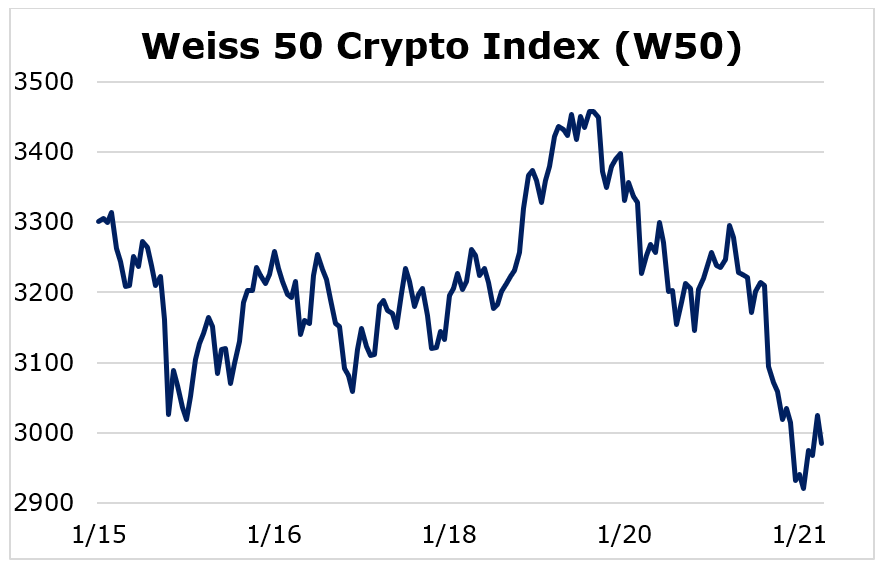 The Weiss 50 Ex-BTC Index (W50X) gained 4.58%, illustrating Bitcoin's struggles compared to the broader market.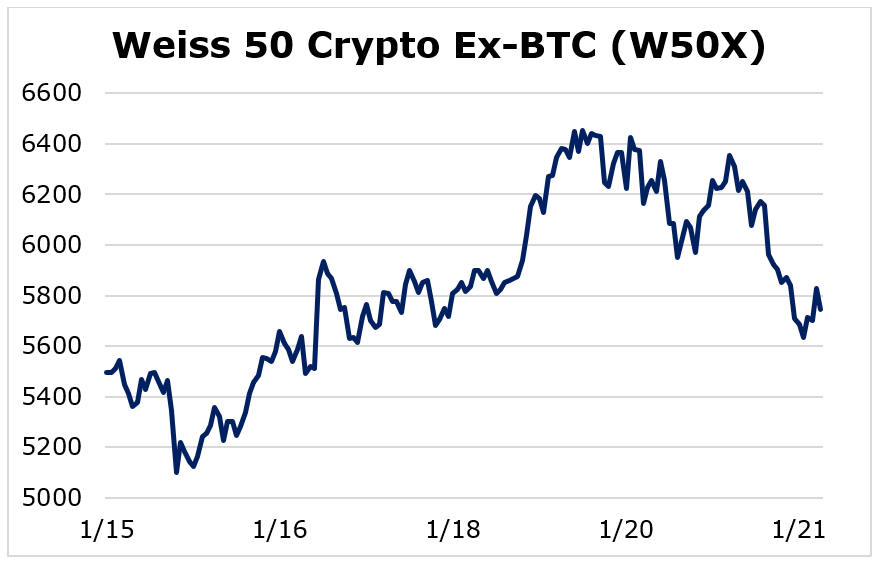 Breaking down performance this week by market capitalization, it's clear that the largest cryptocurrencies lost ground to the small- and mid-caps.
The Weiss Large-Cap Crypto Index (WLC) fell 9.76%, as the largest cryptocurrencies suffered.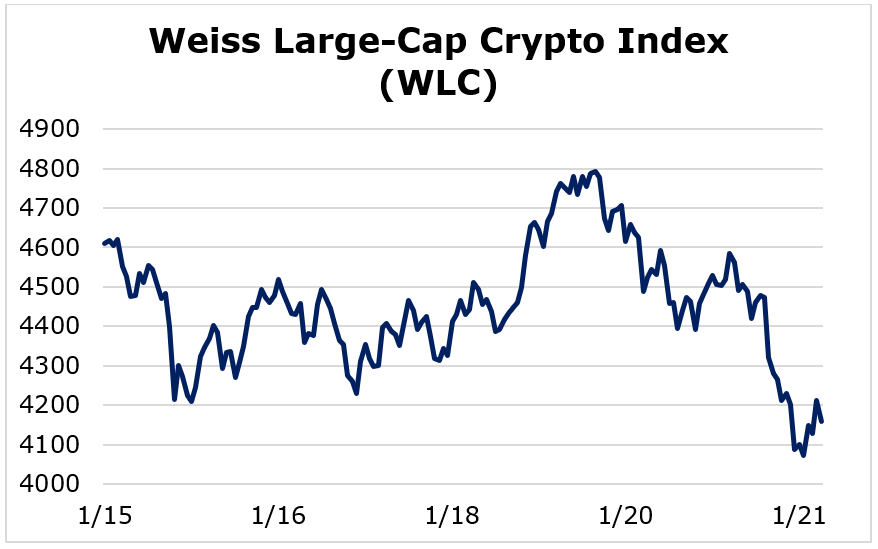 Mid-cap cryptocurrencies booked a slight gain this week despite facing significant volatility. The Weiss Mid-Cap Crypto Index (WMC) edged up 2.02%.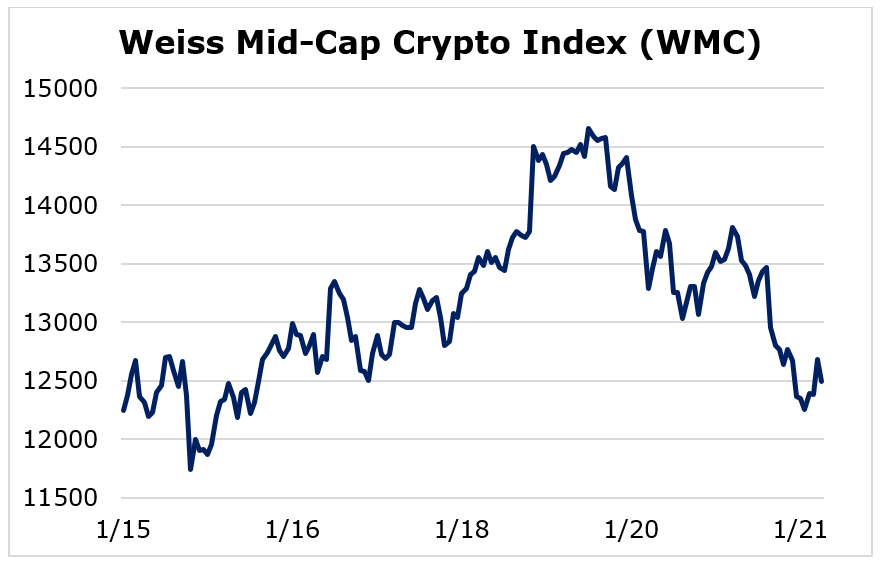 The small caps performed the best this week, but the gains were modest amid a lot of volatility in the space. The Weiss Small-Cap Crypto Index (WSC) gained 3.84%.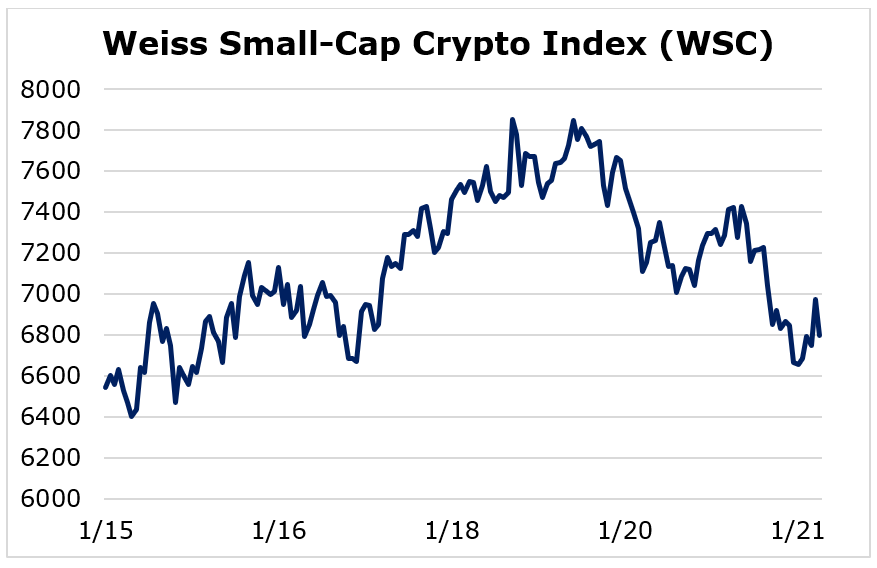 Bitcoin labored this week compared to the broader market, as we saw a rotation into altcoins. Bitcoin's dominance over the crypto market dropped four percentage points to 65%, which makes sense because altcoins are often bought using Bitcoin.
Usually, significant shifts from Bitcoin to altcoins signal the end of a market cycle, and for that reason we would be remiss if we didn't point out the rotation into altcoins — while real — may prove to be short-lived.
Ethereum (ETH, Tech/Adoption Grade "A-"), the King of Crypto's little brother and the second-largest cryptocurrency by market cap, struggled alongside the market dominator. After failing to sustain a notable breakout above $1,400, Ethereum fell back to around $1,200.
Bitcoin and Ethereum decoupled last week after BTC pared back gains and ETH set a new all-time high, but they traded in tandem again this week. This removes a layer of unpredictability if it's sustained, and we'll keep a close eye on how the top cryptocurrencies associate moving forward.
Bitcoin and the rest of the crypto market have a long way to go before sentiment turns overwhelmingly bearish because institutional adoption and unsustainable macroeconomic policy will continue to drive the industry's growth.
Sec. Janet Yellen was just unanimously approved by the Senate to take over as U.S. Treasury Secretary. In her testimony to the Senate just days ago, she claimed the U.S. needs to "act big" with the passage of new fiscal stimulus. The latest proposal from President Joe Biden costs $1.9 trillion, and it includes another round of stimulus checks.
The problem is a lack of sustainability — you can't pay for the present by mortgaging the future forever. But Yellen, alongside Federal Reserve Chair Jerome Powell, will ensure the U.S. continues recklessly spending and printing money on a massive scale.
As for the central bank, its "quantitative easing" efforts will impact the dollar's value, and we'll likely see inflationary effects in the near future.
Yellen has also recently changed her tune regarding the role of cryptocurrencies in the financial ecosystem. Originally, she went on record saying that they're mainly used for illegal transactions. But in her message to the Senate Finance Committee, Yellen encouraged exploring their use for improving efficiency.
While we've seen a significant short-term pullback from Bitcoin over the last two weeks, crypto's long-term outlook has never looked stronger.
And when Sec. Janet Yellen — a sage of the old school — acknowledges their utility, it only underscores this view.
Best,
Juan
Weiss Ratings is the only financial rating agency that covers cryptocurrencies. Click here for more in-depth information about Weiss Crypto Ratings, including the Weiss Crypto Price Indexes and crypto-asset reviews.