Bitcoin Holds High Ground as Stocks Lose Stimulus Hope
Bitcoin (BTC, Tech/Adoption Grade "A-") reached a new near-term high above $13,800 but pared back some of its gains late in the seven-day trading week ended Thursday.
The Weiss 50 Crypto Index (W50) was relatively flat, losing 1.05%; as we often note, gains of plus or minus 1% are par for the crypto course.
Indeed, we did see significant volatility over the course of the trading week, as COVID-19 cases surged and as Congress and the White House failed to reach a stimulus agreement. Traditional financial markets reflected similar uncertainty about the future.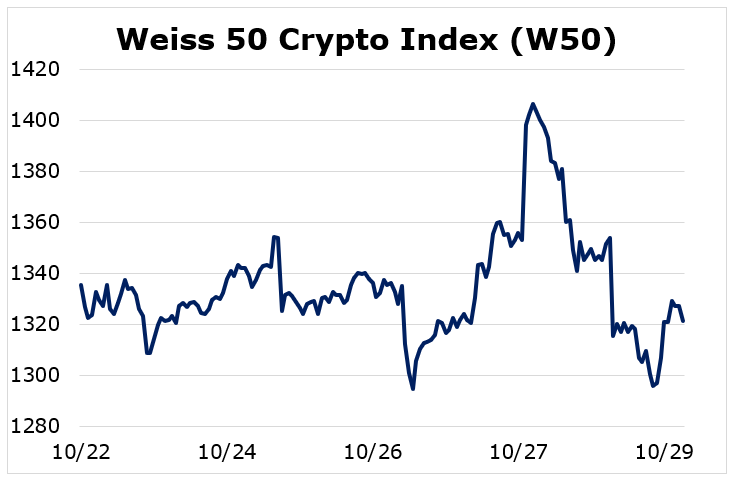 At the same time, Bitcoin's strength relative to the rest of the crypto market — and relative to financial assets generally — persisted, indicated by the 7.10% decline for the Weiss 50 Ex-BTC Crypto Index (W50X).
Investors flocked to BTC because it's the most established cryptocurrency, which helped the industry leader largely maintain its gains from the previous trading week and even test new highs.
Meanwhile, altcoins, with much murkier investment cases and still-to-be-determined "use" cases, struggled amid the rising uncertainty.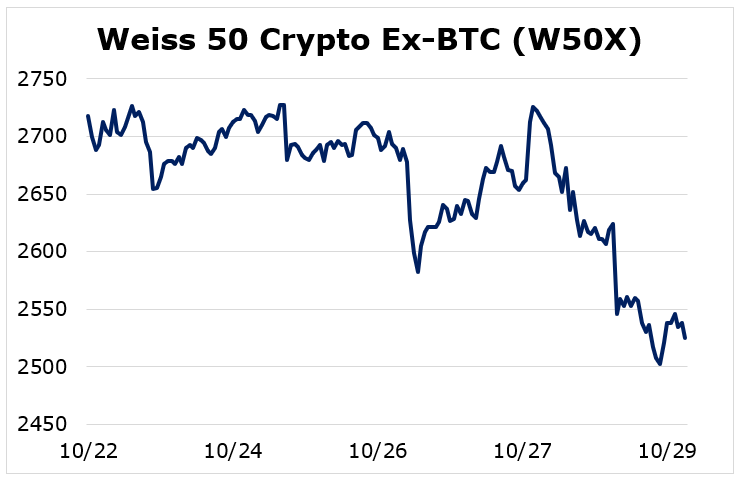 Segmenting the industry by market capitalization highlights this trend.
The Weiss Large-Cap Crypto Index (WLC) shed 0.39%, which is more evidence that the largest cryptocurrencies held their value better than the mid- and small-cap names.
The mid-caps struggled the most, with the Weiss Mid-Cap Crypto Index (WMC) losing 12.58%.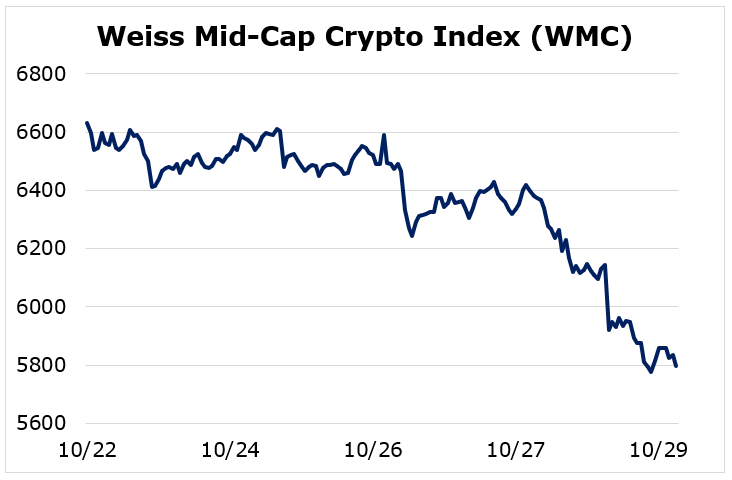 And the Weiss Small-Cap Crypto Index (WSC) fell 8.94%, again signaling the struggles of altcoins this week.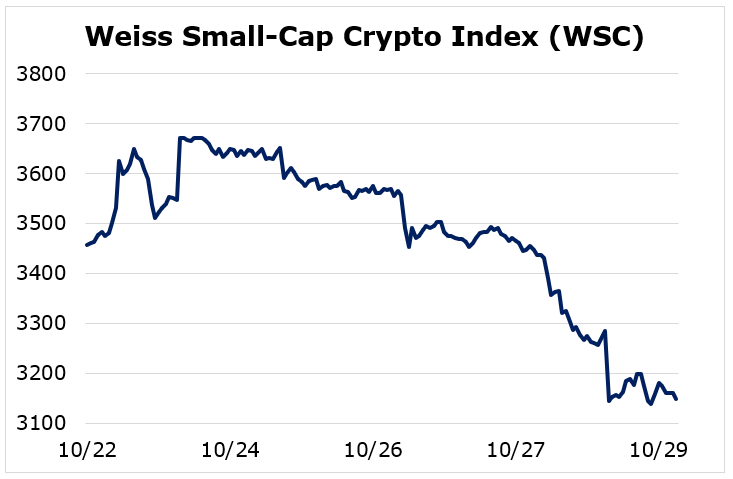 As I mentioned last week, investors have been piling into the biggest and highest-quality names, so large caps have continued to outperform the broader market. Bitcoin increased its market dominance to almost 64%, up roughly 2% from the end of last week.
Volatility in global markets is likely to continue due to rising COVID-19 cases, increasing civil unrest headlined by a contentious U.S. election and unprecedented central bank money-printing.
Up until very recently, Bitcoin's price moves have generally correlated with the stock market. We've seen some signs in recent weeks that may be changing. Fear continues to drive investment decisions amidst the rising uncertainty.
The failure of U.S. authorities to reach a new stimulus agreement cuts many ways. In the short term, it provided a boost to the dollar while taking the wind out of equity-market and commodity sails and, briefly, Bitcoin.
But Washington seems to have very little choice. Eventually, fiscal authorities will be forced to pass more stimulus aid. And this will, inevitably, weaken the U.S. dollar. More and more investors, therefore, are looking to safeguard their assets from inflation.
With the presidential election just days away, a major source of uncertainty is soon to be resolved. Of course, "soon" is more ambiguous this time around than perhaps ever in the history of United States presidential elections.
We may not have an immediate answer. There are already multiple legal proceedings underway, and multiple Supreme Court decisions regarding mail-in ballots. Who knows what will be counted and/or when it will be counted.
So, strap in. Get ready.
Bitcoin is leading the way right now — and, as we've often noted, that's a precondition for a durable crypto rally.
And continuing chaos surrounding old-school institutions only makes Bitcoin's case that much stronger.
Best,
Juan
Weiss Ratings is the only financial rating agency that covers cryptocurrencies. Click here for more in-depth information about Weiss Crypto Ratings, including the Weiss Crypto Price Indexes and crypto-asset reviews.