Bitcoin Pauses, Altcoins Cool, Fundamentals Strengthen
Bitcoin (BTC, Tech/Adoption Grade "A-") lost momentum during the seven-day trading week ended Thursday, pausing amid a months-long rally that's taken the industry to new heights.
While the King of Crypto's price corrected, it still slid less than the broader market, as is usually the case.
Folks, Bitcoin was due for a cooldown. And we still believe its fundamentals are strong. Indeed, any shorter-term price corrections allow the market to catch its breath. Old-school market analysts might refer to this as a "pause that refreshes."
The Weiss 50 Crypto Index (W50) fell 13.45%, showcasing crypto's struggles this week.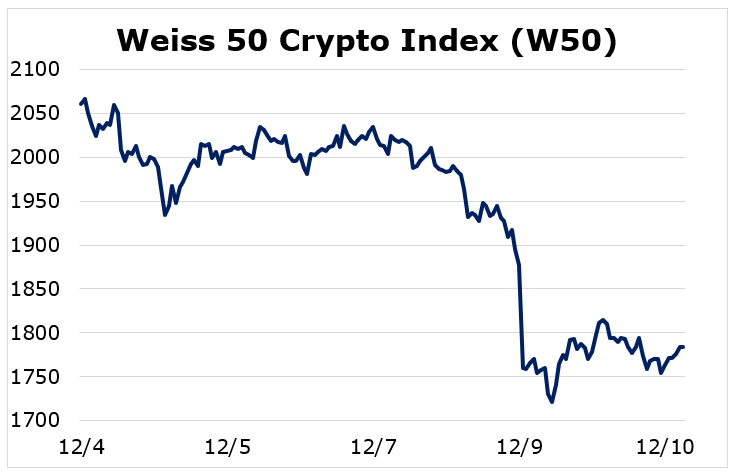 The Weiss 50 Ex-BTC Index (W50X) dropped 16.69%, confirming that altcoins underperformed Bitcoin.
Breaking down performance this week by market capitalization, we see that large-cap cryptocurrencies held their value better than their smaller and mid-sized cohorts.
However, the largest cryptocurrencies were not exempt from the pullback. The Weiss Large-Cap Crypto Index (WLC) shed 11.07%.
Mid-cap cryptocurrencies lost momentum this week, as the Weiss Mid-Cap Crypto Index (WMC) fell 18.72%.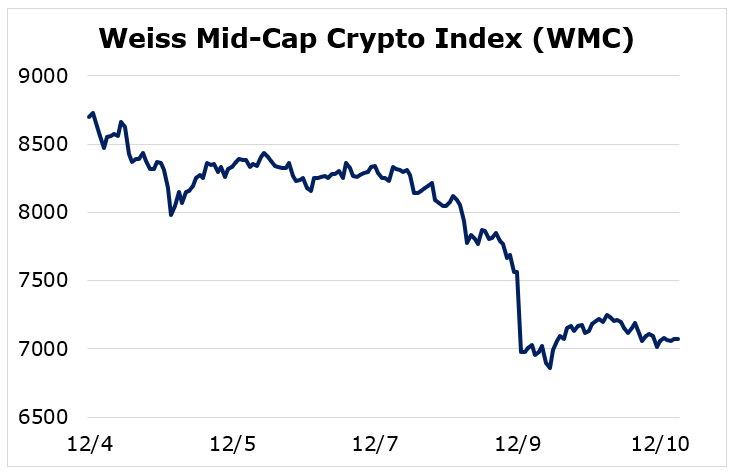 The small-caps struggled the hardest, shown by the Weiss Small-Cap Crypto Index (WSC) tumbling 19.44%.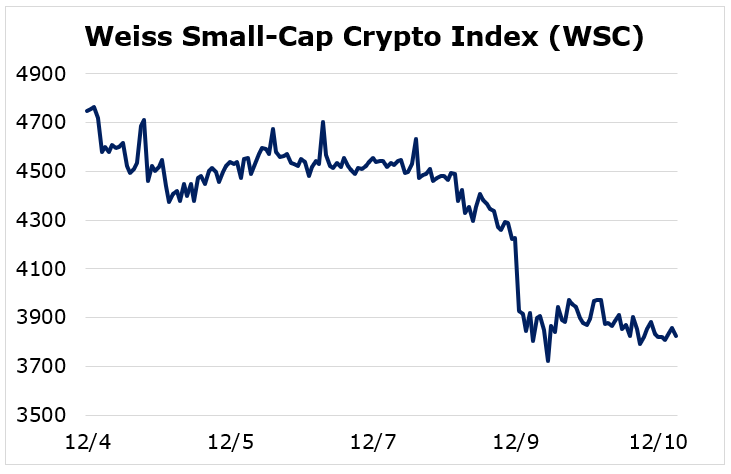 It was a tough week for crypto, as the market took a breather to consolidate and collect itself. Bitcoin held its value better than altcoins, and its dominance of the market increased a percentage point to 64%.
During periods of volatility, investors often look to the biggest players to ride out the storm. When the market corrects, it's normal for Bitcoin to suffer less than altcoins because the King of Crypto is seen as an established "safe haven" in the space.
Bitcoin's long-term fundamentals look stronger than ever, and any short-term correction is still healthy. If Bitcoin continues to drop further and consolidate, it could become one of the best buying opportunities in recent months. That's because the biggest drivers of this bull market — institutional adoption and unsustainable fiscal and monetary policy — have not changed at all.
In last week's update, we mentioned how institutional momentum was building. S&P Dow Jones announced the future launch of its customizable cryptocurrency indexing service, and its parent company S&P Global continues to hire blockchain engineers.
This week, Massachusetts Mutual Life Insurance Co. announced that it bought $100 million in Bitcoin. While seemingly inconsequential compared to the $235 billion the company has under management, it still sends a strong message about its stance on the future of institutional crypto adoption.
Additionally, MassMutual bought a $5 million equity stake in New York Digital Investment Group (NYDIG), the company that enabled the purchase. It's an investment in the infrastructure facilitating greater institutional investment.
MassMutual joins a growing list of institutional players entering the crypto space. Namely, Square Inc. (NYSE: SQ) and PayPal Holdings Inc. (Nasdaq: PYPL), two of the larger payment processors, are spearheading the institutional crypto market penetration with their early acceptance.
More large players will headline institutional adoption, and it's only a matter of time before the largest banks get in on the action. Citigroup Inc. (NYSE: C), the fourth-largest bank by asset size, believes Bitcoin could reach $318,000 per coin by the end of next year.
In a world where governments continue to print money and spend endlessly, encouraged by rock-bottom interest rates, more and more institutions are acknowledging the need for a viable and sustainable alternative.
Best,
Juan
Weiss Ratings is the only financial rating agency that covers cryptocurrencies. Click here for more in-depth information about Weiss Crypto Ratings, including the Weiss Crypto Price Indexes and crypto-asset reviews.