Bitcoin's Breakout Is a Sign of Things to Come
The big story this week is that Bitcoin (BTC, Tech/Adoption Grade "A-") finally broke upside resistance at $12,400 and even poked past the key $13,000 level, the annual high for 2019.
As is usually the case, Bitcoin's rally pulled the rest of the crypto markets higher too.
The first piece of evidence is the fact that the Weiss 50 Crypto Index (W50) was up a robust 16.57% over the seven-day trading week ended Thursday.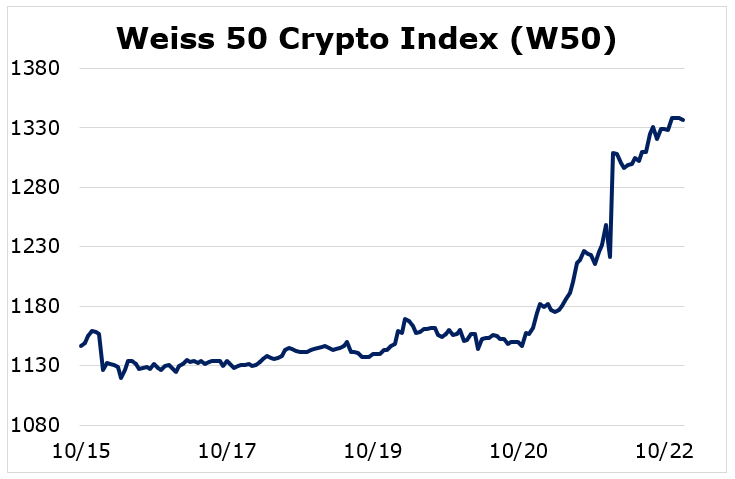 Now, the key difference between this explosive rally and other, similar up-moves we've seen in 2020 is that Bitcoin is the clear leader. Indeed, we note that altcoins lagged somewhat, as the Weiss 50 Ex-BTC Crypto Index (W50X) was up "only" 10.57%.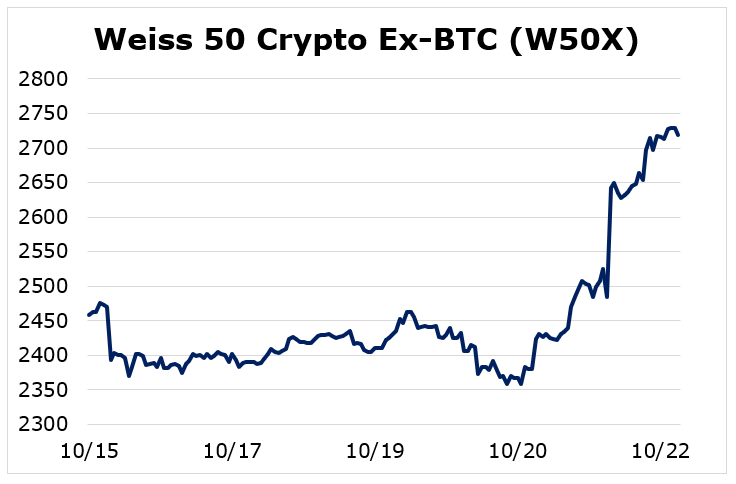 Splitting the industry by market capitalization provides different angles on the trend.
The Weiss Large-Cap Crypto Index (WLC) was up an impressive 18.33% this week.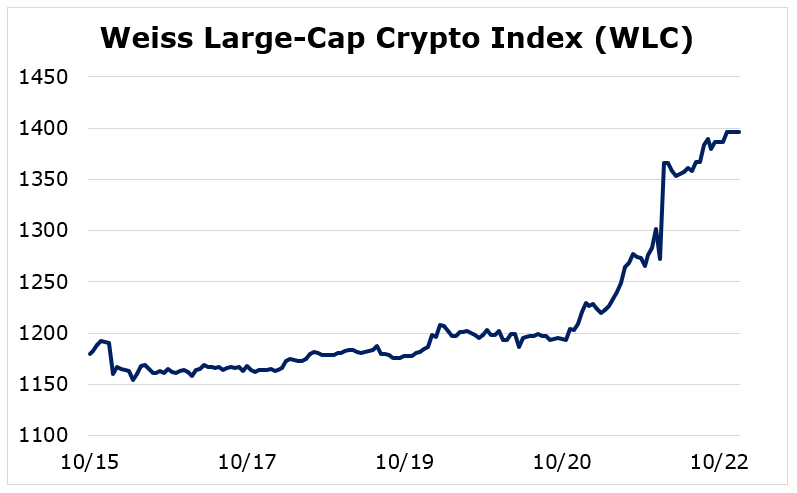 Meanwhile, the Weiss Mid-Cap Crypto Index (WMC) was up about half as much at 8.71%.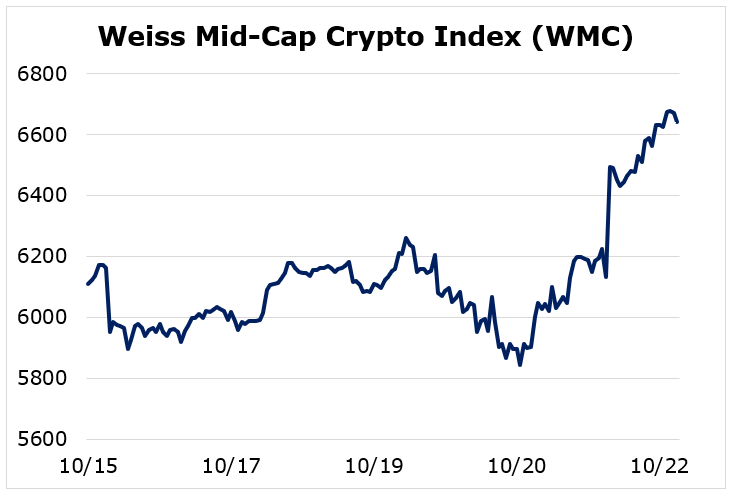 And, finally, once again, the small caps brought up the rear, as the Weiss Small-Cap Crypto Index (WSC) was up just 1.94%, which is basically "flat" when it comes to crypto moves.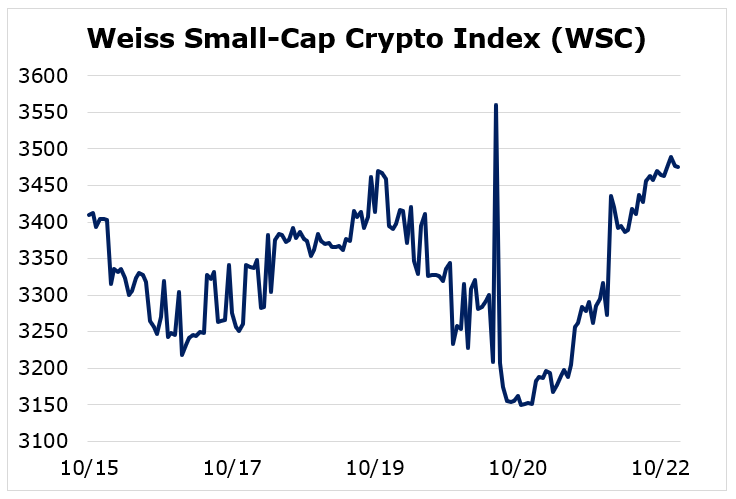 Overall, the picture is quite clear: Investors piled into Bitcoin this week and this rally spilled over to other crypto assets. At the same time, investors are sticking to high-quality names primarily, as we're seeing the most strength coming out of the large caps.
Bitcoin is the go-to asset for traditional investors looking to diversify their holdings into cryptocurrency. As such, any time we see Bitcoin take the lead, we can be certain that new money is entering the space. This is a prerequisite for any sustainable crypto bull run.
As for what prompted this stampede into crypto, we can only speculate.
Of particular note, however, is the fact that major central bankers are showing more signs that CBDCs — central bank digital currencies — are emerging as their panacea for our broken monetary system. You might have seen or heard multiple commentators label the rise of CBDCs as "Bretton Woods 2.0."
We've always known the monetary system needed reform. What we didn't know is what shape it would take. With their planned shift to crypto, central banks will have even more power to control the supply of money and target the recipients of their policy initiatives.
This may lead to many beneficial outcomes. But it will not be without unintended consequences.
Where current monetary policy has already caused widespread asset-price inflation, CBDCs will centralize money even further, leading to more of the same outcomes. With CBDCs, central banks aren't steering away from the insanity of the current monetary regime. They are doubling down.
And with this, they practically guarantee that crypto assets will — sooner rather than later — trade at many multiples of their current valuations.
That's what makes cryptocurrency the best investment of the coming decade.
Best,
Juan
Weiss Ratings is the only financial rating agency that covers cryptocurrencies. Click here for more in-depth information about Weiss Crypto Ratings, including the Weiss Crypto Price Indexes and crypto-asset reviews.