Bitcoin's Quest to $60,000!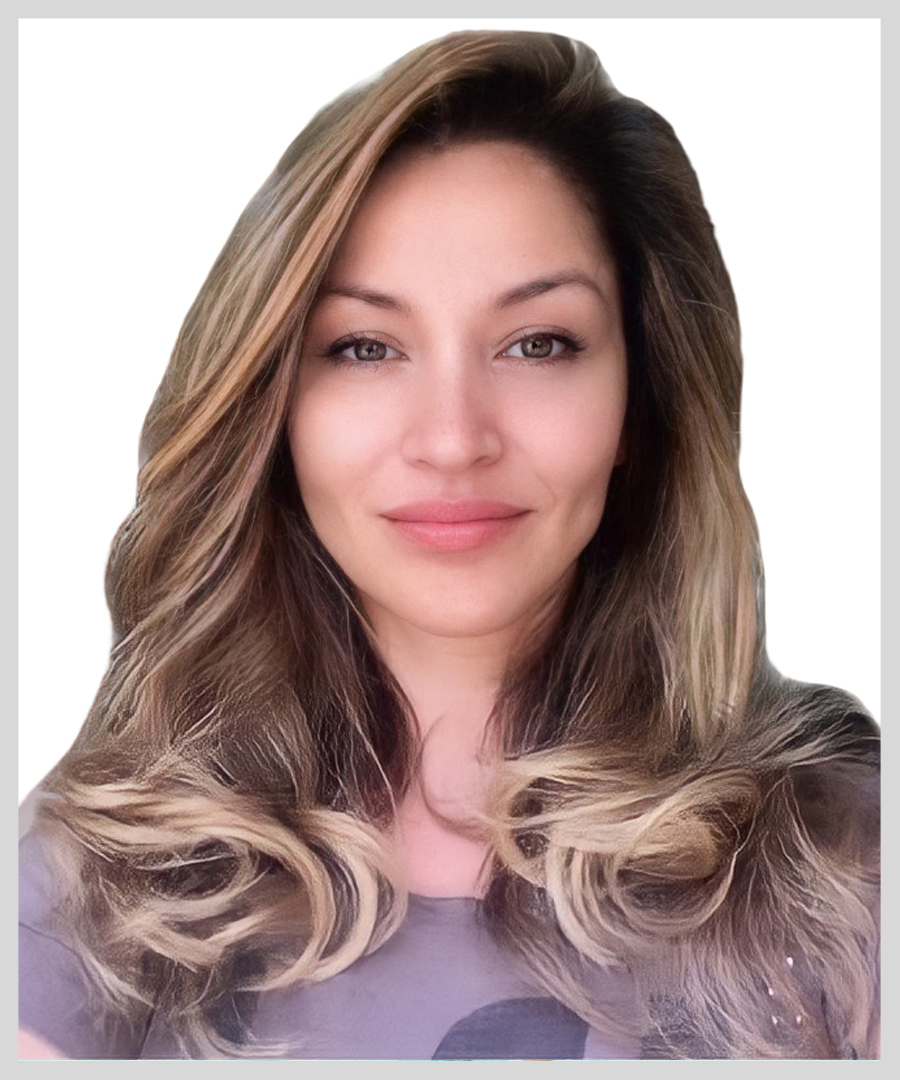 Bitcoin (BTC, Tech/Adoption Grade "A-") jumped above $57,000 today after posting a strong weekly close above $54,000.
To put this in perspective, the difference between BTC's price week over week is $10,000. AND it's trading less than $8,000 below its all-time high!
Investors' confidence is growing that Bitcoin will blast through that level.
The BTC/USDT TradingView daily (log) chart shows just how close we are to that all-time-high price near $65,000 (blue line).
We only need a +13% wick to break it.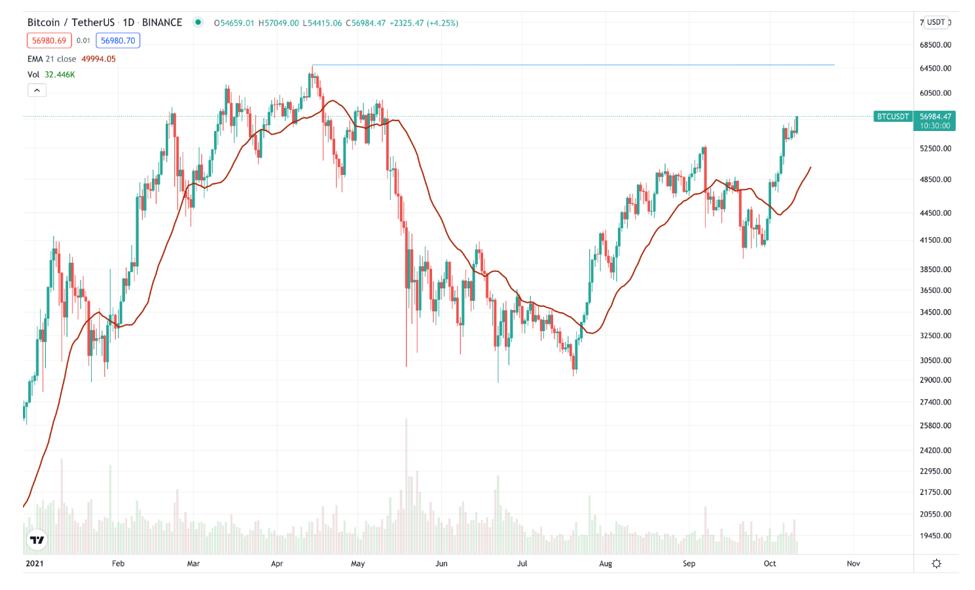 But major resistance lies on the way to $60,000. Expect volatility, as the skirmish between the bears and the bulls is likely to resume as Bitcoin nears these key levels.
As Bitcoin surges ahead, altcoins are mostly lagging, save for a select few. And those few are mostly connected to Bitcoin, such as Badger DAO (Badger), a decentralized autonomous organization with the goal of simplifying the use of BTC as collateral across many smart-contract platforms.
Other altcoins that are showing noticeable strength these days are representing decentralized perpetual exchanges, such as dYdX and Perpetual Protocol (PERP). Their growing popularity among professional traders is likely amplified by the recent Chinese clampdown on centralized exchanges.
But one altcoin holding its own is an enigma: Shiba Inu (SHIB), a meme token, jumped almost 300% in the past week.
Why?
Because Elon Musk tweeted the picture of his Shiba Inu, Floky. The arguably adorable pup garnered 385,000 likes while reigniting loud social media chatter about SHIB token: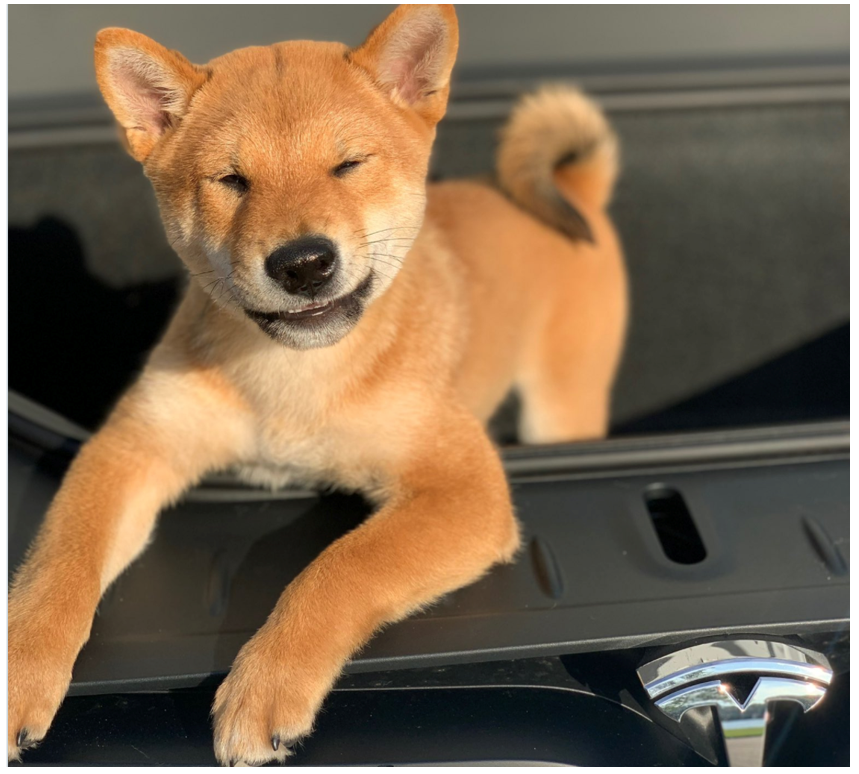 As tempting as a 300% rise may be, you should keep in mind that meme tokens are extremely high-risk investments. They pump and dump depending on the mood of high-profile celebrities and the young TikTok crowd, as Floky's pic proved.
On the other hand, Ethereum (ETH, Tech/Adoption Grade "A-") is patiently waiting for its moment to shine. It's trading above $3,500, with strong support levels between $3,300 and $3,350.
This ETH/USDT TradingView daily chart shows ETH trading above important support levels, as well as its 21-day exponential moving average (EMA).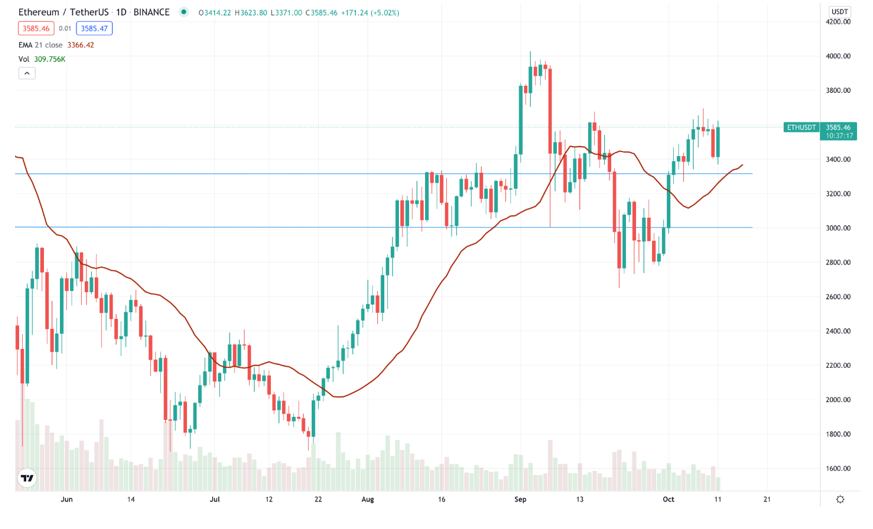 Ethereum's fundamentals are getting stronger by the day due to increased popularity of scalable Layer-2 solutions.
In addition, the Altair hard fork of ETH2.0 is right around the corner (Oct. 27), bringing us one step closer to transitioning to proof of stake, when mining machines will become obsolete.
At the same time, the quality and quantity of decentralized applications (dApps) on the Ethereum network is growing.
Notable News, Notes and Tweets
• Options-based probability of BTC ending the month at a new all-time high is 20.4%, according to Coinbase Institutional.

• One of the most important Ethereum companies, ConsenSys, holds funding round talks with a $3 billion valuation.

• The SEC has approved an exchange-traded fund (ETF) that aims to provide investors with exposure to publicly traded companies with exposure to Bitcoin.
What's Next
BTC might spend some time consolidating near-recent prices to gather strength before challenging a key resistance level at $60,000.
We expect this level to be reconquered soon after a bit of some volatility.
Most of the alts will likely suffer in this short-term, Bitcoin-induced volatility.
But hold your positions: Altseason will come after BTC enters price discovery mode.
And as we see it, this seems to be only weeks away!
Best,
Marija Matić