Bitcoin Soars Past $20,000 to All-Time Highs
Bitcoin (BTC, Tech/Adoption Grade "A-") climbed past the symbolic $20,000 price level during the seven-day trading week ended Thursday. The King of Crypto's months-long rally extended to record heights after a momentary pause last week.
However, don't be surprised if we see a small correction soon, as our timing model suggests we may see a brief pullback before the long-term crypto bull-market resumes. While Bitcoin regained its momentum after last week's stall, it could face pressure in the short term.
Regardless, fundamentals continue to strengthen, and short-term dips are welcome buying opportunities.
The Weiss 50 Crypto Index (W50) climbed 15.56%, as Bitcoin continues to lead the market to new highs.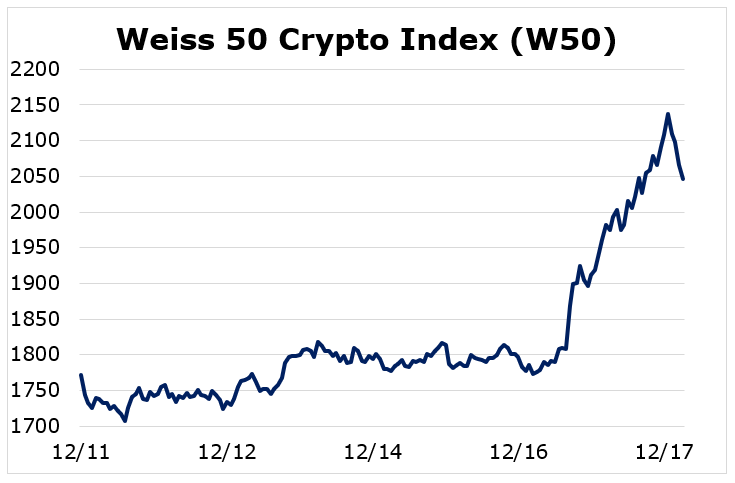 Bitcoin may have led the way again this week, but altcoins weren't too far behind. The Weiss 50 Ex-BTC Index (W50X) increased 9.26%.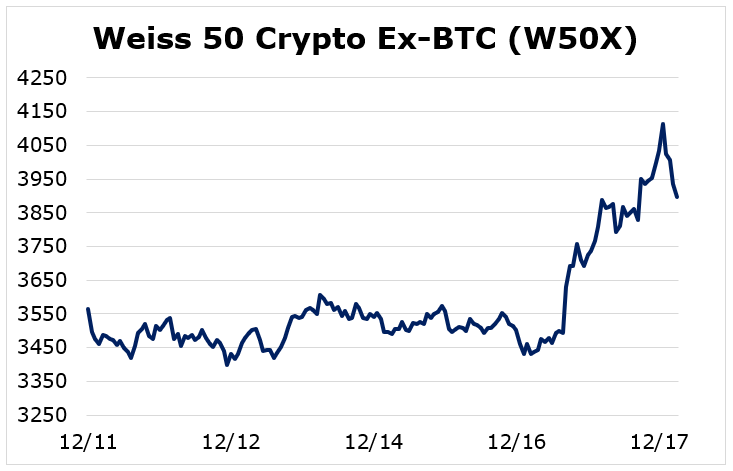 Breaking down this week's performance by market capitalization, it's clear that large-cap cryptocurrencies gained more ground than the smaller and mid-sized altcoins.
Large-cap cryptocurrencies continued their extended uptrend, as the Weiss 50 Ex-BTC Index (W50X) soared 16.76%.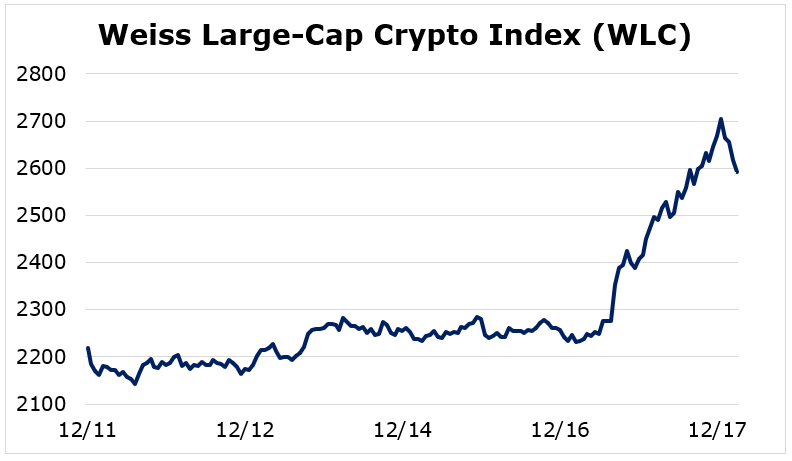 Mid-cap cryptocurrencies returned to their solid performance after a breather last week, as the Weiss Mid-Cap Crypto Index (WMC) rose 7.53%.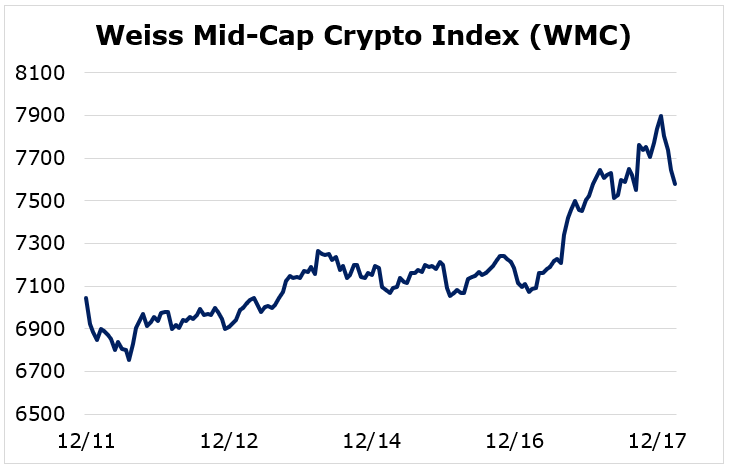 The small caps managed to book a modest gain, but they also experienced the most volatility. The Weiss Small-Cap Crypto Index (WSC) grew 5.82%.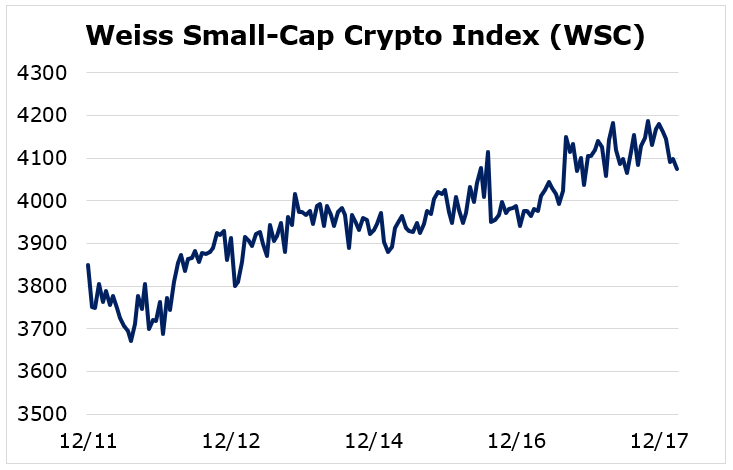 The King of Crypto outperformed altcoins again this week, and its dominance of the market increased two percentage points to 66%. After a sluggish performance last week, this makes sense because Bitcoin usually leads the way after a market correction.
Bitcoin was able to rocket past previous all-time highs, but we still haven't seen the same levels of mania that drove up prices in 2017. As we've mentioned in the past, Google searches are an effective proxy for examining levels of "FOMO," or fear of missing out.
Both the terms "Bitcoin" and "Bitcoin Price" maxed out Google's 0-to-100 interest ratings scale in 2017, but today we see just a fraction of the excitement. Bitcoin's search interest is just 12 out of 100, while Bitcoin's price interest is a comparable 13 out of 100. Again, this shows that fearful retail investors aren't driving the price up. This rally is fueled by large institutional players.
Traditional equity markets have seen an IPO boom this year, and the largest U.S. crypto exchange is joining the action. Coinbase submitted confidential S-1 filings to the Securities and Exchange Commission . This is the first step toward becoming a publicly traded company, and we'll hear more about Coinbase's plans soon.
Indeed, institutional investors continue piling into crypto, and we'll continue to see more and more look for exposure. MicroStrategy Inc. (Nasdaq: MSTR), a business intelligence company, just invested an additional $650 million into bitcoin. The company now owns over $1.1 billion of it.
Additionally, U.K. asset manager Ruffer Investment Company Ltd. (OTCPK: RUFIF) confirmed purchases of over $744 million in Bitcoin. This investment makes up 2.7% of the company's total assets under management.
Some of the largest banks and asset managers have become extremely bullish recently. The chief investment officer of Guggenheim Partners, an asset manager with over $230 billion under management, just claimed that his examination of the fundamentals points to a value of around $400,000 per coin.
Guggenheim's analysis echoes what we've seen with another massive banking institution, as a Citibank senior analyst believes Bitcoin will reach $318,000 by 2021.
As governments and central banks continue reckless fiscal and monetary approaches, institutions recognize the necessity of a sustainable replacement. This will continue fueling the long-term adoption of cryptocurrencies.
Best,
Juan
Weiss Ratings is the only financial rating agency that covers cryptocurrencies. Click here for more in-depth information about Weiss Crypto Ratings, including the Weiss Crypto Price Indexes and crypto-asset reviews.