BTC Pumps Up as Stocks Tank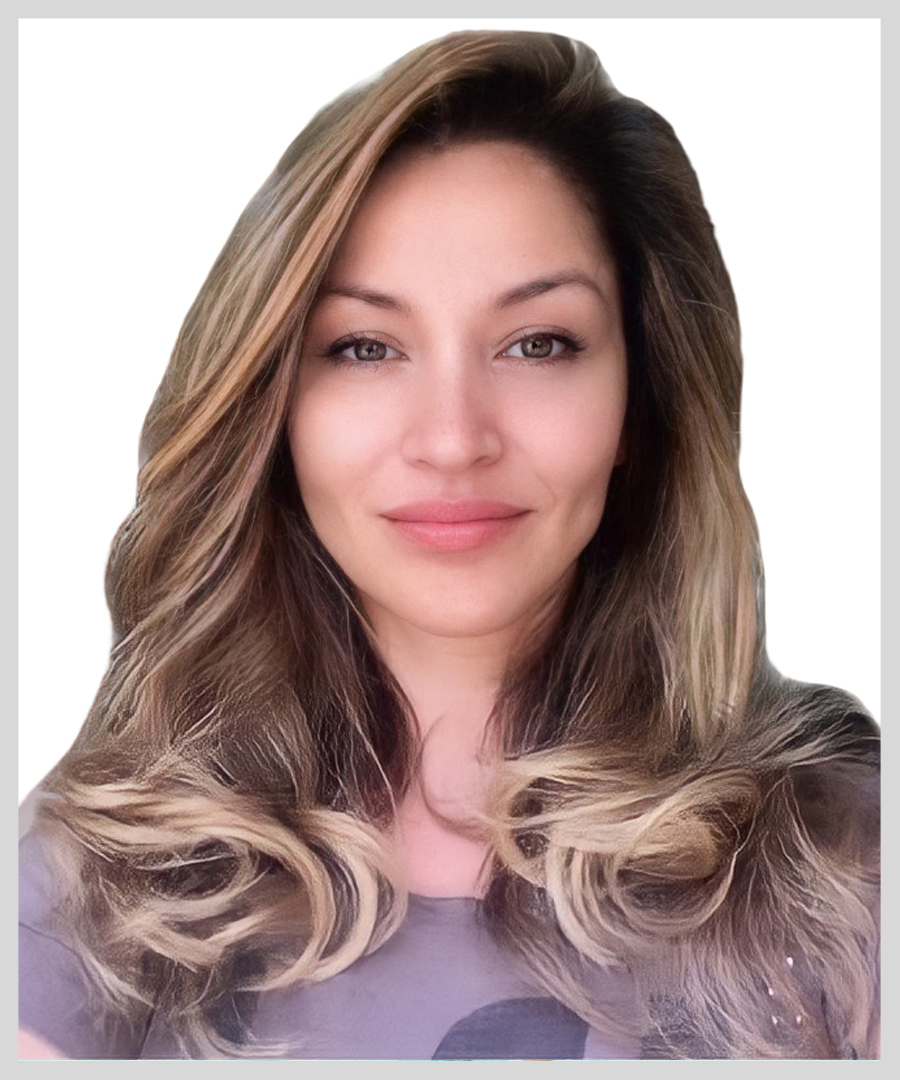 Finally, the correlation between crypto and traditional assets seems to be ending.
While stocks were tanking at the close of trading last week through today, Bitcoin (BTC, Tech/Adoption Grade "A-") showed extreme strength. The King of Crypto broke through descending resistance last Friday, pumping up to $49,000.
In the aftermath, the price took hold above the $48,000 level, an important resistance area where longers — those who trade futures — usually take profits.
• That's behind the volatility we've seen so far today.
But this is far from concerning. In fact, it's a part of the expected price action.
This does not mean you should expect a simple pump to previous all-time highs. Bitcoin may be unable to maintain to support at the $48,000 level.
• If it fails to hold, there are a couple of ways this could play out.
The first scenario is a retreat to $46,900 or $45,000 to test support and bounce up from there.
Another is, if Bitcoin is building a (bullish) pattern called an Inverse Head and Shoulders, we may see a more substantial drop to the $43,500 - $44,000 level before BTC gets a strong push upward.
Drops like this may feel extreme to the uninitiated. But in crypto, they're expected.
• Overall, there is nothing to worry about as long as BTC stays above its $38,800 support, which is far below any of these levels.
Considering the bullishness of the recent price action and the strength of Bitcoin's fundamentals, a fall to $38,000 is the least likely possibility.
The BTC/USDT daily chart on TradingView shows that Bitcoin price moved back above 21-day exponential moving average (EMA), marked by the red line: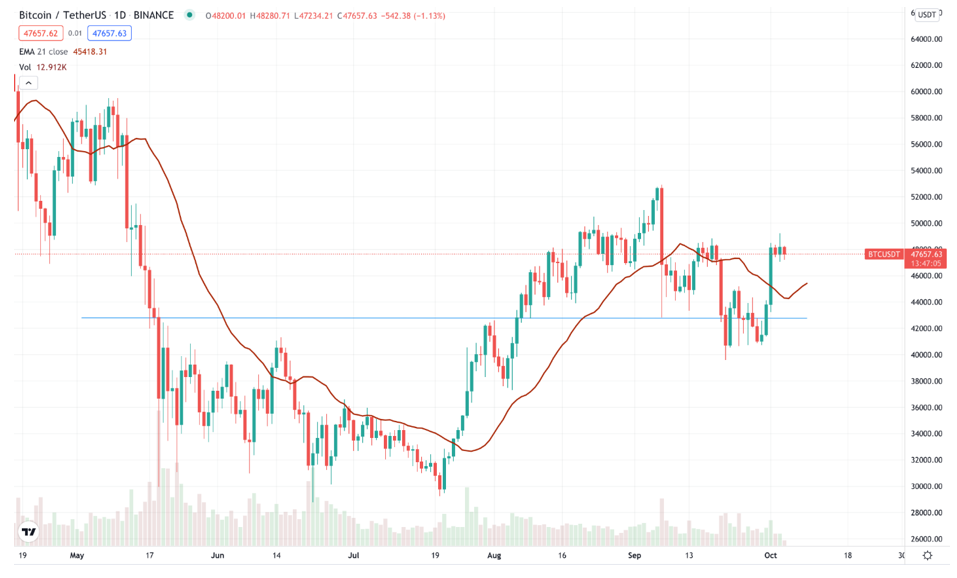 Ethereum (ETH, Tech/Adoption Grade "A-") is also in bullish mode after breaking through resistance at $3,350.
This level is an important trendline. While ETH is trying to create support out of it, both bulls and bears will fight to reclaim it.
If the bears win, $3,000 will remain the most important support level.
But the bears are weak, and ETH's price looks ready to aim for higher targets — like $3,600 and $3,900 — soon, as open interest and the funding rate are both on the rise.
The ETH/USDT daily TradingView chart shows ETH also trading above its 21-day EMA (red line).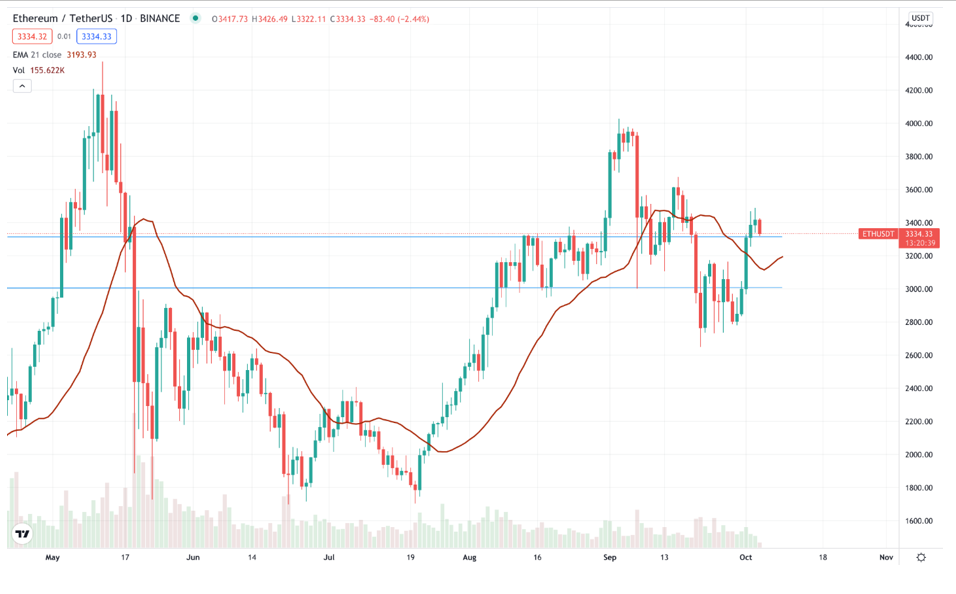 • This October isn't just ushering in the fall season. It's also ushering the crypto season.
Both BTC and ETH look very bullish. And where they go, altcoins will follow.
The usual trend in crypto is for BTC and large caps to pump first, then mid-caps and small alts in the end.
So, get ready for higher prices in October!
Notable News, Notes and Tweets
• The Federal Reserve is preparing to launch review of a possible central bank digital currency.

• Grayscale has added Uniswap (UNI) and Solana (SOL) cryptocurrencies to their portfolio. They have rebalanced it by decreasing the amount of Bitcoin held.

• Two weeks from tomorrow, the first U.S.-listed Bitcoin ETF (unfortunately, futures-based) may be approved. Eric Balchunas says there's a 75% chance a Bitcoin ETF gets approved in October.
What's Next
"Corrective September" has finally ended, and positive sentiment is on the rise.
Still, nothing goes up in a straight line. We will likely see one green day, one red day, one green day and so on until we transition to more green days than red ones in a row.
Current bullish structure means that support areas are more likely to hold. Meanwhile, resistance levels are about to be broken as the hashrate grows and strong fundamentals get even stronger.
The loss of correlation between traditional markets and BTC we've seen in the last few days paints a particularly optimistic picture of BTC going forward.
Get ready to rock!
And also get ready for our LIVE Q&A event with Weiss Ratings founder Dr. Martin Weiss tomorrow at 2 p.m. Eastern. He's going to answer all your pressing crypto questions ... like how investors can increase their investment by 50x in this bull run.
BUT spaces are limited, and we're closing the sign up for this free event TONIGHT at 11:59 p.m. Eastern. You don't want to miss this, so save your spot now.
Best,
Marija Matic