China's Real Estate Crisis Spooks Markets
What a Monday.
There's a Chinese real estate crisis in full swing. A major property developer, Evergrande, is in danger of defaulting on its $300 billion debt.
Many market-watchers worry that this may become China's Lehman Bros. moment, which collapsed 13 years ago this month. That's because other "highly distressed" real estate companies there could go down with it.
The effects are being felt in both the traditional and crypto markets today.
Bitcoin (BTC, Tech/Adoption Grade "A-") broke through its 21-day exponential moving average of $47,000 (red line) today. It was stopped by the strong support level around $42,700 (blue line), as you can see on this daily BTC-Tether (USDT) chart: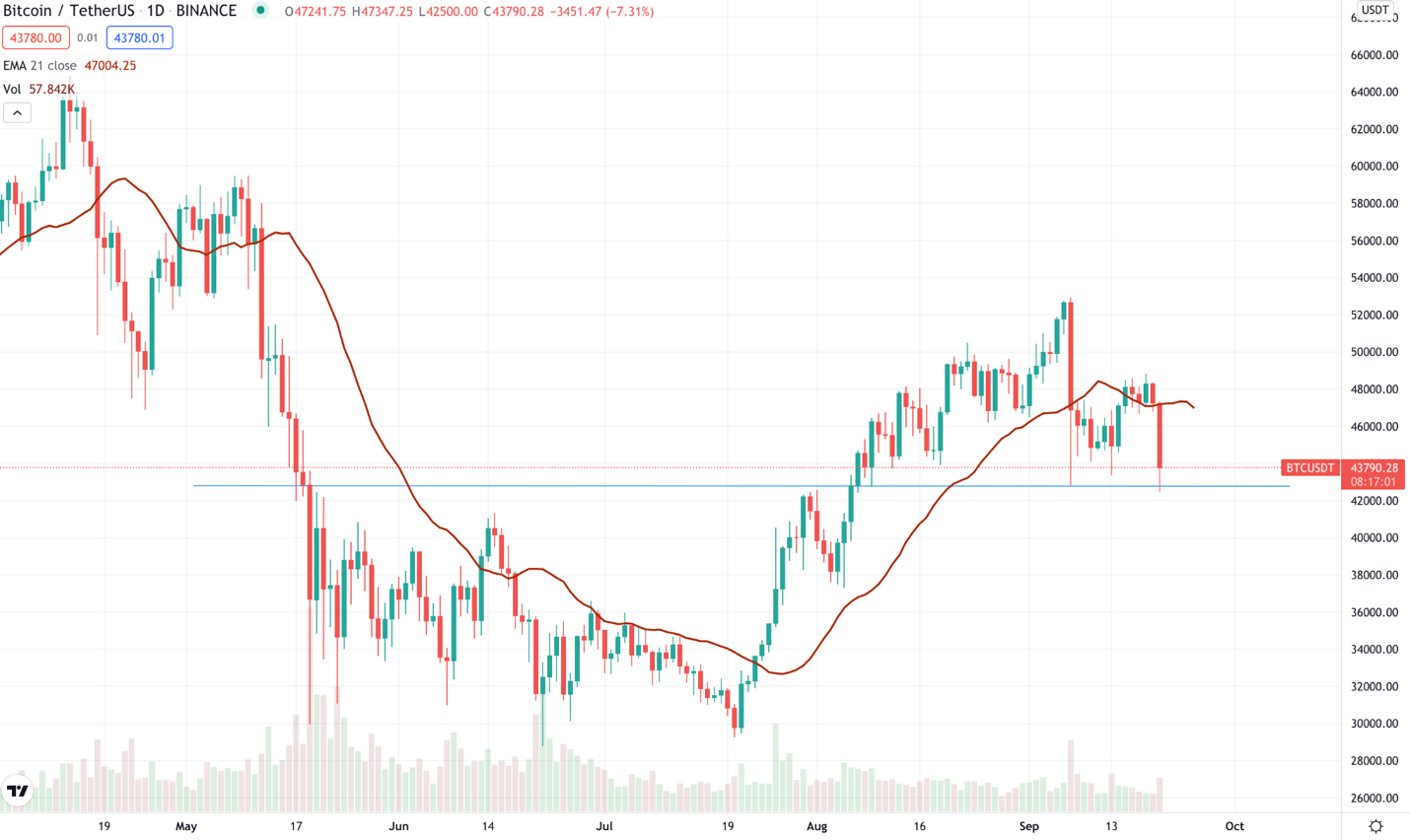 Source: Trading View
Bitcoin is currently trading for $43,300, with the next strongest support being $41,100, where the important Fibonacci level lies.
These two supports are very, very strong. It would be quite unusual if both are broken, which I don't expect will happen. However, I wouldn't discard it entirely, as there's a slight chance it could be triggered by the situation ongoing in the traditional markets.
The 30-day correlation between Bitcoin and the S&P 500 Index is around the highest since last October. This means that prices of Bitcoin and the S&P 500 are moving increasingly in tandem.
On top of the news coming out of China, which is seriously impacting markets, assets — especially riskier ones — are probably under pressure in the lead-up to the Fed's Sept. 26 meeting:
The Fed is expected to flag the prospect of a reduction in U.S. stimulus this week, which is creating a bit of uncertainty.
Turkey Declares War on Cryptos
On top of that, Turkey's President Tayyip Erdogan announced the country is "at war" with crypto.
Ironically, its central bank is creating its own digital currency. The Digital Turkish Lira Collaboration Platform's formation was just announced last week.
"We have absolutely no intention of embracing cryptocurrencies," the president said, adding that "we would never lend support to [cryptocurrencies] ... because we will move forward with our own currency that has its own identity."
Binali Yildirim, Turkey's former prime minister, said that "it's like a sale of a fictive future."
Meanwhile, in Turkey, you can find crypto exchange shops and ads everywhere … and the youth certainly believes crypto's future won't be fictive, as they will be the ones to ultimately decide.
Notable News, Notes and Tweets
What's Next?
As I wrote last Monday, when we saw a similar Bitcoin drop, the $42,000 level will be "front-run by those buying in the $42,000-$43,000 zone." We are in a similar spot right now.
And as I also said a week ago, "There's a chance of seeing a relief bounce or fake rally into the $49,000-$50,000 area before another leg down."
This's exactly what happened in the last few days. We rallied and are seeing that leg down today, as expected.
Bitcoin dominance is approaching the local resistance. It may break upward if the market drops more, as altcoins tend to drop even more in that case. Or, BTC dominance can bounce from this resistance level if BTC's price stabilizes while alts jump back up.
Due to the current correlation with traditional markets, anything can happen, but bouncing from the strong support levels is much more likely. The 21-day exponential moving average is a key area for continuation of bullish momentum.
Best,
Marija Matic