Crypto Assets Blast Higher, Following Ethereum's Lead
This week was one of the most bullish in all of 2020 for crypto assets.
It was great follow-through from last week, when I noted that Ethereum (ETH, Tech/Adoption Grade "A") seemed isolated in its push to new 2020 highs and that unless Bitcoin (BTC, Tech/Adoption Grade "A") could join in on the action, what we were witnessing was probably just a flash in the pan.
Indeed, for months I've been writing that Bitcoin's lackluster price action in the face of a market whose tone was getting more and more bullish was the only major roadblock to a sustainable crypto asset rally.
Well, Bitcoin finally woke up this week, as it blasted past the psychological barrier of $10,000 on Monday.
As expected, Bitcoin's break led to a veritable crypto stampede, as our Weiss 50 Crypto Index (W50) posted a strong 16.64% gain for the week.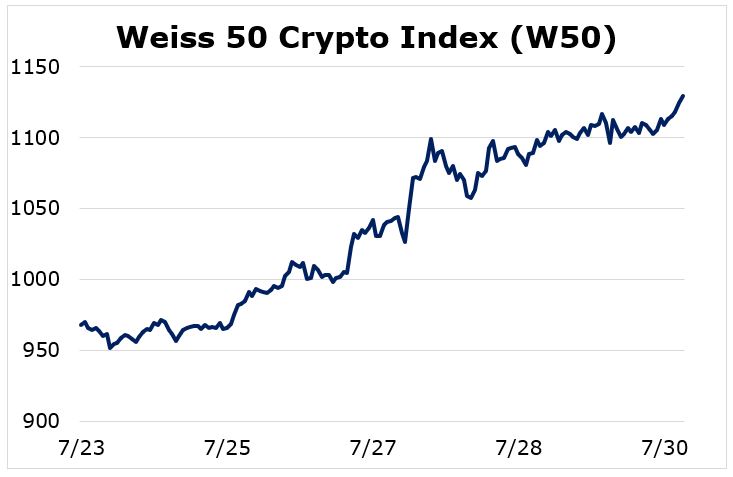 In a change from the recent pattern, when we strip out Bitcoin, we find slight underperformance for the rest of the space. The Weiss 50 Ex-BTC Crypto Index (W50X) moved up 15.54% during the seven-day stretch ended Thursday, July 30.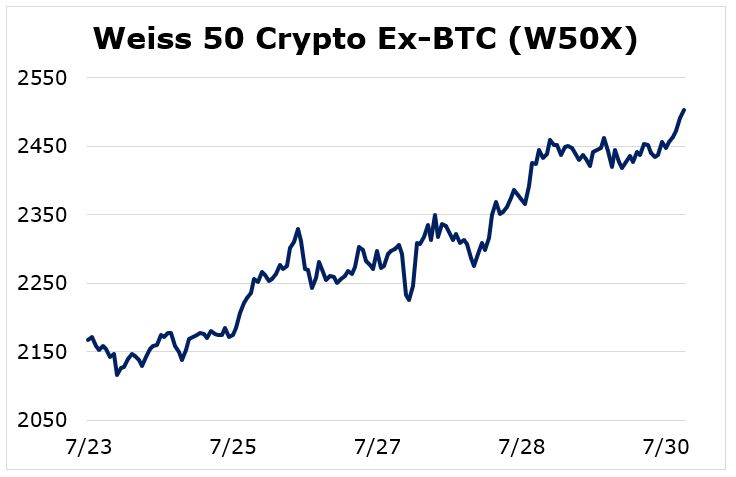 The underperformance from the rest of the market becomes clearer when we split the industry by market cap. The Weiss Large-Cap Crypto Index (WLC) was up a robust 19.75% on the week.
By contrast, the Weiss Mid-Cap Crypto Index (WMC) lagged, as mid-sized altcoins rallied only 5.48%. In the chart below, you'll also note a lot of back-and-forth in the price action.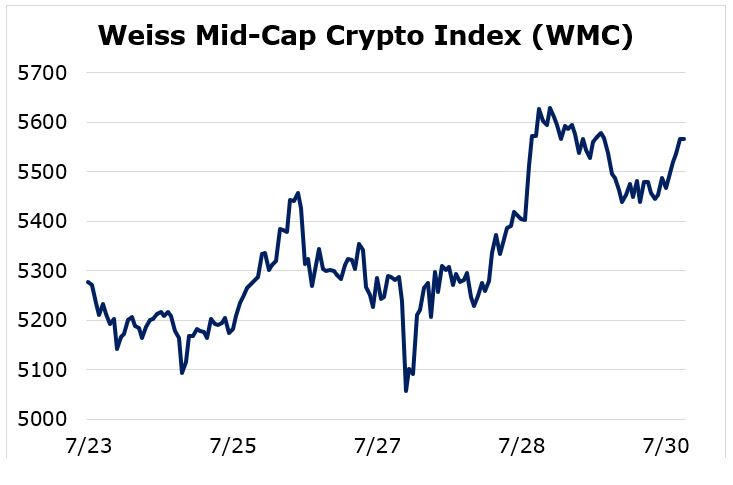 Finally, the biggest surprise came out of the small caps, as the Weiss Small-Cap Crypto Index (WSC) was actually down 5.26% for the trading week.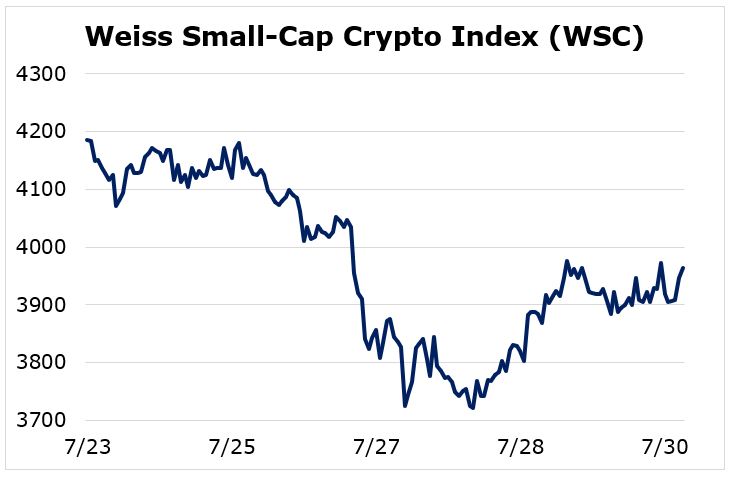 There are two stories here, of equal importance.
From a long-term perspective, we shouldn't be surprised about most of the bullish price action being concentrated in crypto's largest projects.
We've been seeing this pattern of consolidation for years, as the crypto market remains littered with low-value projects that still populate the top 100 list of assets by market capitalization.
The reality is many of these projects have no realistic path to success going forward. So, with time, we'll definitely see many of them fade into obscurity. This explains why we saw the small caps lag the most this week.
The second story looks at the small cap perspective. We've seen small caps post stellar gains when a true crypto bull run is underway. This week's pattern suggests to us that the crypto markets aren't frothy yet and that higher prices await us still. We usually see the smaller altcoins outperform the broad crypto market once the rally enters its later stages.
The fact that the rally we've seen so far — as remarkable as it's been — has been concentrated mostly in high-quality names tells us that caution still remains high among crypto market participants.
And this is a good sign as we head into next week.
Best,
Juan
Weiss Ratings is the only financial rating agency that covers cryptocurrencies. Click here for more in-depth information about Weiss Crypto Ratings, including the Weiss Crypto Price Indexes and crypto-asset reviews.