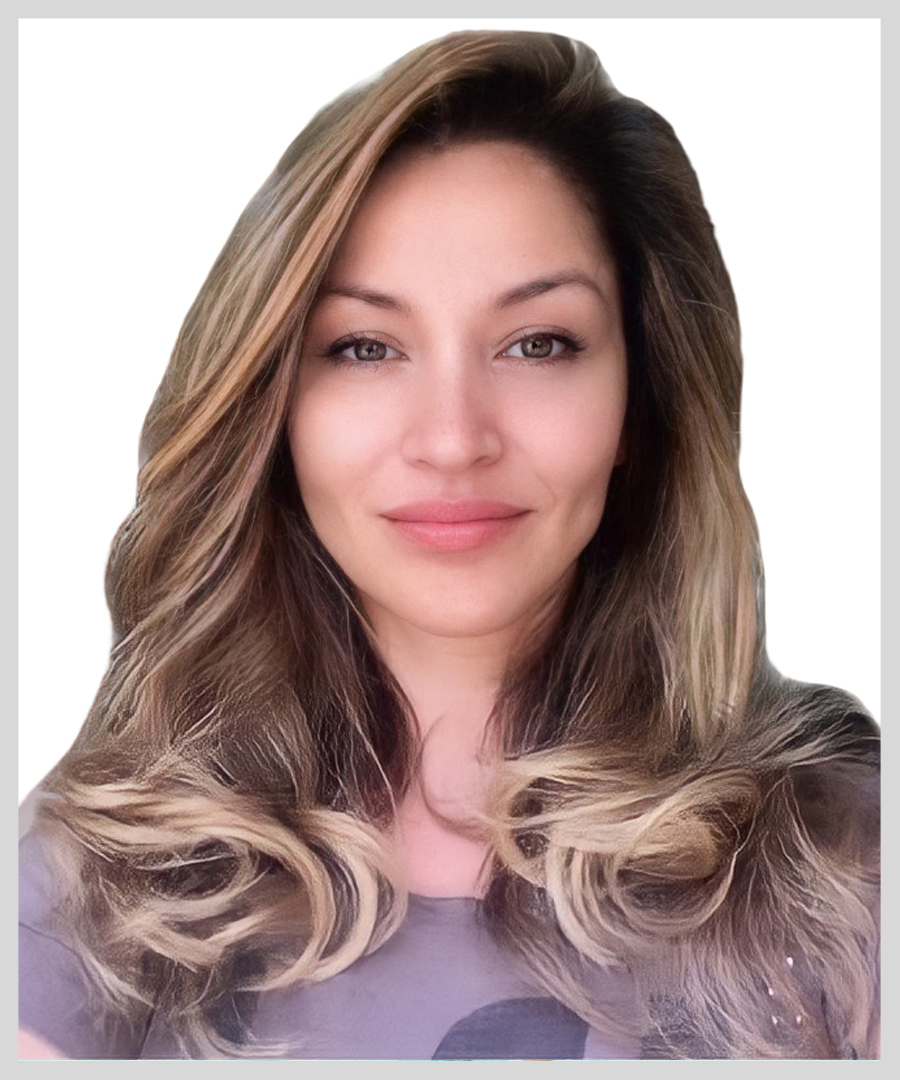 Crypto markets have rebounded a bit following a gloomy end to the second quarter.
At the time of writing, Bitcoin (BTC, Tech/Adoption Grade "A-") is trading above $33,000, while Ethereum (ETH, Tech/Adoption Grade "A") is trading well above $2,000. The worst of the marketwide sell-off has stalled for now, and most of the cryptocurrencies are in green.
The 50-week moving average (weekly 50MA) seems to be holding as BTC support — around $33,830 — while the 50-day moving average (daily 50MA) — near $37,876 — is acting as overhead resistance.
You can see this clearly in the chart below, with the daily 50MA marked by the orange line.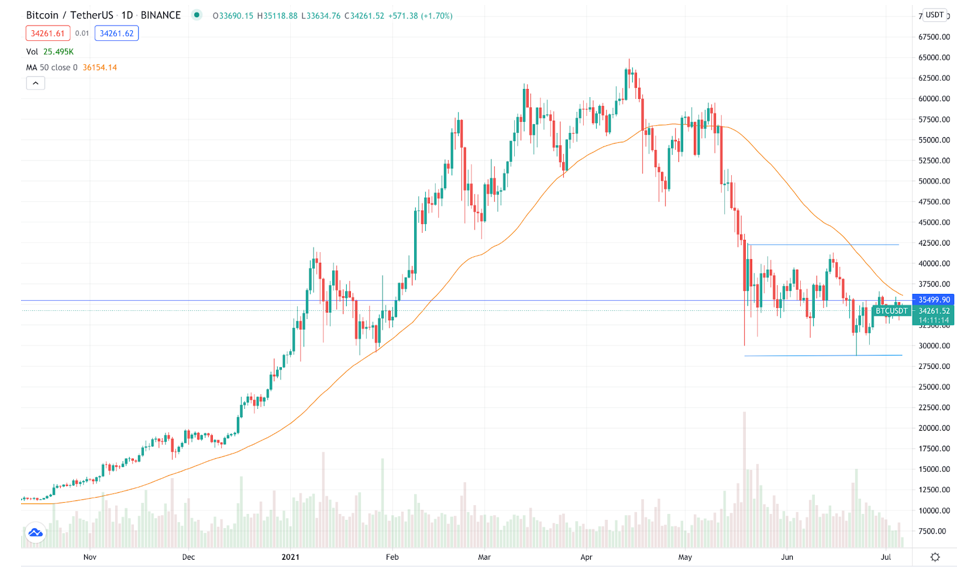 Bitcoin is trading in the lower range of the 50-day-old channel and is still struggling to hold above $34,000. It needs to break $36,000 to turn bullish.
The current support zone is $32,500-$33,000, with additional major support between $29,000-$30,000, near its most recent low. If volume continues to go down, we may see larger moves in the coming weeks.
A small positive signal is that for the first time in five weeks, digital asset investment products saw inflows totaling $63 million last week. But even with these inflows, Bitcoin investment product trading turnover was the lowest since November 2020, according to CoinShares info.
At the same time, reserves of ETH on exchanges have reached a 2 1/2-year low.
ETH reserves are displayed as a red line on this CryptoQuant chart: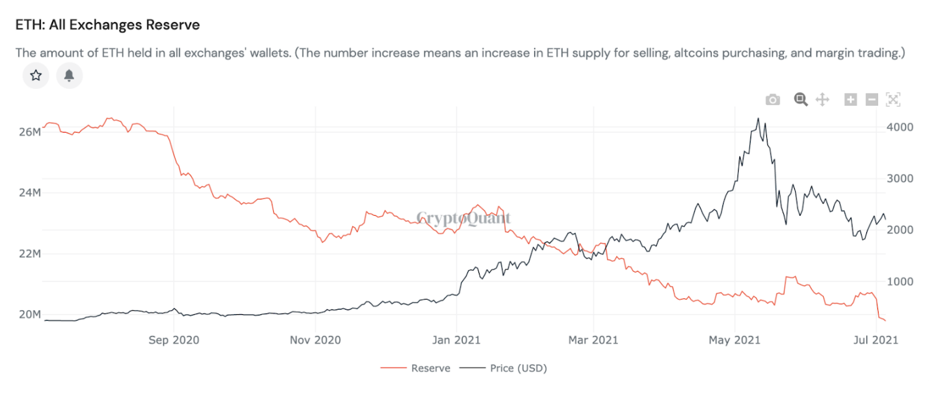 It shows that Ethereum is getting locked up for mid- or long-term saving. Users are anticipating all the upcoming summer updates that should improve its technology.
On the other hand, both inflow and outflow of cryptos to and from exchanges are drying out. It looks as if the large traders are off, enjoying the summer.
This is also true for traditional stock markets, where trading desks are more lightly staffed in the summer, as employees are going on holidays. That's why traditional traders gear up for less liquidity and more volatility during the peak summer months.
And since the crypto markets are inherently more volatile than the traditional markets, there is a higher risk of volatility in this period. The low liquidity and volume would enable a relatively big reaction to the price if the market was pushed on either side.
Mining Difficulty Adjustment Brings Relief While
BTC Heads Toward Renewable Future
As I mentioned last week, China's crackdown on crypto has influenced a massive drop in the hashrate. This has caused Bitcoin's mining difficulty to drop by 27.9% three days ago in the largest adjustment ever.
So, is this good or bad?
Well, it's definitely good for the BTC miners who remained operational, as now they stand to make greater profits.
It's also good for the users, as it's now easier to process transactions. Hence, the BTC transaction fee has dropped to about $7 from around $11 three days ago.
This is not the only good news. Due to China's crackdown, the Bitcoin network is now probably mined with over 50% renewable energy, according to the researcher Hass McCook.
McCook predicts that the carbon intensity of Bitcoin in 2026 will be 100g CO2e/kWh, and by 2031 it will be zero (or negative). This is due to the offset emissions from prolific use of flared methane to mine Bitcoin, as well as Bitcoin being agile enough to move to the cheapest (i.e., cleanest) energy sources — whether it is a remote oil field or volcano.
But not all is peachy in crypto land. Binance exchange has faced a crackdown all around the world. Binance has been outright banned from operating or is facing severe regulatory restrictions in Ontario, Canada, the U.K., Singapore, Japan, Thailand and the Cayman Islands.
The recent crackdown is linked to the exchange's atypical lack of headquarters and growing global actions to tackle money laundering.
It remains to be seen how far-reaching this crackdown will be and if it'll threaten the global dominance of the largest crypto exchange. Other exchanges, such as Bitstamp, are sitting on the sidelines and eyeing up opportunities in potential dents in the market.
This is not the first time Binance has been under scrutiny. But this seems to be an unusually coordinated attack, which is strange as there are no global crypto standards synchronized in all jurisdictions, although there are Financial Action Task Force (FATF) standards for regulating crypto firms, which have been adopted by 58 out of 128 countries. Of the 58 jurisdictions that have adopted it, 52 are now regulating crypto providers and six have banned such operators entirely. Seventy jurisdictions have yet to act on the recommendations.
Still, global crypto adoption remains unfazed, as these five developments show:
1. Wyoming legally recognized the first decentralized autonomous organization (DAO) in the United States, further solidifying its position as the most crypto-friendly state in North America. This first recognized DAO is The American CryptoFed DAO, which has a two-token system. The system consists of an algorithmic stable token based on EOS, called the Ducat, as well as a governance token, Locke, used to stabilize Ducat.

2. The world's largest inter-dealer broker, TP ICAP Group plc (OTCPNK: TCAPF), plans to launch a crypto trading platform with Fidelity. The efforts from regulators to bring the crypto industry under tighter supervision have fueled, rather than dampened, the appetite of established companies, according to Financial Times.

3. German exchange operator Deutsche Börse bought a majority stake in digital asset management company Crypto Finance. Regulated by Swiss authorities, the company provides trading and custody services for institutional investors.

4. Robinhood's IPO filing has shown that 9.5 million customers traded $88 billion of cryptocurrency on its platform in Q1 2021, meaning 17% of Robinhood's total revenue in Q1 was derived from cryptocurrency transactions, compared to 4% in Q4 of 2020. Interestingly, meme coin Dogecoin (DOGE, Tech/Adoption Grade "B-") made up 34% of crypto revenue.

5. Multinational accounting firm Ernst & Young Global Limited, known as EY, has released its own Layer-2 solution, based on ZK-Optimistic roll-ups, for scaling of the Ethereum blockchain. The solution is called "Nightfall 3," and the code was contributed into the public domain to "speed up enterprise adoption." It brings down costs of transactions to 1/8 of the regular ETH transaction cost.
Notable News, Notes and Tweets
• Digital collectible, CryptoPunk 6297, has been bought for 520.69 ETH ($1,165,882.24 USD). These non-fungible tokens (NFTs) are highly valuable as they hold historic significance to avid crypto users.

• Bitcoin now has the same number of users as the internet did in 1997, though it's growing at a much faster pace.

• BTC miners are moving from China.
What's Next
Despite the downturn in Q2, most top crypto assets are still up year-to-date, faring better than traditional financial assets.
BTC's consolidation phase has been ongoing for the past 50 days, and the price may soon become more volatile as liquidity and volume become thinner.
ETH users are awaiting results of forks on testnets that already look promising. However, the price is forming a rising wedge, which typically breaks on a downside. But if this pattern doesn't play out in a few days and the price manages to fix above ETH's 100-day moving average, ETH will become much more bullish. Still, ETH will be bullish as long as BTC is bullish.
Best,
Marija Matic