Juan Villaverde covers mostly the cryptocurrency side of this space. I focus on the blockchain technology and business side, where a lot is changing very fast. Here's your weekly crypto news roundup with some prime examples …
Malta: The new crypto capital of the world?
Malta's history has always fascinated me, but this small Mediterranean country is quickly becoming ground zero for cryptocurrency trading.
While most jurisdictions — including the U.S., Hong Kong and Japan — are struggling with how to regulate cryptocurrencies, Malta is making hay by welcoming cryptocurrency exchanges (especially Binance) with open arms.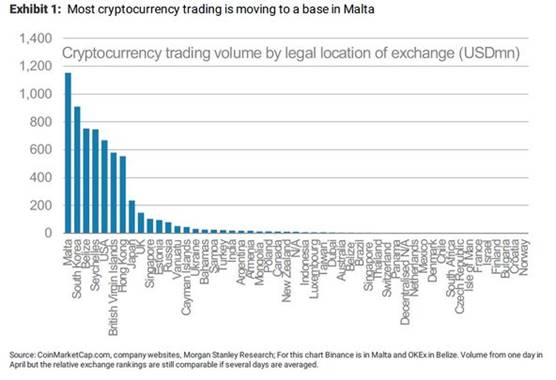 Click image for a larger view.
Circle Trade, partially owned by Goldman Sachs, is one of the biggest cryptocurrency trading platforms in the world and trades more than $2 billion a month.
Business is so good that Circle Trade has increased its minimum ticket size on Bitcoin trades to $500,000 from $250,000. CEO Jeremy Allaire reports that the size of Bitcoin block trades is really taking off.
"The minimum ticket size has moved up to $500,000 with an average of $1 million," said Allaire.
In fact, Circle Trade is seeing individual trades in excess of $100 million.
My take: When institutional investors start to jump on the cryptocurrency bandwagon, prices could … and likely will … skyrocket.
Speaking of Goldman Sachs, it recently recruited its first crypto-specific hire to set up a Bitcoin trading desk. "In response to client interest in various digital products, we are exploring how best to serve them in the space," says Tiffany Galvin of Goldman Sachs.
If Goldman does set up a Bitcoin trading desk, it will be the first investment bank in the world to do so — another critical signal that cryptocurrencies are moving into the mainstream, and another inflection point for cryptocurrency prices to move higher.
Potential impact of crypto mining on electric utility giants: The global electricity market is $2 trillion a year and controlled by a few dozen global giants.
However, blockchain technology could make it possible to bypass the utility giants, allowing small producers — like somebody with a bunch of solar panels on his roof — to buy and sell energy to consumers without third-party utility companies. These micro-grids could dramatically lower the cost of electricity.
Naysayers keep the crypto bull market healthy: When the whole world is going gaga over crypto, you know it's probably time to take profits or even step aside completely. But as long as there's a pretty good contingent of naysayers and party poopers, the incipient bull market is probably still healthy.
Take, for example, a recent post by Bill Harris, former CEO of Intuit and founding CEO of PayPal, headlined "Bitcoin is the greatest scam in history."
Bah! Some very smart millionaires said the same thing about gold when it was trading for $17 per ounce in 1931. And look at all the action it's had since!
Missing all the action on Weiss Ratings Twitter!?
We're tweeting away several times daily with new ideas and updates: Coin vs. coin. Attacks and counterattacks. Polls that can make you money. Here-and-now market analysis. Plus much more.
If you're there with us, great! If not, hop on board by clicking here.
Best wishes,
Tony