Crypto Rally Broadens, as Bitcoin Eyes $20,000
Bitcoin (BTC, Tech/Adoption Grade "A-") held ground above $19,000, and the broader market marched higher despite significant volatility over the seven-day trading week ended Thursday.
Bitcoin is still poised to surpass the $20,000 mark for the first time, as the explosive rally that started in mid-March continues to gather momentum.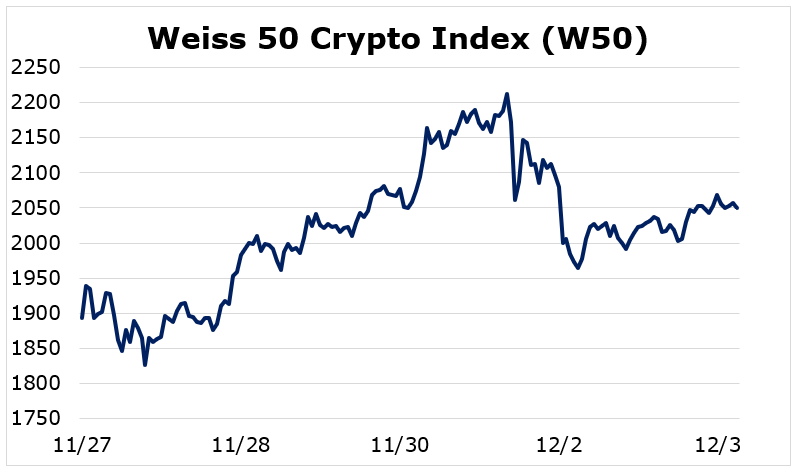 The Weiss 50 Crypto Index (W50) rose 8.25%. Bitcoin's performance aligned with the broader market, which pared back early-week games toward Thursday.
The Weiss 50 Ex-BTC Index (W50X) gained 7.96%, showing that altcoins performed very similarly to Bitcoin this week.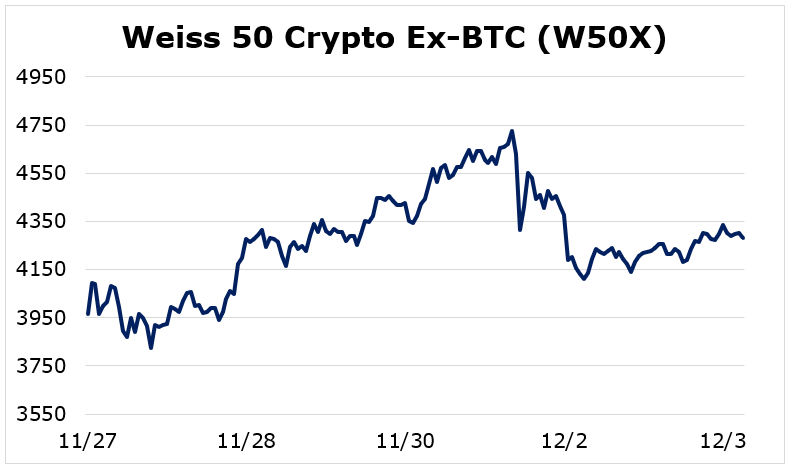 Breaking down performance by market capitalization reveals a bit more stratification than we've seen in recent weeks.
The Weiss Large-Cap Crypto Index (WLC) ended the week up 8.56%, riding mid-week volatility to that solid gain.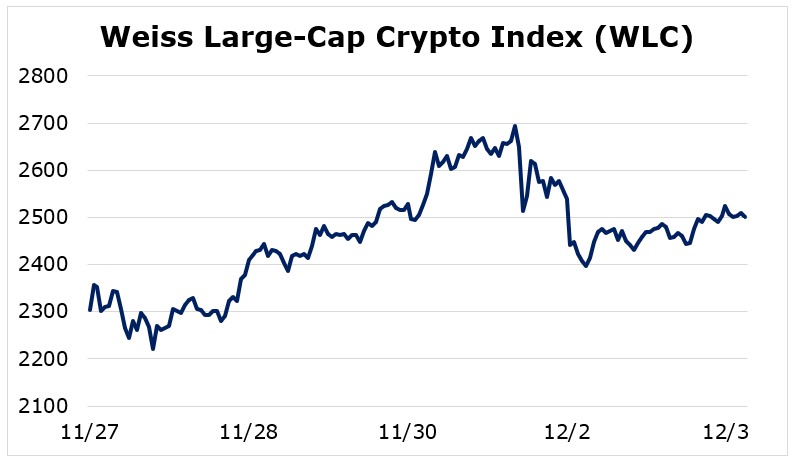 Meanwhile, mid-cap cryptos, as seen in our Weiss Mid-Cap Crypto Index (WMC) managed a 3.61% gain, suffering similar choppy trade mid-week but not recovering nearly so much.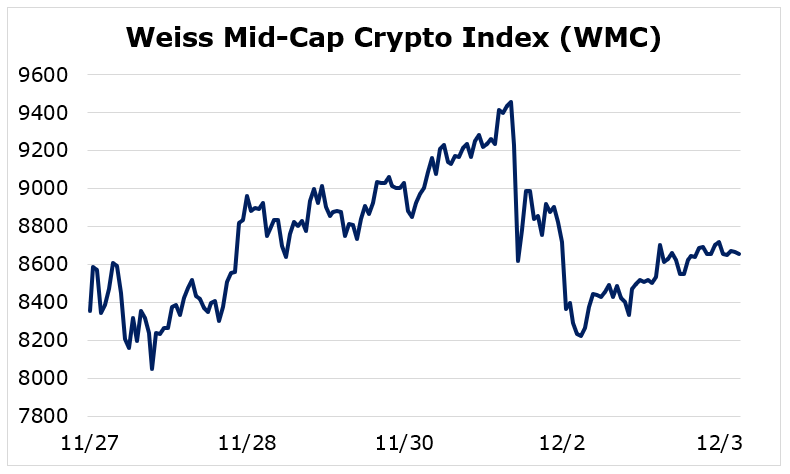 The Weiss Small-Cap Crypto Index (WSC) climbed 12.72% this week, as the small-caps outperformed their larger and mid-sized counterparts again.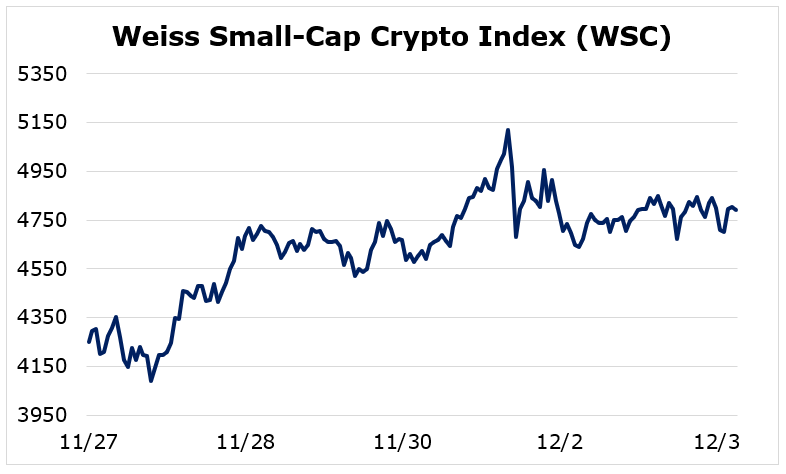 Overall, it was a solid week for the crypto market. Altcoins kept pace with Bitcoin for the second straight week, and the leader's share of market held steady at 63%.
We noted that Bitcoin rising faster than the broader market was a good precursor for sustainable growth for most cryptocurrencies, and we may now be seeing this come to fruition. Institutional investor adoption is also crucial because it unlocks a massive flow of capital into the space.
S&P Dow Jones Indices is creating a customizable cryptocurrency indexing service next year as a way to provide pricing data. In an article on Coindesk, Danny Nelson noted, "More Wall Street investors than ever are searching. This year's bull run is said to be driven by institutions angling for exposure to Bitcoin."
As Peter Roffman, global head of innovation and strategy at S&P Dow Jones Indices, explained, "We've been watching [the digital asset space] and we feel it's at a point of institutional interest in maturity, where companies such as ours wants to get in and contribute to the transparency of the marketplace." They'll be partnering will Lukka, a reputable crypto data company. S&P Dow Jones' parent company, S&P Global, has doubled down on blockchain technology by hiring blockchain engineers over the past few months. It's just the latest prominent company to take a positive stance on crypto's future
Indeed, Square Inc. (NYSE: SQ), which invested $50 million of its assets into Bitcoin, and PayPal Holdings Inc. (Nasdaq: PYPL), which will soon allow buying and holding cryptocurrencies on its platform, seem to have set a trend for other new and notable institutional entrants.
That's the thing about the recent crypto rally: It has much stronger fundamentals than previous bull runs. Institutional investment and adoption are leading this charge, but those factors are complemented by a perfect macroeconomic storm.
Janet Yellen, Joe Biden's designee to be the next U.S. Treasury Secretary, made her dovish monetary stance abundantly clear when she was Chair of the Federal Reserve. Now, she'll work on a more generous fiscal approach.
In Jerome Powell, she'll have a partner committed to rock-bottom interest rates for an extended period of time along with "quantitative easing" to stimulate "wealth effects."
Governments and central banks are unlikely to stop propping up a global economy seemingly addicted to stimulus.
That plus the multiple signs of emerging institutional support is a recipe for a sustainable crypto rally.
Best,
Juan
Weiss Ratings is the only financial rating agency that covers cryptocurrencies. Click here for more in-depth information about Weiss Crypto Ratings, including the Weiss Crypto Price Indexes and crypto-asset reviews.