Elon Musk's Influence Over Crypto Market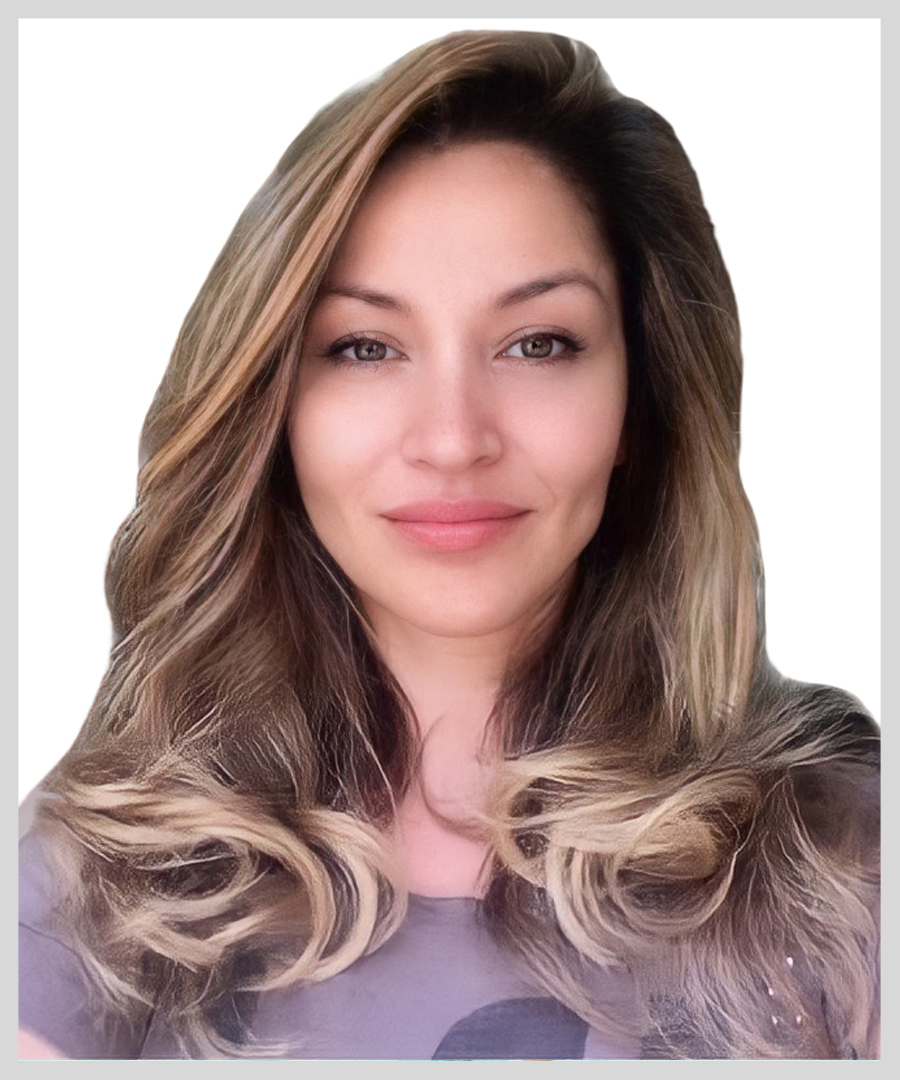 The crypto market has lost $440 billion of its total value due to a series of anti-Bitcoin tweets from Elon Musk in the last few days.
The market is still $370 billion underwater.
Bitcoin (BTC, Tech/Adoption Grade "A-") is now off its recently established all-time high by 31.7%, and Ethereum (ETH, Tech/Adoption Grade "A-") has dropped to $3,300.
"Techno king of Tesla and imperator of Mars," as Musk calls himself, has 55 million Twitter followers, and he's no stranger to online controversy. He was charged with securities fraud by the Securities and Exchange Commission (SEC) in 2018 for a series of false and misleading tweets that directly impacted the stock price of Tesla, Inc. (Nasdaq: TSLA).
Now, he seems to be using the power of social media in a similar way for crypto.
That's why some crypto influencers are speculating if there is insider trading going on behind the scenes. It's a popular theory, especially when Musk's latest tweets contradict his previous statements.
Just a few weeks ago, he was extremely bullish on Bitcoin's tech and significance. Now, he's claiming the ecological costs of mining are too high to justify its use.
In the last five days — since the start of Musk's anti-Bitcoin campaign — BTC has lost over 20% of its value.
You can see how the price reacted after each time Musk tweeted on this TradingView hour-by-hour BTC chart: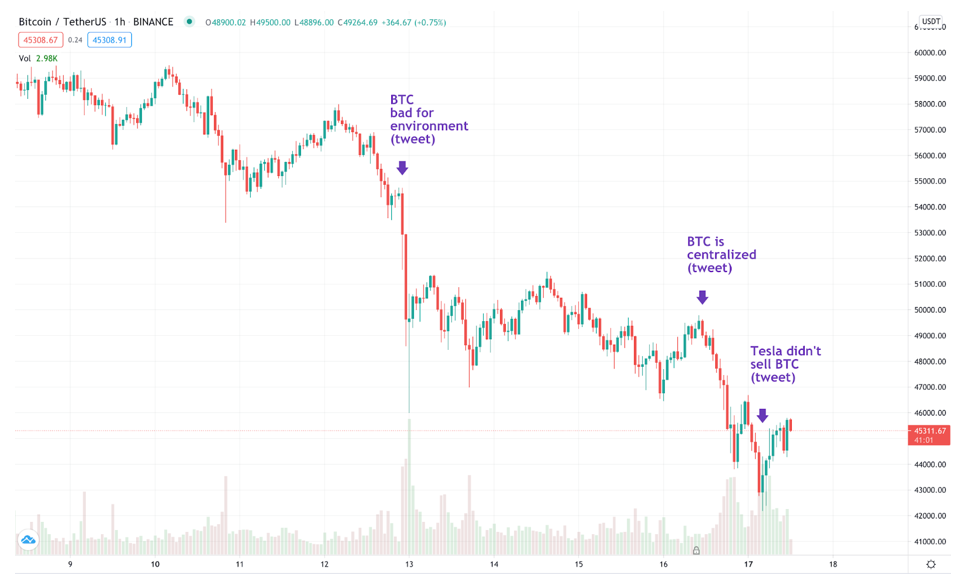 His initial criticism of Bitcoin's energy consumption and announcement that Tesla will stop accepting BTC for payments caused a 16% drop in just three hours.
Next, his "Bitcoin is actually highly centralized" tweet caused a drop of 12% over 11 hours. BTC had a small relief bounce of over 8% (up to the time of writing this article) a few hours later when he clarified that Tesla hasn't sold its Bitcoin stash.
Now, let's measure the total price drop in BTC during that time span: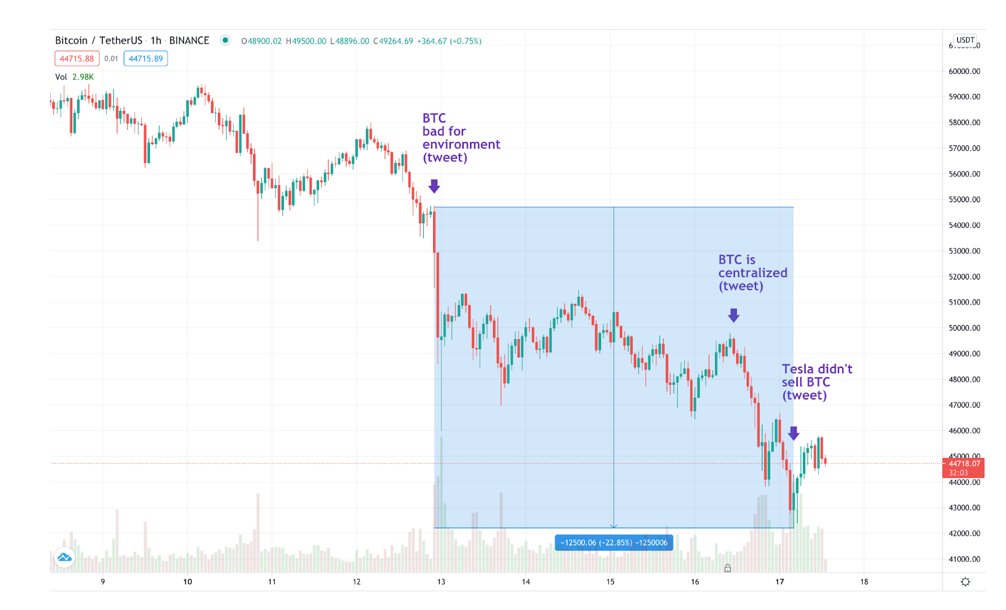 Between Musk's initial critical tweet — which was less than a week ago — and the bounce, Bitcoin has dropped 22.85%.
What about altcoins?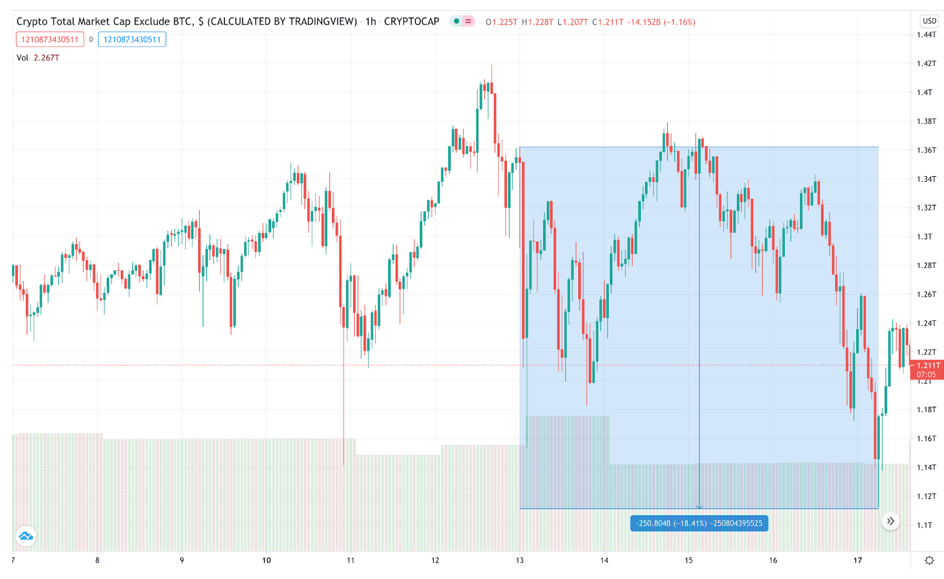 As is always the case, when Bitcoin drops significantly, it drags the altcoin market with it. The market cap of alternative cryptocurrencies dropped by 18.41% in the same period, as can been seen in the above TradingView chart of the Crypto Total Market Cap (with BTC excluded).
That's a lot of power in the hands of one man, even if he is the imperator of Mars!
Except he wasn't the cause of Bitcoin's correction … rather, just an accelerant on the fire.
Traders were already expecting a healthy correction down to around $42,000. As mentioned by my colleagues in our Thursday and Friday issues, the decline — while aided by Musk — was never driven by his tweets.
As shown in the hour-by-hour Bitcoin chart above, the King of Crypto was trending down before Musk's initial tweet.
Bitcoin never confirmed its downside support level in the most recent medium-term cycle, and since it couldn't sustain trading above its 21-day moving average, another drop was always on the table.
Our outlook is still bullish, though. A 22% drop may seem severe, but not in the crypto markets, where 30% to 40% corrections are more the norm.
This pullback may have shaken newcomers and casual traders, but whales and institutions see it as a buying opportunity. Ironically, even Tesla didn't sell its Bitcoin stash.
Notable News, Notes and Tweets
• Musk bragged about his PayPal Holdings, Inc. (Nasdaq: PYPL) days, without realizing how centralized PayPal is, unlike Bitcoin, which is censorship-resistant and permissionless.

• Bitcoin is "converting energy into prosperity," says Michael Saylor, debunking the energy-consumption myth surrounding Bitcoin.

• Myspace founder Tom Anderson is apparently buying the dip.
What's Next
The Elon Musk saga will probably continue as the frequency of his crypto tweets increase. What is left to be seen is, will his words lose power over time?
He has been idolized for quite some time by the crypto community for his support. However, judging by the reactions, the Bitcoin crowd is ready to dethrone him. After all, they don't need Musk.
The only crypto that does rely on him is Dogecoin (DOGE, Tech/Adoption Grade "B-"), as he helped the memecoin go mainstream.
DOGE hit a new all-time high last week. The next day, Musk announced plans to send a satellite called DOGE to the moon but failed to send the price along with it. As of writing, DOGE is off that new all-time high by 33%.
So, like the headlines, take his tweets with a grain of salt. We prefer to rely on the cycles theory to help us navigate this volatile time. We suggest you do the same.
Best wishes,
Marija Matic