Ethereum Catapults Past $4,000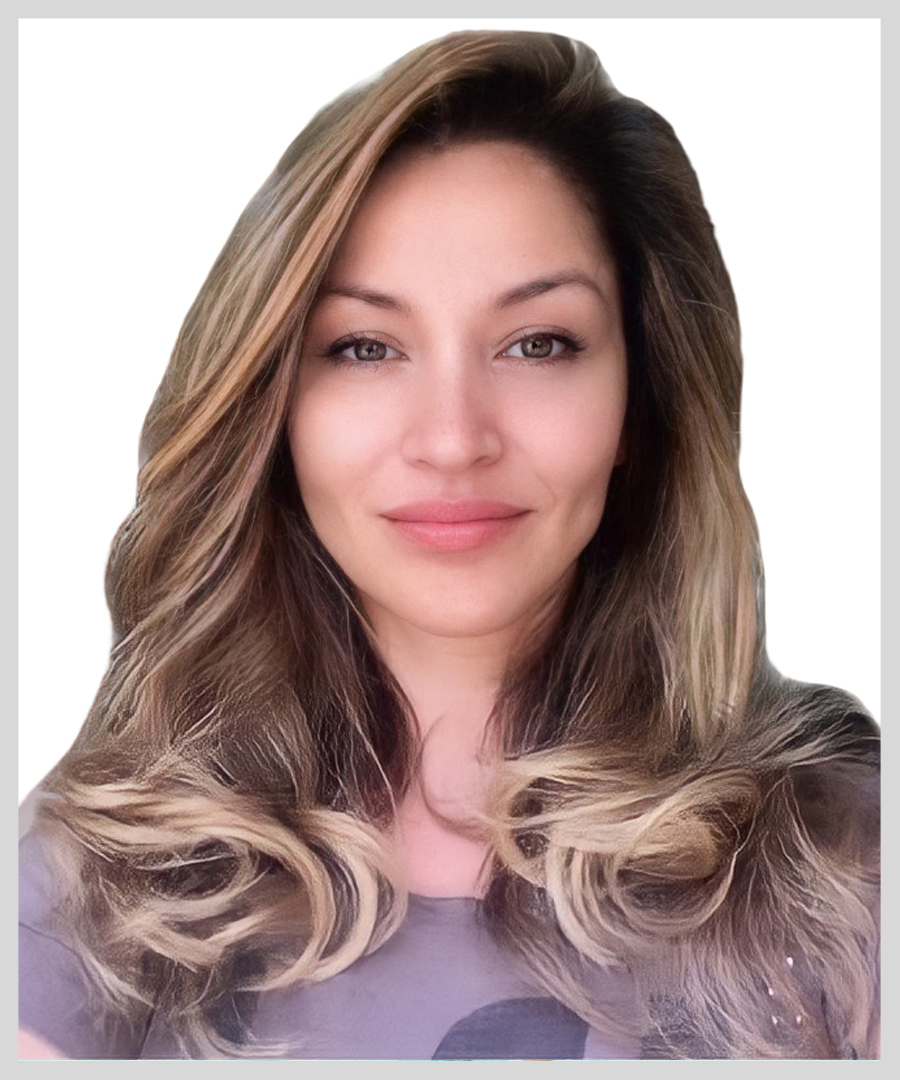 Ethereum's (ETH, Tech/Adoption Grade "A-") price has jumped 42% in a week. Now, Bitcoin (BTC, Tech/Adoption "A-") may be preparing for its own bounce.
• ETH — the lynchpin of the decentralized finance (DeFi) revolution — broke through psychologically important resistance at $4,000.

• The world's No. 1 cryptocurrency looks ready to make a move after a period of consolidation.

• Uniswap's (UNI) V3 launch looks like it was a "sell the news" moment.
Bitcoin is still the most dominant cryptocurrency. Now representing 45% of the crypto market's total capitalization, however, it's a far cry from the 61% of just six weeks ago.
Its declining relative status over the past 40 days is dramatically illustrated on TradingView's BTC dominance chart, where each green or red bar represents one week: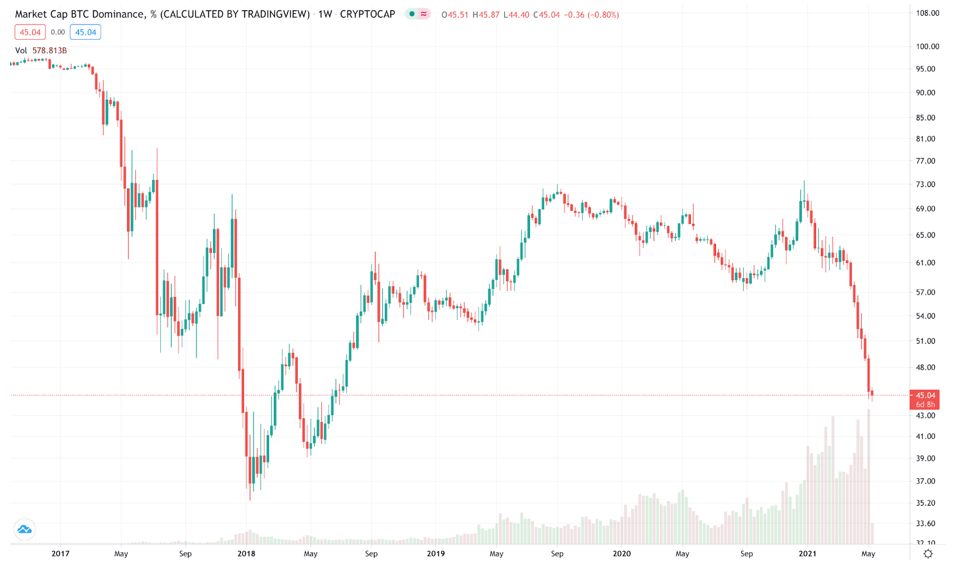 Half of that drop is due to Ethereum's rise. In fact, ETH's market-cap dominance almost doubled during the same time frame.
Stable price action shows that BTC has been in a quiet accumulation phase for days, allowing ETH and certain altcoins to shine.
Here's the daily price of BTC in U.S. dollar terms via TradingView: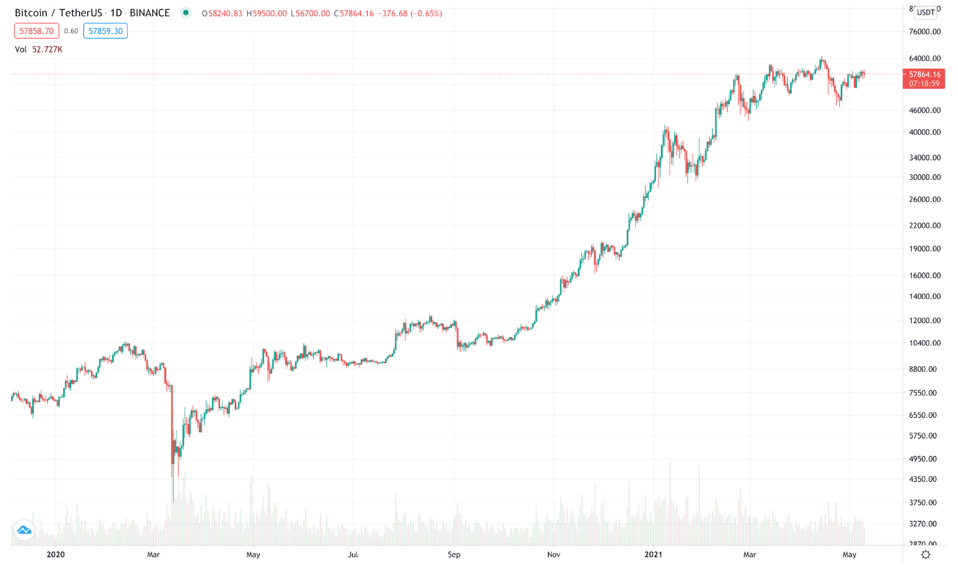 However, it might be time for BTC to retake the spotlight, at least for a short period of time. That's according to the Ifish Smooth indicator, perfected by TradingView user Moe_mentum.
Ifish shows the downtrend in BTC dominance is quite exhausted, which means we're likely to see a bounce from here.
And the Tom Demark Sequential indicator also shows TD9 "buy" signals for BTC on larger time frames (two days, three days, one week). Additionally, the daily bar should reach TD9 in two days.
As is usual with cryptos, there might be some volatility before BTC establishes a definite direction. However, it is very likely Bitcoin's direction will be "up."
Still, the world's No. 2 crypto, Ethereum, has been behaving like a king the last few days.
ETH is currently trading near $4,189, which means it broke important psychological resistance at $4,000. It's now up 81.6% in just a couple of weeks. It looks like the breaking point was the moment BTC lost 50% of its dominance.
Keep in mind that when ETH rallies, it usually means transaction fees are going to skyrocket as well.
We went from paying $14 for a simple transaction yesterday to paying $25 for the same transaction today. That's why more and more people use its Layer 2 solutions, like Polygon (MATIC), where one transaction costs 1/1,000 of a cent.
Uniswap's price dropped on May 5, when Uniswap V3 was launched. As many expected, it was a "sell the news" moment.
V3 is indeed superior to V2 in terms of capital efficiency. But new smart contracts have turned out to be more complex than V2 ones, requiring at least 30% more gas for transactions. And more expensive transactions are not what the market currently needs.
Hence, we'll have to wait for Uniswap to implement a scaling L2 solution in order to consider it highly bullish again.
The price of UNI in U.S. dollar terms dropped on May 5 from $43 to $39; here's the chart via TradingView: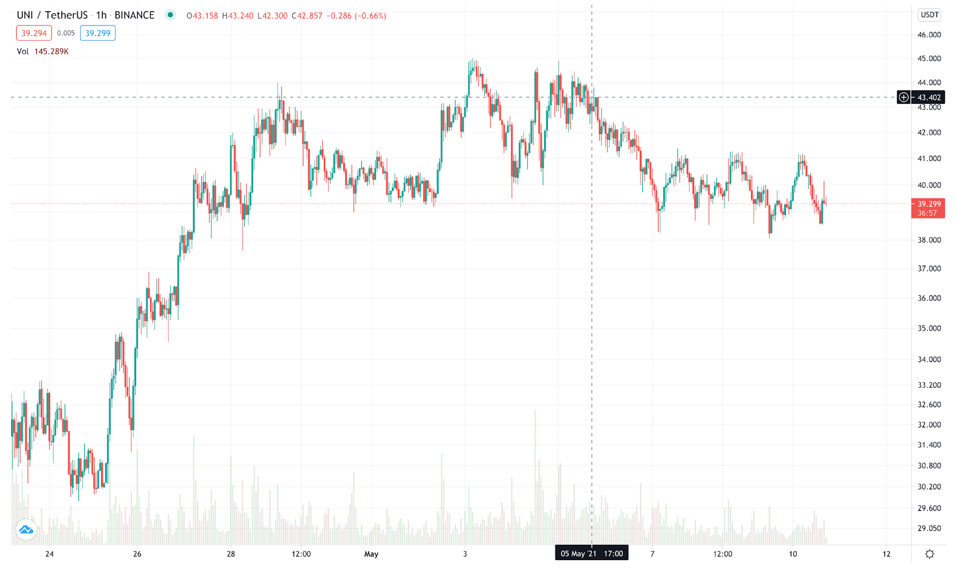 Notable News, Notes and Tweets
• "In a decentralized world, different people can create, promote, and like different coins. I personally don't chase shining objects," says the owner of Binance crypto exchange.

• Tom Brady has added "laser eyes" to his Twitter profile photo, joining the burgeoning movement in support of Bitcoin.

• "Bitcoin's profit ratio bounced off the bottom — this is usually followed by significant gains — but how much this time? Feels like it's ready to fly."
What's Next
When we look at the broader crypto market, there seems to be a huge cognitive dissonance between institutions and retail. While many large banks, like Swiss giant UBS Group AG (NYSE: UBS), express their wishes to provide crypto services, retail has gone into a memecoin frenzy.
Dogecoin (DOGE, Tech/Adoption Grade "B-"), pumped by Elon Musk, now has a larger trading volume on Binance than Bitcoin. Another dog coin, Shiba Inu (SHIB), has grown 39,733% in just a month. It's now a top 20 coin in terms of market cap.
Yup, that's right, this TikTok favorite has a $10 billion valuation. Coins made just for laughs are popping up all over the place, their worth mostly established by their "lolz" and meme potential.
This coin called Elon's Sperm (SPERM) has reached a valuation of $100 million in just two days since launch: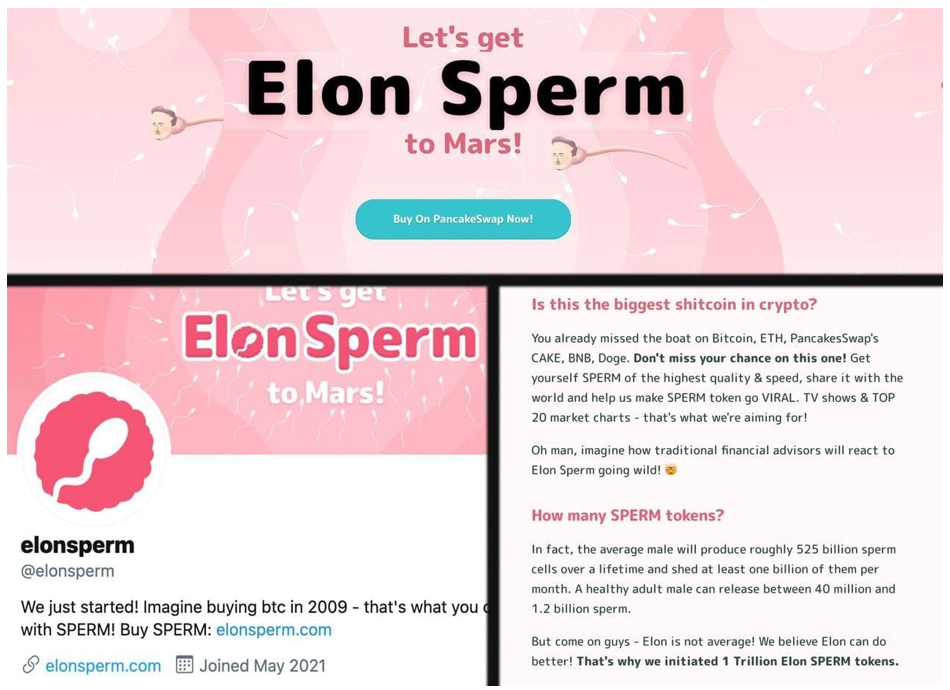 99.99% of these meme coins will die, and investors will get burned. But even some of the more experienced ones who are aware of what's going on are trying to ride the wave for short-term gains. We'll see how long this meme frenzy lasts.
But it might become cyclical, as the TikTok kids are not going anywhere, especially now that they've learned how to buy and store crypto.
Best,
Marija