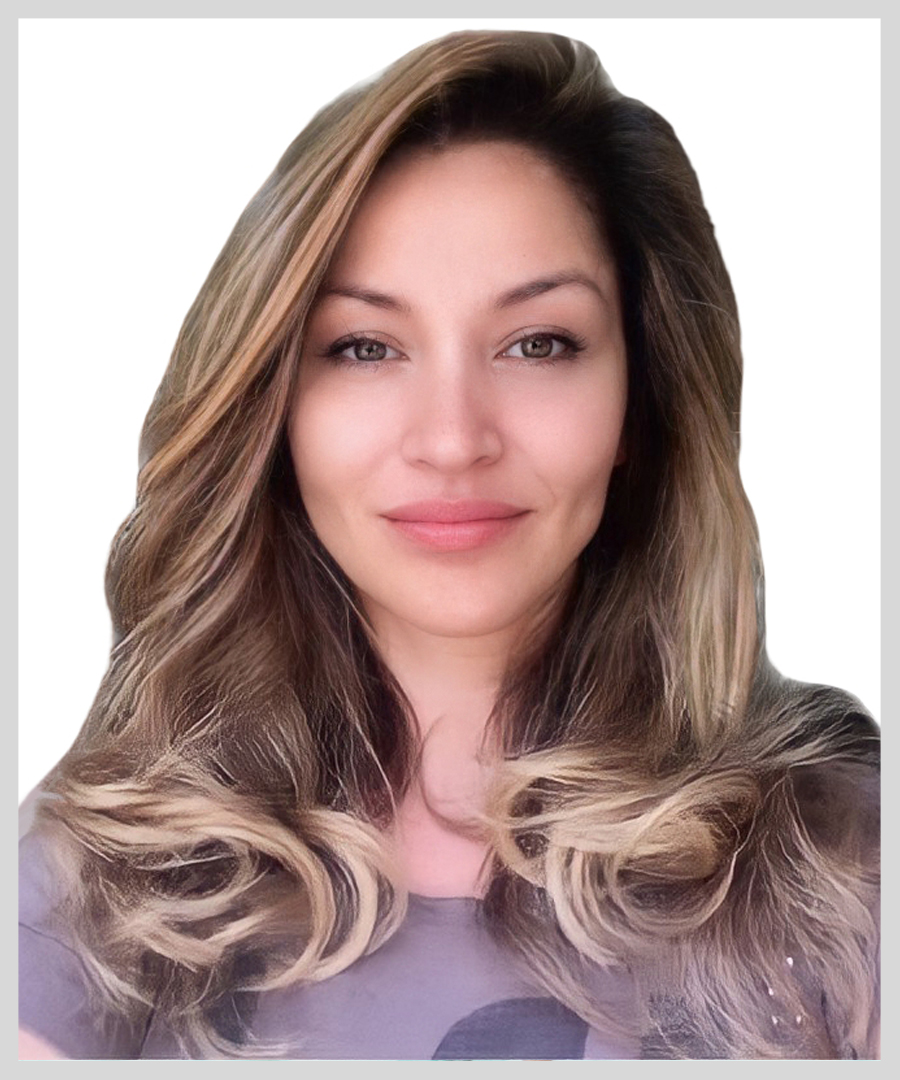 The cryptocurrency market was taken by storm today due to a critical shift in dominance.
• Bitcoin's (BTC, Tech/Adoption Grade "A-") dominance closed the week below 50%.

• Ethereum (ETH, Tech/Adoption Grade "A-") reacted by jumping more than 10% today.

• Uniswap (UNI) is enjoying fresh momentum on a tech upgrade.
BTC is losing a critical dominance level to altcoins, as depicted on this chart via TradingView: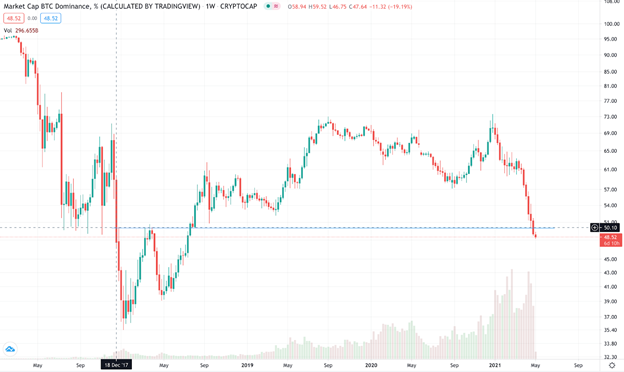 On a weekly basis, BTC closed below the 50% support level, and that's a clear buy signal for Ethereum. Indeed, the previous altcoin rally started on Dec. 18, 2017, when BTC closed its weekly dominance candle below 50% for the first time in history.
That happened exactly the day after BTC reached an all-time high. Now, we can't say that BTC is done this time — far from it. But we sure can see that the outlook for ETH is extremely bullish.
ETH has strung together seven consecutive positive months for the first time in its history. It gained the most value in January (78%). But there's a strong possibility May will outshine those gains.
As usual, Ethereum — the first alternative to Bitcoin — is leading the altcoin rally. The use of Ethereum reached an all-time high in April. In fact, the growth of transaction volume on the network was higher than the growth of its market cap. The network value-to-transaction (NVT) ratio reflects this, as it's significantly decreased over time.
In other words, the usage of Ethereum is growing faster than its price. We like that kind of action, and we expect to see the ETH price catch up.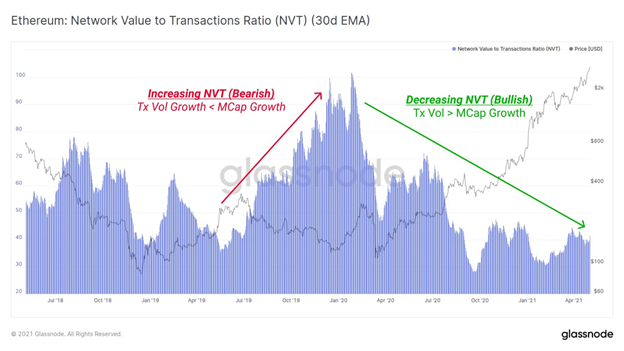 Part of the reason why Ethereum's outlook is so bullish is due to its layer 2 solutions exploding in usage, especially Polygon. Cheaper and faster transactions are rapidly being realized.
On top of that, the European Investment Bank (EIB) has issued its first-ever bond on Ethereum.
The use of ETH — and BTC, too — exploded in April, reaching all-time highs. ETH has reached $346 billion in on-chain monthly volume, while BTC reached $447 billion. (You read that right: Almost half a trillion dollars of BTC volume, in just one month; it's still the King …)
We're also seeing continuing institutional accumulation of Bitcoin, indicated by outflows of BTC from Coinbase Pro exchange. And there's more good news:
• Andreessen Horowitz is planning a $1 billion crypto fund.

• The number of U.S. users of the Bitstamp exchange has skyrocketed by 570% compared to the same period last year.

• Ebay, Inc.'s (Nasdaq: EBAY) CEO is considering adding crypto payments to the platform, while PayPal Holdings, Inc. (Nasdaq: PYPL) is exploring ways to create its own stablecoin.

• Revolut will start allowing its top-tier users to transfer their Bitcoin off the platform. This should help educate a number of wealthy investors about noncustodial wallets and being their own bank. Going noncustodial is the only way to understand Bitcoin's true value and potential.
PayPal, the ball is in your court …
Notable News, Notes and Tweets
• It's pretty well known that Charlie Munger and Warren Buffett "hate the Bitcoin success," but new-school critics note they also missed the boat on Google/Alphabet Inc. (Nasdaq: GOOG), Amazon.com Inc. (Nasdaq: AMZN), Facebook Inc. (Nasdaq: FB) and the like.

• Relative to BTC's price over the past five years, Berkshire Hathaway Inc. (NYSE: BRK/A) has been in massive decline and keeps making lower lows.

• OKEx exchange has allowed Ethereum L2 deposits and withdrawals (Arbitrum), showing other exchanges that they should cater to users and not their own interests.
What's Next
While this is all great, Bitcoin's development and improvement are even more important than institutional acceptance. Hence, we're pleased to note that voting for the Taproot update has finally started.
Taproot will help Bitcoin become more private and cheaper to use. "Signaling," the term to describe voting for changes to the protocol, will end in November. Ninety-percent support from miners is required for this improvement to be passed.
Considering that there are no significant public objections against it, there's a high probability that it will go through.
When it comes to large altcoins, Uniswap has reached a new high of $45. That's likely a response to the Uniswap V3 launch on May 5. We'll see if this becomes a "sell the news" moment later in the week, as it won't be coupled with the L2 scaling solution or if it will continue its rally.
This decentralized exchange is famous for giving away 400 UNI tokens to each of its 250,000 early users in September. UNI airdrop would now be worth $18,000, making it the largest crypto airdrop ever. Congratulations to everyone who held it up to this point.
Best,
Marija Matic