Is the U.S. Presidential Election Crypto's Next Big Catalyst?
The seven-day trading week that concluded Thursday was mostly quiet, as has been the case for the last four weeks or so.
What's more, we continue to see mounting evidence of an important turning point that may have happened around Sept. 8, as crypto markets rebounded strongly on that date and have been trending higher ever since, albeit with some hiccups here and there.
When we zero-in on the week ended yesterday, we find more of the same price action that's characterized the crypto space recently.
The Weiss 50 Crypto Index (W50) inched higher, posting a 5.01% gain. Remember, gains of this magnitude are, in the crypto space, still relatively mild.
Indeed, the chart below reveals it wasn't exactly a gangbusters week for crypto. But the markets did march higher, day after day. There's actually a larger theme here; more on that below.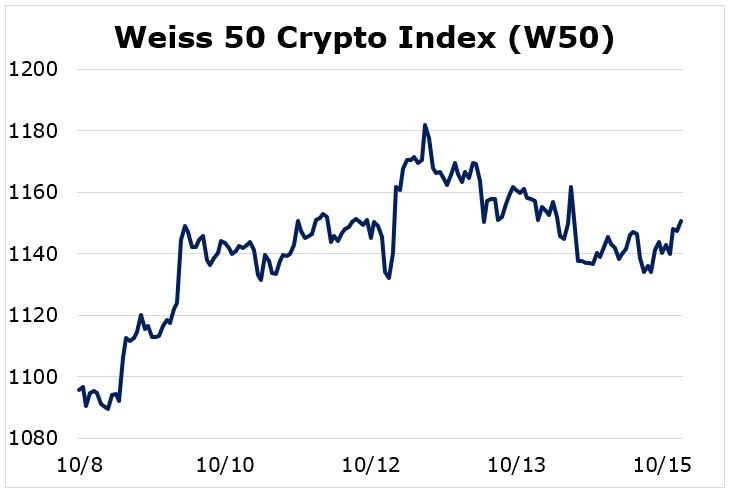 Stripping out Bitcoin (BTC, Tech/Adoption Grade "A-") to gauge to only the altcoins reveals a similar picture, as the Weiss 50 Ex-BTC Crypto Index (W50X) also posted a modest 5.40% gain.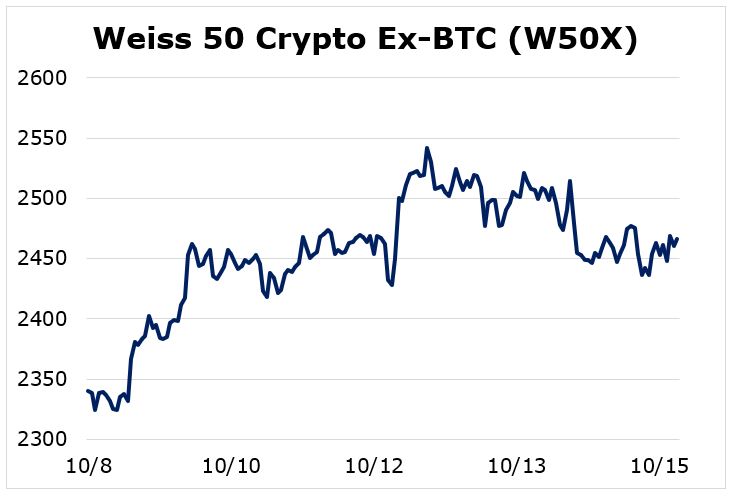 Here's what we see when we split the industry by market capitalization ...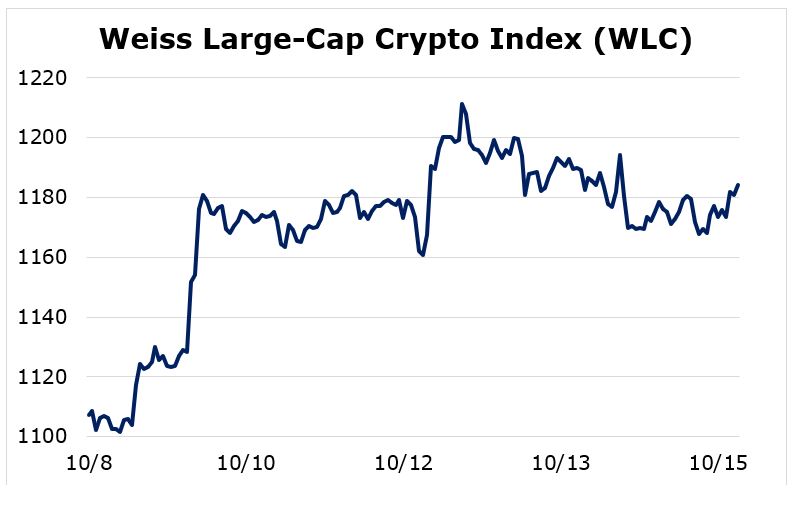 The Weiss Large-Cap Crypto Index (WLC) closed the week up 6.94%.
The Weiss Mid-Cap Crypto Index (WMC) followed a similar — in fact, nearly identical — trajectory, rising 6.93%.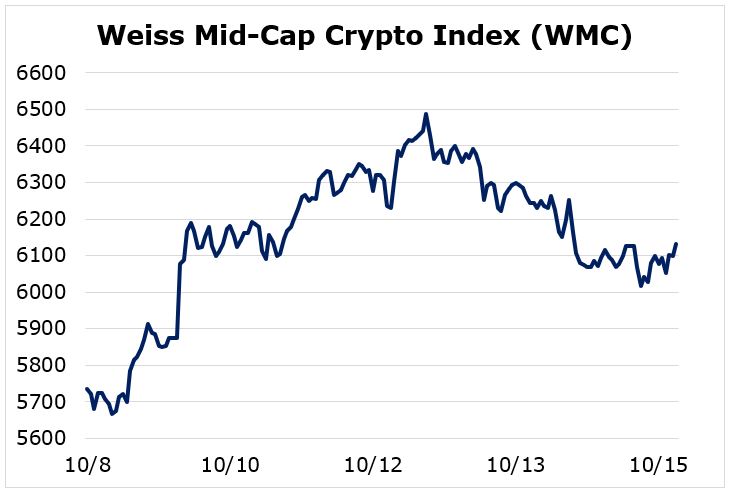 But the small caps struggled to keep up, as the Weiss Small-Cap Crypto Index (WSC) managed only a 3.44% up-move over the past seven days.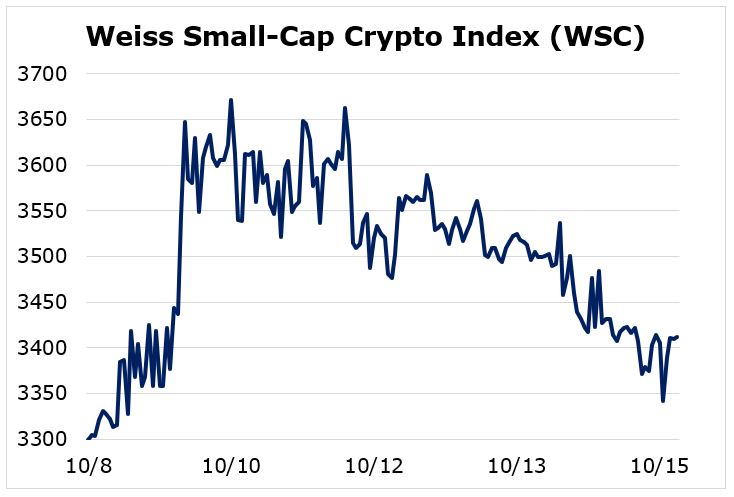 Excluding the action in the small caps — which barely moved higher on the week — we continue to see a crypto market that's "cautiously optimistic." It inches higher and higher, week after week, despite the fact that we haven't seen the type of excitement that usually accompanies a "true" crypto rally.
The big overhang clearly is the upcoming U.S. presidential election, which is turning out to be one of the most bitter contests in American history.
We have noticed an increased correlation between crypto and equity markets, for example, and we also see the same type of "caution" in traditional financial markets that we've described in crypto.
With heightened headline risk in the weeks leading to the Nov. 3 election — and the increased likelihood an unexpected news item can swing the markets wildly in either direction — it makes sense that traders and investors are quietly setting their positions ahead of this important event.
Importantly, every dip is met with buying, and, as we noted, we have seen markets inch higher overall since early September, a clear sign of a bullish undertone.
Just wait until the election is in the rear-view mirror; that's when we expect to see real fireworks.
Best,
Juan
Weiss Ratings is the only financial rating agency that covers cryptocurrencies. Click here for more in-depth information about Weiss Crypto Ratings, including the Weiss Crypto Price Indexes and crypto-asset reviews.