Late-Week Rebound Sets Stage for Fourth-Quarter Crypto Rally
Last week, we discussed consolidation and a base for the next move higher. But, today, we're going to be talking about a lot of red numbers, as the correction that started early this month resumed with a vengeance.
There is a silver lining: We're starting to see clear evidence — including price action over the seven-day trading week ended yesterday — that an important low may have been established for most crypto assets around Sept. 9.
Let's begin, as usual, with the Weiss 50 Crypto Index (W50). The broadest measure of the industry fell by 7.52% on the week. And it was down by more than 12% as of midday Wednesday. But it rebounded and rallied all day Thursday.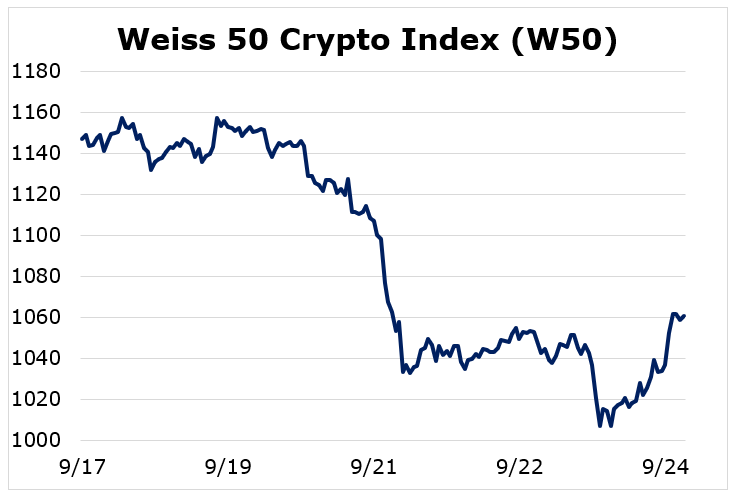 This price action is mirrored by the altcoin-focused indexes. The Weiss 50 Ex-BTC Crypto Index (W50X) lost 10.82% for the week, but it was down more than 16% late on Wednesday. As was the case with the W50, the W50X rallied all day Thursday.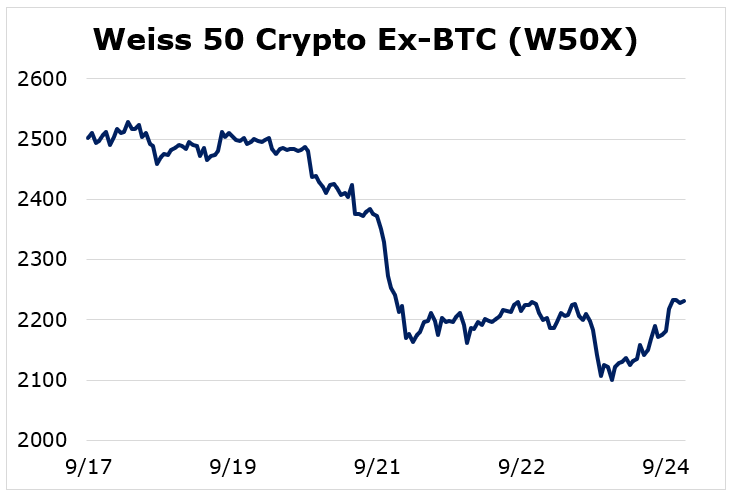 When we split the industry by market capitalization, we see similar patterns.
The Weiss Large-Cap Crypto Index (WLC) lost 7.23% of its value after being down almost 12% mid-week.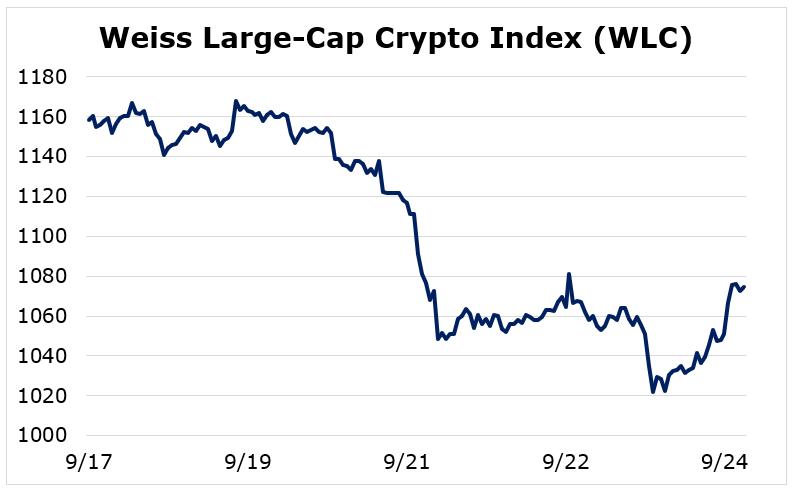 And the Weiss Mid-Cap Crypto Index (WMC) finished the week down 9.83% after it was down more than 15% before a big Thursday turnaround.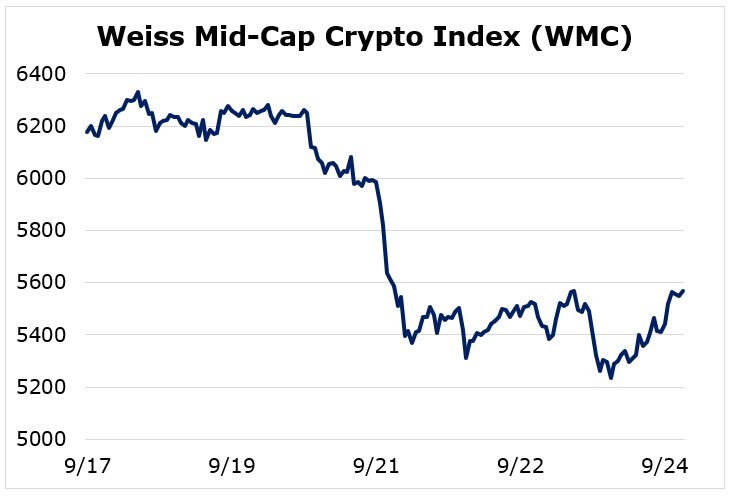 The Weiss Small-Cap Crypto Index (WSC) shed 8.26% for the week but was down over 14% before Thursday's session.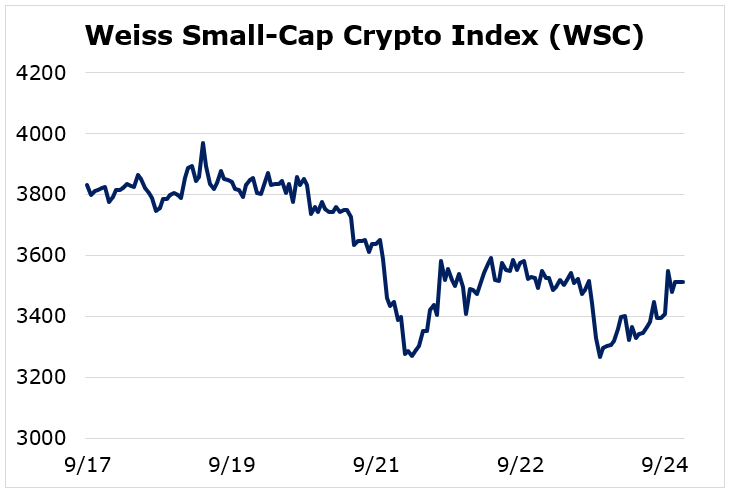 We see the same pattern across all our indexes: Crypto assets fell sharply at the trading week's outset but rebounded with conviction on Thursday. (Markets are moving mostly sideways as of midday Friday.)
Here's why the price action we saw this week is encouraging, even when we consider the fact that crypto assets had generally been heading higher:
It has to do with what looks to be an important low in the second week of September. The rally we saw on Thursday came as most major assets were retesting those lows. And that means a potential double-bottom formation.
Should the lows established in early September and re-tested this week hold, we can say that crypto markets are forming a base from which they'll surely rally through the last quarter of 2020.
Note that Bitcoin (BTC, Tech/Adoption Grade "A-") continues to lead; indeed, it remains markedly stronger than its altcoin progeny. As we've often said, this is critical to a sustainable crypto bull market, as Bitcoin is the go-to asset for new money seeking refuge from the rampant asset price inflation policies being pursued by most central banks.
We saw further confirmation of this dynamic when MicroStrategy Inc. (Nasdaq: MSTR) CEO Tom Saylor decided to move the bulk of his company's cash position to Bitcoin — some $425 million. Saylor explained that, for MicroStrategy, BTC is the only viable crypto asset for decision-makers with big funds to move. That's a sentiment we know is shared by most of the world's institutional asset managers.
And this is exactly why Bitcoin is the key crypto asset to watch.
And it looks like it's setting up to lead the way higher as we head into 2021.
Best,
Juan
Weiss Ratings is the only financial rating agency that covers cryptocurrencies. Click here for more in-depth information about Weiss Crypto Ratings, including the Weiss Crypto Price Indexes and crypto-asset reviews.