Market Internals Say Bitcoin's Breakout Is Building
Crypto assets closed at or near seven-day highs on Thursday, as a volatile week in both directions ended with the bulls maintaining control over the bears.
For financial markets broadly, the liquidity-induced rally that started in early March seems to be running out of gas. Meanwhile, crypto assets are grinding higher.
The Weiss 50 Crypto Index (W50) reflected the general volatility in the crypto market but ended the week up 3.92%.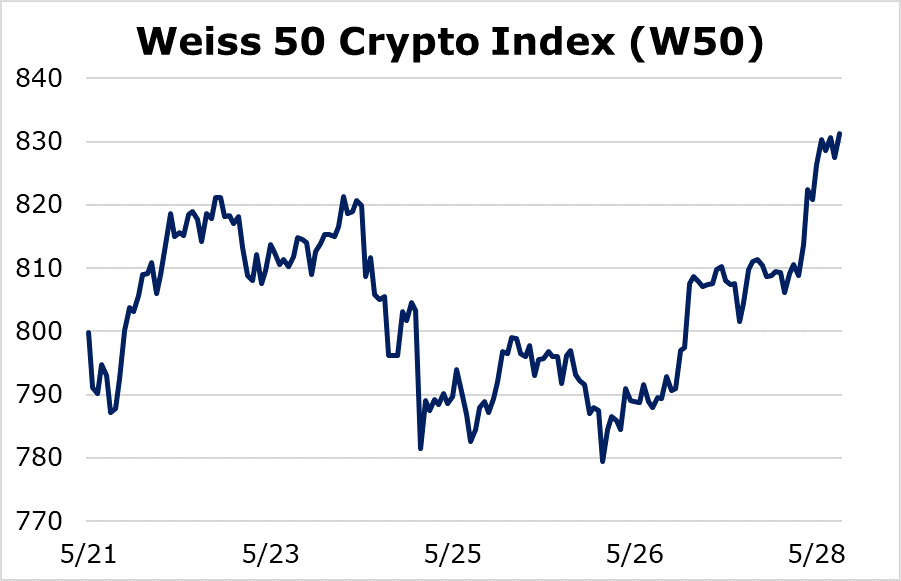 The chart below, tracked from the Weiss 50 Ex-BTC Crypto Index (W50X), suggests the altcoin space was slightly more bullish than Bitcoin (BTC, Tech/Adoption Grade "A"). Indeed, this index, which excludes Bitcoin, ended the week up slightly higher at 4.46%.
Yet the action is pretty much the same, as the index was essentially trapped in a range for most of the week.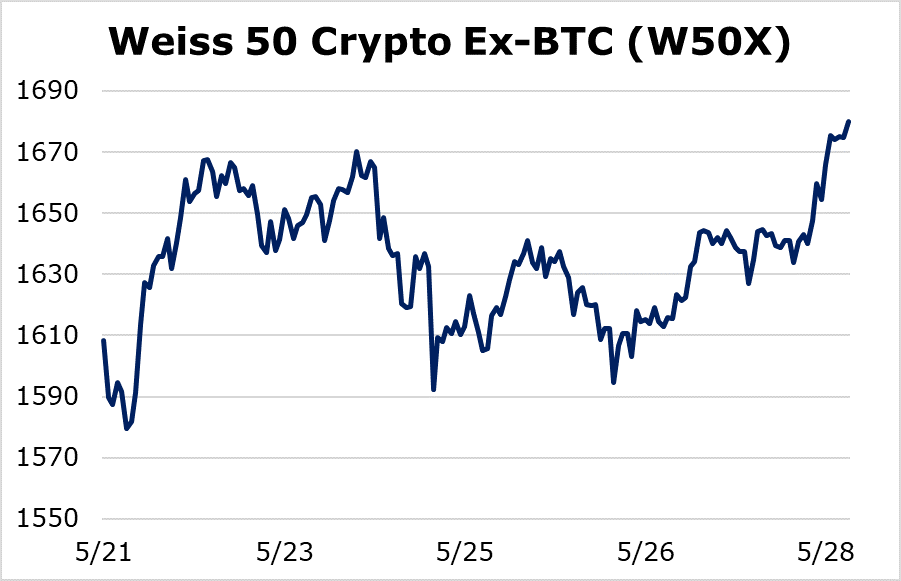 Let's break down the crypto space by market capitalization.
Dominated by Bitcoin, the Weiss Large-Cap Crypto Index (WLC) was up 3.14%.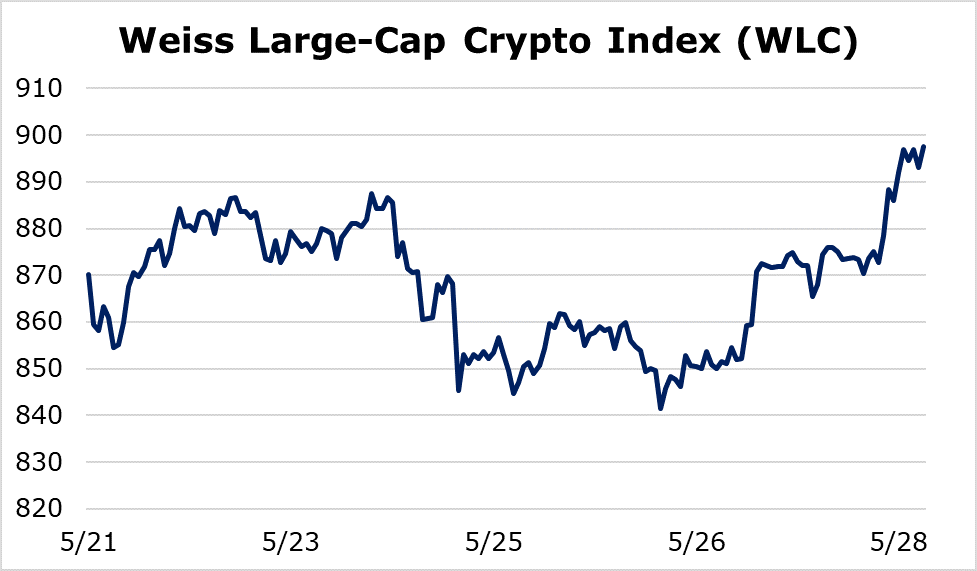 Aided mostly by Cardano (ADA, Tech/Adoption Grade "B+"), the Weiss Mid-Cap Crypto Index (WMC) surged by 7.46% over the seven-day stretch ending May 28.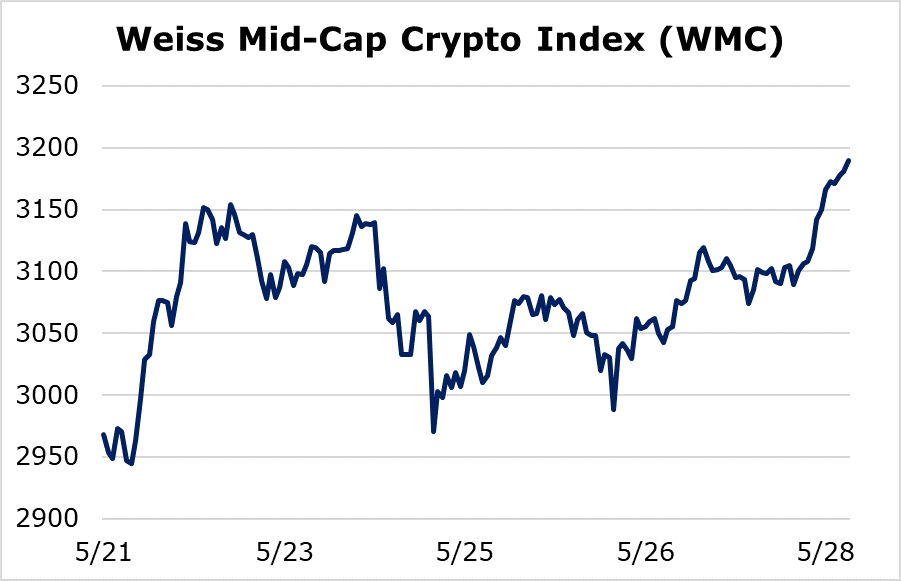 Finally, the highly speculative Weiss Small-Cap Crypto Index (WSC) was up an impressive 15.22%. Most of that rally happened early in the week, with the small-caps trading sideways over the last five days.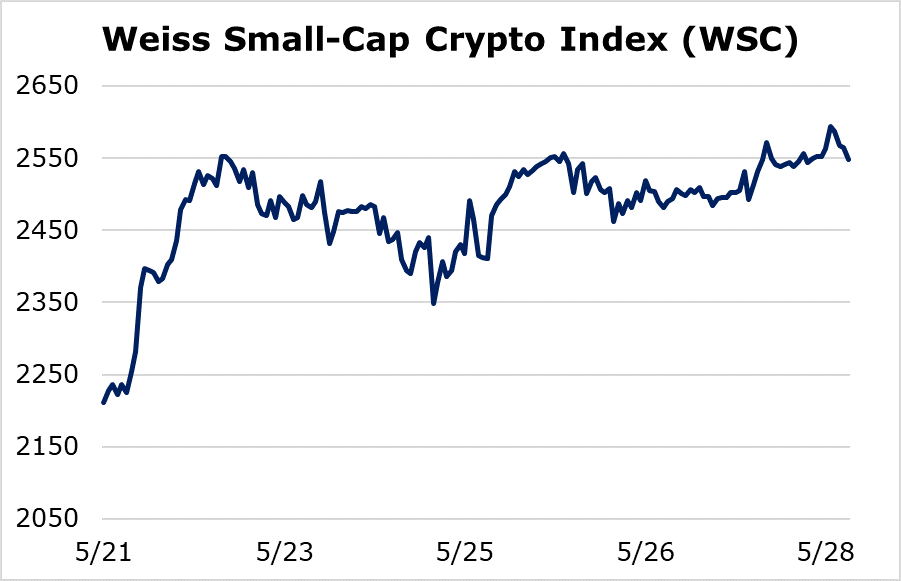 The divergence between large-caps and the rest of the market is not entirely anomalous: Altcoins have been performing much better than Bitcoin and other large-cap crypto assets so far in 2020. This trend continued last week.
Bitcoin and most major altcoins have been trapped in a consolidation range since early May. At the same time, some smaller projects are still making new highs for the current cycle. That action is reflected in the mid-cap and small-cap indexes.
Such divergence warns that the post-money-printing rally that started in early March may be coming to a head.
That said, with some indexes pushing out to new highs, our timing models have suggested that the current consolidation phase may be short-lived.
That means a significant breakout — one that could take Bitcoin past $10,000 and the rest of the markets with it — may be on the near-term horizon.
Best,
Juan
Weiss Ratings is the only financial rating agency that covers cryptocurrencies. Click here for more in-depth information about Weiss Crypto Ratings, including the Weiss Crypto Price Indexes and crypto-asset reviews.