More than money transfers: How Libra can lead to financial freedom, equality
According to the World Bank, 1.7 billion people in the world do not have a bank account or access to basic banking services.
You and I take banking services for granted. If someone gives us a check, we can deposit it easily and for low or no cost. And we can swipe a credit card or download an app on our phones that makes it possible to send or receive money within seconds.
But for those billion-plus people who do not have ready, affordable access to banking services, it can cost them big-time. Those who are unbanked or underbanked face two huge disadvantages:
They end up unnecessarily spending a high percentage of their income on third-party transfer services that they can't afford, and/or
They are vulnerable to being robbed simply because they are carrying cash.
We're talking about people who are living in poverty in rural parts of countries like Bangladesh, Pakistan, Nigeria, China and India.
However, many — if not most — have internet access and a surprising number own a smartphone. Heck, I've seen dirt-poor farmers in rural China checking the spot price of rice on their mobile phones.
But this isn't just a developing-country or emerging-market problem …
The FDIC says that some 25% of U.S. households rely heavily, if not solely, on financial services outside of the traditional banking system.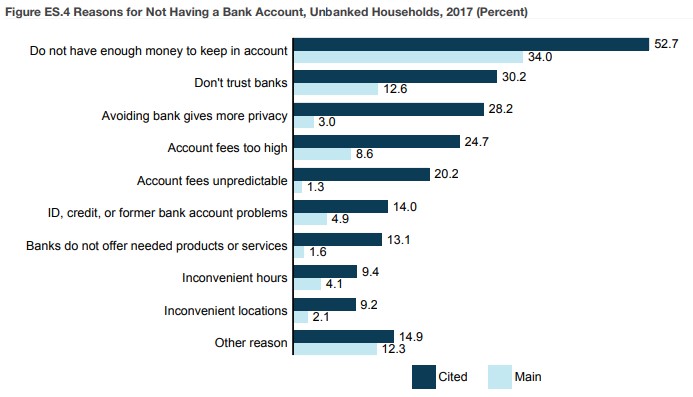 Image credit: FDIC National Survey of Unbanked and Underbanked Households
One of the important catalysts pushing cryptocurrencies and growth of blockchain-based services are those 1.7 billion "unbanked" people.
The combination of internet, smartphones and blockchain technology is going to be the catalyst that brings banking to those billion-plus unbanked people around the world.
Blockchain-based services are far superior — cheaper, faster and more secure — for transferring money than entrenched services such as Western Union (WU), MoneyGram (MGI), PayPal (PYPL) and international bank transfers. Blockchain payments can be completed in minutes, are close to free and don't require a bank account.
There are several startups specifically targeting the "unbanked." But the recent entry of Facebook with its Libra currency is not only the most ambitious, but it's also likely to become the new global standard for cross-border, consumer-to-consumer payments.
Why might Facebook win the remittances race, especially when Western Union has been in this business since the 1850s? Because it can.
Facebook is a global powerhouse with 2.3 billion users. And Libra has found a solution to remove most (not all, but a great deal) of the volatility risk from using digital currencies. That's because it will back Libra with a basket of major, government-backed currencies to keep volatility in check.
I believe Libra is going to revolutionize the world's monetary system. For the first time in history, there will be a currency that's backed/sponsored not by a government, but by large multibillion-dollar corporations.
It's a form of money that has never existed in the modern era: private money.
This is what makes Libra truly revolutionary. Not its technology, but rather the privatization of money.
Libra is a big, big deal, which is why my Weiss Crypto Investor subscribers already own Facebook (FB). But it's not too late to jump on the bandwagon because I think Libra has the chance to eventually double, triple or even quadruple Facebook's profits.
That doesn't mean you should rush out and buy Facebook stock tomorrow morning. As always, timing is everything, so I recommend that you wait for my next "buy" signal.
Speaking of buy signals, I am putting the finishing touches on my next cryptocurrency technology (blockchain) based stock pick for my Weiss Crypto Investor subscribers. To be among the first to get my best blockchain picks, the moment I hit the "send" button on them, click here.
Best wishes,
Tony Sagami