Range-Bound Trading Tightens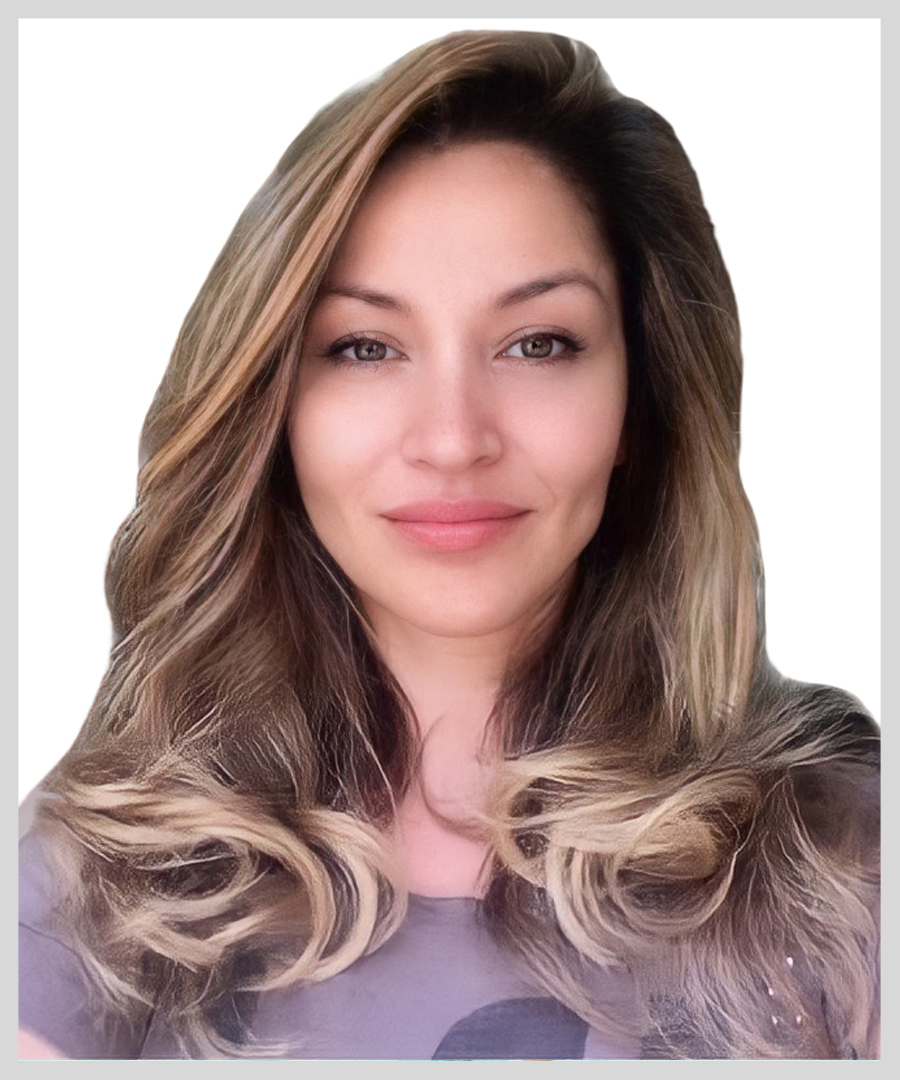 Bitcoin (BTC, Tech/Adoption Grade "A-") is still trading in a range, now between $33,000 and $34,700. If that downside support holds, there is a high chance of retesting $35,000 soon, where a heavy resistance awaits. The 50-day moving average (MA) — a level BTC hasn't retested since mid-May — is now around $35,605, and BTC has not retested daily 50MA since mid-May.
If the King of Crypto can break past it, BTC will become more bullish.
Bitcoin has been consolidating for over 50 days. Funding rates on Perpetual Futures markets have been consistently negative during that period. The last time funding rates remained negative for such an extended period of time was from March to April 2020.
However, the volatility is now calming, and the price is narrowing down.
As such, we may see a larger move soon.
The BTC/USDT daily chart on TradingView shows that Bitcoin is still trading below the mid-range of the nine-week-old trading channel. Daily 50MA (orange line) lies close to the mid-range of the channel.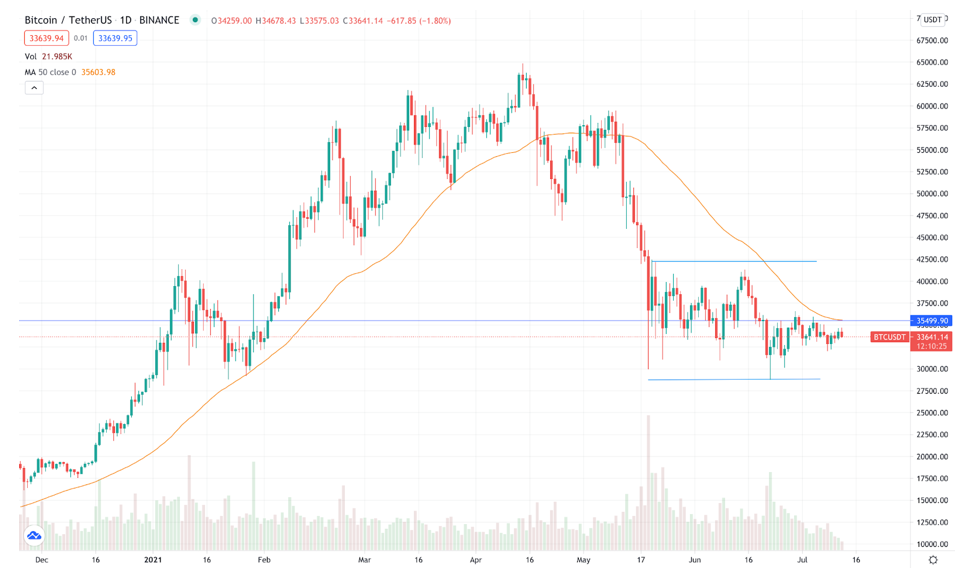 Ethereum (ETH, Tech/Adoption Grade "A") is also trading in a very narrow range, testing the local support of $2,000.
The ETH/USDT daily chart on TradingView shows that its 50MA has served as a resistance since mid-May.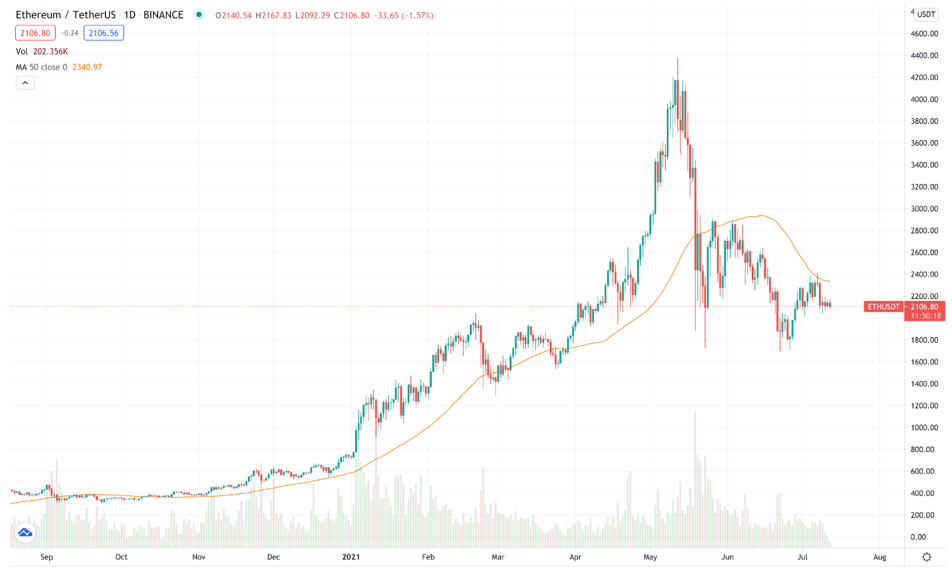 Daily 50MA now sits at $2,340. While pushing past it would make ETH more bullish, we first have to see how the retest of the $2,000-$2,030 support goes.
And while the crypto prices are narrowing down, Q2 performance results are still coming in. They show that the crypto space has broken many of its own records in the previous quarter.
The record number of 497 crypto-related venture deals occurred during the second quarter.
When excluding the $9.7 billion capital injection by Block.one into the crypto exchange venture Bullish, the second quarter saw $6.2 billion in private funding directed toward the digital asset industry, as reported by The Block. This represents an approximate 90% increase from the first quarter.
Dogecoin (DOGE, Tech/Adoption Grade "B-") has also broken some of its own records.
Brokerage eToro says client holdings of DOGE vaulted above BTC and ETH in the past quarter. The only coin more popular than Doge was Cardano (ADA, Tech/Adoption Grade "B-").
However, Q3 has brought some negative circumstances for DOGE. TikTok, where DOGE gained mainstream popularity, has banned influencers from promoting crypto a couple of days ago. On top of that, Elon Musk's effect on the price of DOGE seems to be dying down.
One of the most important news in recent days is that the issuer of stablecoin USD Coin (USDC), Circle, will go public. They have announced plans to be listed on the New York Stock Exchange (NYSE) via an acquisition by Concord, a special-purpose acquisition company (SPAC).
The deal values the crypto firm at $4.5 billion. This centralized but popular stablecoin is jointly administered with Coinbase Global, Inc. (Nasdaq: COIN) and has a circulating supply of nearly $26 billion. Circle executives estimate that price of USDC in circulation could more than double to $83 billion next year and reach around $200 billion by 2023.
Circle CEO Jeremy Allaire made the promise to be more transparent about the reserves backing USDC in the future.
Notable News, Notes and Tweets
• Jack Dorsey's Square Inc. (NYSE: SQ) is building Bitcoin's hardware wallet.

• $400 billion investment firm Capital International has purchased over $600 million worth of MicroStrategy Inc. (Nasdaq: MSTR) shares.

• A member of Argentina's National Congress, José Luis Ramón, has submitted a bill that will allow workers to receive salaries in Bitcoin.
What's Next
July 17 is one of the largest "unlocking days" in Grayscale's history, with 16,240 BTC worth of Grayscale Bitcoin Trust (OTC: GBTC) becoming available to trade. While JPMorgan Chase & Co. (NYSE: JPM) anticipates that the lockup expirations worth $540 million will cause downward pressure on Bitcoin's price, there is a possibility that this unlocking may not create as much volatility as expected.
This unlocking on its own may not have a significant impact on the overall market outside of GBTC itself.
Most of the large institutional positions that had subscribed in kind before have been unlocked earlier, and they didn't sell at the current discounted price. With the declining discount to the net asset value (NAV), many investors may not sell their GTBC shares when the lockup expires. In fact, if institutions decide to unwind their positions, they might have to buy BTC from the spot market to cover the GBTC, which is far from bearish.
Crypto markets are also anticipating a price reaction to Ethereum's London Fork that is to come around Aug. 4. This might be the catalyst ETH needs to push it above its 50MA and out of its range-bound trading. We'll be watching closely.
Best,
Marija