'Scalp' some profits as the blockchain starts to put ticket scammers out of business
If you ever have a chance to attend the Summer Olympics … GO!
I went to the 2008 Olympics in Beijing and it was an amazing experience. Warning: Tickets to the most popular events — such as women's gymnastics, figure skating or anything Michael Phelps swam in — were extremely expensive. I'm talking in the $1,000-plus range per ticket.
If you're a long-time reader, you know that I'm way too frugal to shell out a thousand bucks for a ticket to anything. But I did attend several preliminary events where the tickets often less than $100 each.
I had a blast with one exception … I unknowingly bought a pair of fake tickets!
My mistake cost me less than $300. But I was very irritated with the scumbag who sold me the fake tickets. I was also pretty mad at myself for being so trusting.
The biggest problem with event tickets is that venues still use paper tickets … and the average fan who buys tickets on the secondary market has no way to authenticate those tickets.
The fake ticket industry is actually quite large. AARP says consumers buy 5 million tickets each year — tickets that either don't exist or that the seller never sends once they've gotten paid — to sporting events, concerts, theme parks and more.
And boy do people pay up for events they want to attend. Unsuspecting consumers spend some $2.3 billion on counterfeit tickets — a figure that rises every year. And those are those are just the instances that get reported!
And the more popular the event — such as the Super Bowl, The Rolling Stones, "Hamilton" on Broadway and, yes, the Olympics — the more fake tickets are produced.
A new company, Bandwagon, is working with sports teams, concert promoters, musicians, festivals and other ticket-selling businesses to eliminate ticket fraud and put the fake-ticket scumbags out of business.
Greenville, S.C.-based Bandwagon aggregates tickets from event organizers. Then it attaches those tickets to a blockchain-based authentication process that makes them impossible to counterfeit.
According to Bandwagon founder Harold Hughes:
"We believe that blockchain is the right technology to address these issues, by allowing stakeholders to cooperate on a shared model of tickets and fans, with the confidence to know that the model is only ever accessed and modified in ways that meet agreed-upon business rules, enforced by smart contracts securely, mathematically, and cryptographically."
"The fan's buying experience is not changed, the ticket marketplace's process is not changed, yet event organizers are able to gain visibility like never before while eliminating ticket fraud,"
I think Bandwagon is on to something big, but you can't buy shares in it directly. However, there is an easy way to invest in the important work it is doing.
That's because Bandwagon is one of 10 businesses that have signed up for the IBM Blockchain Accelerator program.
The 108-year-old IBM Corp. (IBM) has the image of a being an old, boring, out-of-favor computer hardware company. Let other investors keep believing that.
What you should know is that, while no one was looking, IBM started morphing into one of the most cutting-edge blockchain innovators on the planet.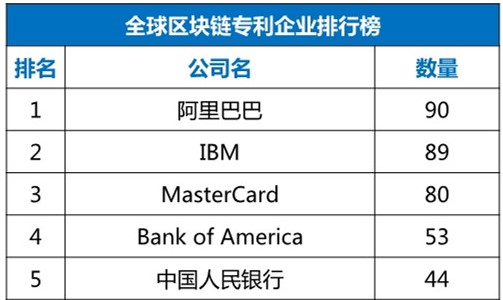 Alibaba and IBM are the top filers for blockchain patents, with 90 and 89, respectively. Mastercard (80), Bank of America (53) and the People's Bank of China (44) round out the top five.

IBM has quietly been working on blockchain projects for the last five years and has become the global leader in blockchain technology development.
Fact: IBM was granted the second-largest number of blockchain patents in 2018, trailing only Chinese internet giant Alibaba.
IBM has a small army of 1,500 of its top researchers working on blockchain initiatives. They have more than 500 blockchain projects in the works.
Whatever the future holds for blockchain, I am very confident that IBM is going to grab a huge piece of the profit pie.
In the spirit of full disclosure, I need to tell you that my Weiss Crypto Investor subscribers are happy IBM shareholders. That does not mean, however, that you should rush out and buy IBM shares tomorrow morning.
As always, timing is everything so I invite you to try a no-risk trial to my Weiss Crypto Investornewsletter. I think you will be very happy with the results.
Best wishes,
Tony