Wall Street tells staff: Time to learn about crypto!
Bloomberg calls it "the definitive sign that cryptocurrencies have arrived on Wall Street."
They're talking about some big changes coming to one of the toughest tests in finance — the one needed to become a Chartered Financial Analyst (CRA).
Roughly 156,000 people in the financial industry have the CFA designation. They typically work for large investment houses like JPMorgan, Bank of America, BlackRock, Credit Suisse and more. Many routinely earn more than $100,000 a year. Some earn millions.
With that kind of possible payday, it's no wonder why 227,000 people from 91 countries registered to take the CFA exam this year.
However, taking the test is one thing. Passing it is another. CFAs must demonstrate knowledge about a wide range of financial topics and investments, including stocks, bonds and derivatives.
A typical candidate spends 300 hours or more studying for the grueling multiday, three-part test. But even after that much studying, only 47% passed the CFA exam in 2017.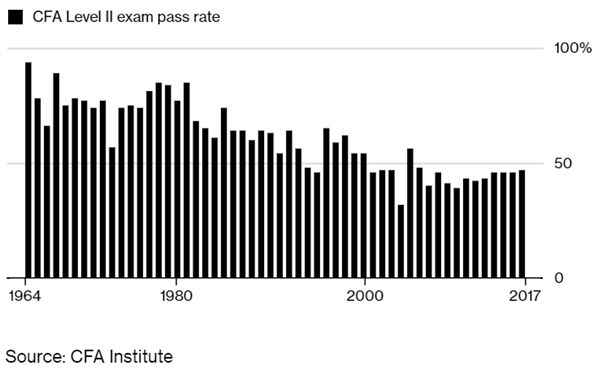 More than 1.3 million candidates have sat for the Level 1 CFA exam since 1963. Only about 210,000 have gone on to pass the Level 3 exam. That's a weighted completion rate of about 16%.
Now it's about to get even harder.
Why? The CFA Institute announced that, starting in 2019, it will add cryptocurrency and blockchain questions to its grueling test.
And the reason to include cryptocurrencies in the CFA exam is simple: Wall Street is increasingly including digital assets in its investment plans. So Wall Street firms themselves have been requesting it!
Monkey See, Monkey Do
This move offers further proof that cryptocurrencies are anything but a passing fad. The people with their fingers on the trigger for trillions of dollars are long-term believers. They're not paying much attention to crypto naysayers, and nor are we.
"We saw the field advancing more quickly than other fields and we also saw it as more durable. This is not a passing fad," said Stephen Horan of the CFA Institute.
The Wall Street crowd doesn't have the best reputation when it comes to ethics. But one thing that they do better than anybody else in the world is make money.
And they see big money in cryptocurrencies.
Related story: Why regulators will give crypto a green light
The CFA Institute's timing is pretty good, too. After suffering ugly losses for the first six months of 2018, cryptocurrencies have found a solid bottom, and have bounced nicely since.
Bitcoin, for example, dropped below $5,800 in June but has rebounded to about $7,750. That's more than a 30% gain.
The earlier decline AND the latest rebound are EXACTLY what my colleague Juan Villaverde predicted, and you could have made a mountain of money if you had been following his guidance.
Best wishes,
Tony