Want To Earn Tax-Free BTC? Move to El Salvador!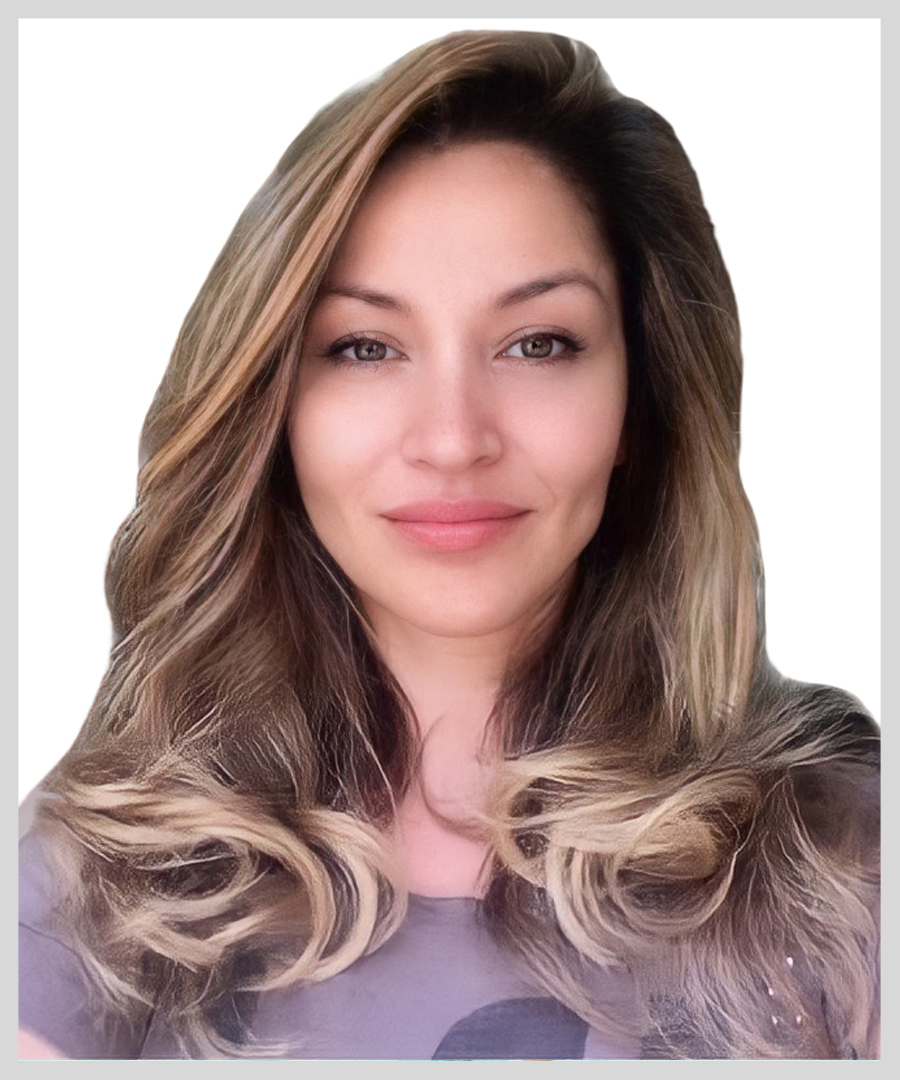 Bitcoin (BTC, Tech/Adoption Grade "A-") will likely become legal tender in El Salvador. There are indications that Paraguay may follow. In the United States, though, former President Trump is cheering for the U.S. dollar.
Donald Trump said today that he doesn't like Bitcoin. It's "a scam" and "another currency competing against the dollar." Trump wants the dollar to win and become "the currency of the world" and has urged regulators to take action and monitor it.
At the same time, El Salvador's president, Nayib Bukele, wants to help Bitcoin entrepreneurs relocate to El Salvador, where Bitcoin will be free from a capital gains tax. His recorded speech was the highlight of last week's Bitcoin Conference in Miami. He will send a bill to lawmakers demanding Bitcoin become legal tender.
The prepared bill is somewhat unusual and shocking.
An excerpt states:
Central banks are increasingly taking actions that may cause harm to the economic activity of El Salvador.

In order to mitigate the negative impact from central banks, it becomes necessary to authorize the circulation of a digital currency with a supply that cannot be controlled by any central bank and is only altered in accord with objective and calculable criteria.
Wow! Will this bold statement receive an international backlash from world powers? Bukele hinted that this is already a case, stating, "Some powerful interests will try to make this historical Bitcoin move fail." He added that "they know what it means if it succeeds. It will."
Bukele seems determined to fight this, though, and will lead by example. El Salvador is set to become the first country in the world to make Bitcoin legal tender, meaning BTC will be treated the same as a U.S. dollar — the official unit of currency in the country since it replaced the colón in 2001. Having Bitcoin on par with the dollar would make this the largest economic experiment in the world.
In addition to tax-free Bitcoin, the president has announced immediate permanent residence for crypto entrepreneurs.
With great weather, world-class surfing beaches and no property tax, it's not difficult to see how this Central American country could become one of the hottest destinations for the crypto-rich.
Industry heavyweights, such as Binance CEO Changpeng Zhao and Tron CEO Justin Sun, have already expressed their interest.
But why would Bukele push for crypto adoption on a national level? Well, over 70% of the population of El Salvador is not in the financial system. They don't have bank accounts. Hence, the government is showing support for innovation in an effort to bolster an economic recovery after decades of painful history. Bitcoin's transition to legal tender could help facilitate new jobs and allow for more financial inclusion.
"In the short term, this will generate jobs and help provide financial inclusion to thousands outside the formal economy," Bukele said.
Congressman and the National Deputy of Paraguay Carlitos Rejala has called for Paraguay to take similar action as El Salvador. Like Bukele, the congressman also posted a photo of himself with laser eyes on Twitter Inc. (NYSE: TWTR) — a show of support for Bitcoin.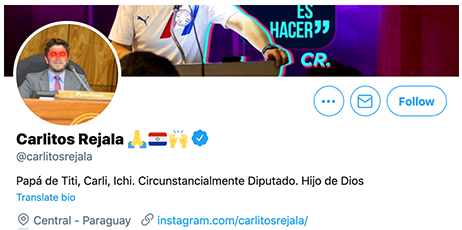 Rejala has hinted at "an important project" with Bitcoin and PayPal Holdings, Inc. (Nasdaq: PYPL) that will "innovate Paraguay in front of the world."
However, not even these bullish developments have managed to move the price of Bitcoin out of its sideways range below $40,000. The fear, uncertainty and doubt (FUD) from China a couple of weeks ago was stronger than good news from less influential countries.
On the flip side, though, not even today's FUD by former U.S. President Trump managed to affect the price significantly.
In fact, Bitcoin price has been stuck in the same boring range for the last 20 days.
Daily chart of BTC/USDT on TradingView: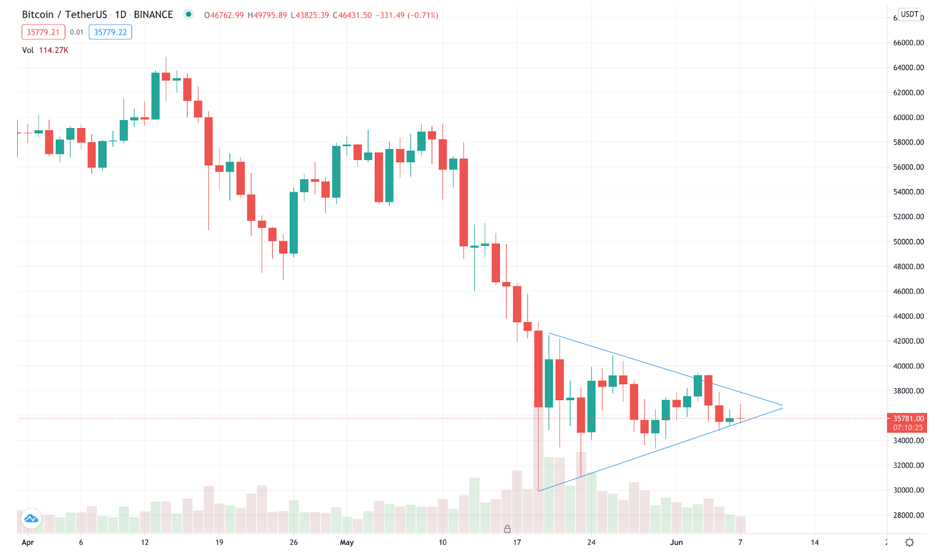 As you can see, the King of Crypto has been stuck in a sideways trading range. Though, based on the triangle in the chart, that range is narrowing. Soon, the price will need to break out — either to the upside or down.
If it breaks down, the first support will be around the $32,000­-$33,000 area. If it breaks up, it would be good to hold above the $38,000 level and quite bullish if it manages to stay above $42,000.
Ethereum (ETH, Tech/Adoption Grade "A-") has a similar chart, and its move will likely depend on BTC's, even though the ETH/BTC chart looks strong.
Daily chart of ETH/USDT on TradingView:
Usage metrics for Bitcoin and Ethereum haven't been bullish in the last few days. In fact, their use has fallen dramatically this week.
The only good thing about this is that gas fees have dropped. We can now send ETH for only 60 cents as in 2020.
According to Glassnode metrics, the total USD-denominated transfer volume settled by the Bitcoin network has pulled back by a whopping 65% in the last two weeks. Change-adjusted transfer volume fell from over $43 billion per day down to $15 billion per day. This is the largest fall in usage since the 2017 aftershock, as can be seen from this Glassnode chart: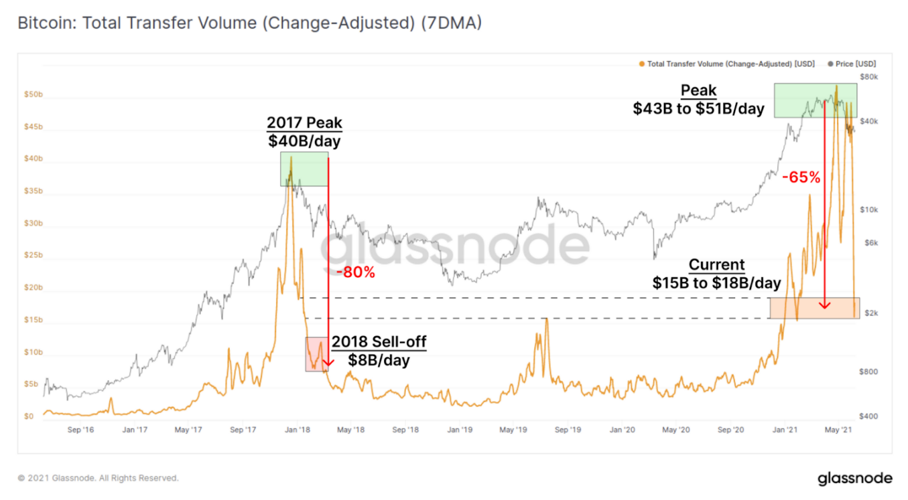 Ethereum is performing somewhat better, as the same metric fell by-60%, compared to 2018's extreme decline of 95%.
This drop in usage is somewhat expected, as interest in the assets wanes with falling prices and increasing uncertainty. Still, in this case, it's too significant to be ignored. Hence, investors are sitting on the sidelines until the direction the price will take after this consolidation is clear, making the overall market sentiment slightly more bearish.
We will see if this is a temporary drop in demand or if it's a sign of things to come.
Notable News, Notes and Tweets
• MicroStrategy Inc. (Nasdaq: MSTR) is buying another $400M worth of BTC!

• @BitcoinBeach posts an ironic tweet calling attention to El Salvador's adoption efforts: "Yes, El Salvador is a horrible place to live. Who would want to have to deal with this everyday?"

• 32 companies hold 325,032 BTC, worth over $11 billion.
What's Next
Broad market sentiment is neutral. We are waiting for BTC to break from its consolidation phase in the next few days. The majority of the altcoins will follow the move.
Best,
Marija