'What About Bitcoin?' as Mid-Caps Lead Crypto Rally
Gold and U.S. Treasuries have been well bid for weeks now … and it's beginning to look like crypto assets are finally getting similar "safe-haven" respect.
For weeks now, we've noted how odd it was to see crypto failing to take a cue from these traditional safe havens.
Well, it seems this correlation may have come back into play during the seven-day trading week ended Thursday, July 9, as the Weiss 50 Crypto Index (W50) posted a solid 5.58% gain.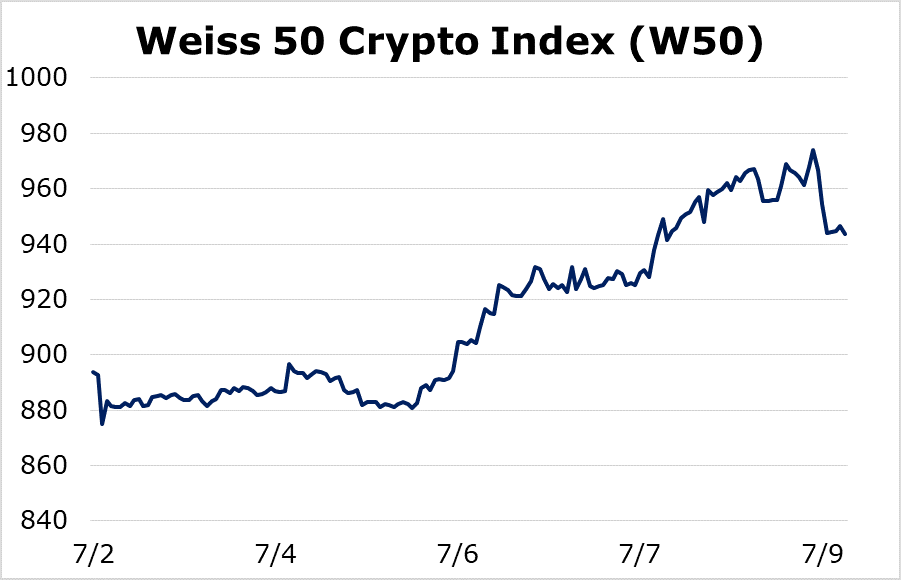 Now, here's where the story gets interesting: The Weiss 50 Ex-BTC Crypto Index (W50X) was up about twice as much, 10.91%, on the week. Clearly, altcoins outperformed BTC … more on this in a moment.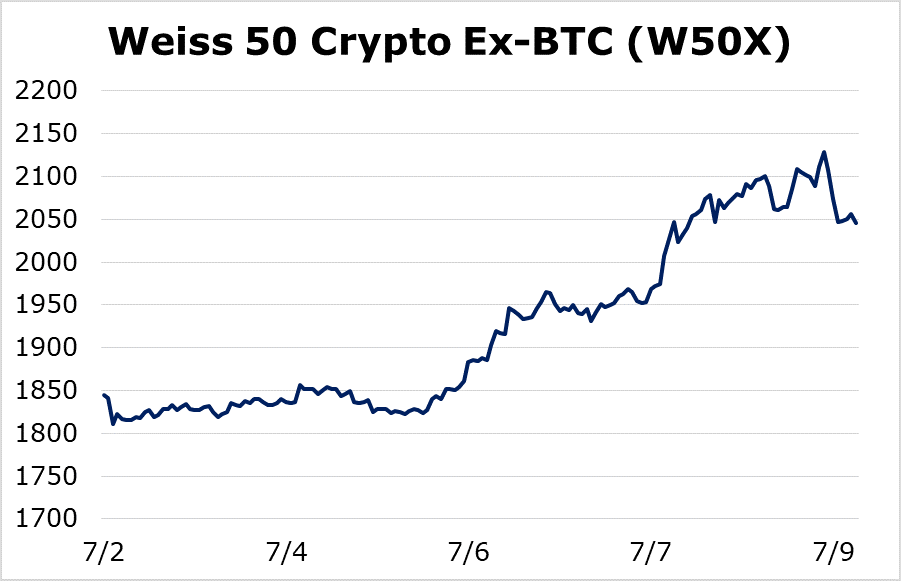 Breaking it down by market capitalization reveals a similar theme. The Weiss Large-Cap Crypto Index (WLC) was up a modest 4.06% for the seven-day stretch ended yesterday.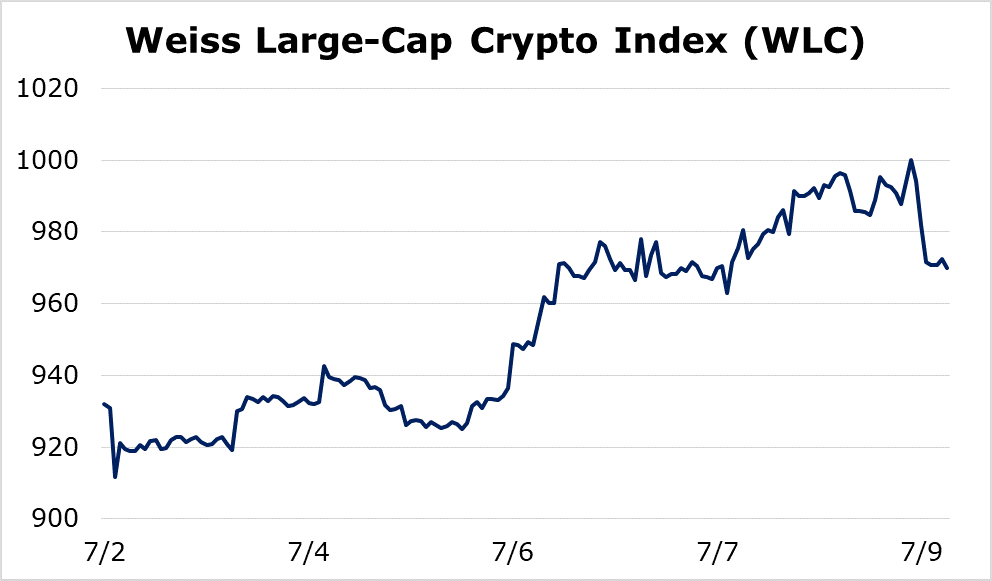 Meanwhile, the Weiss Mid-Cap Crypto Index (WMC) put up the best number of the week, with a 21.44% gain.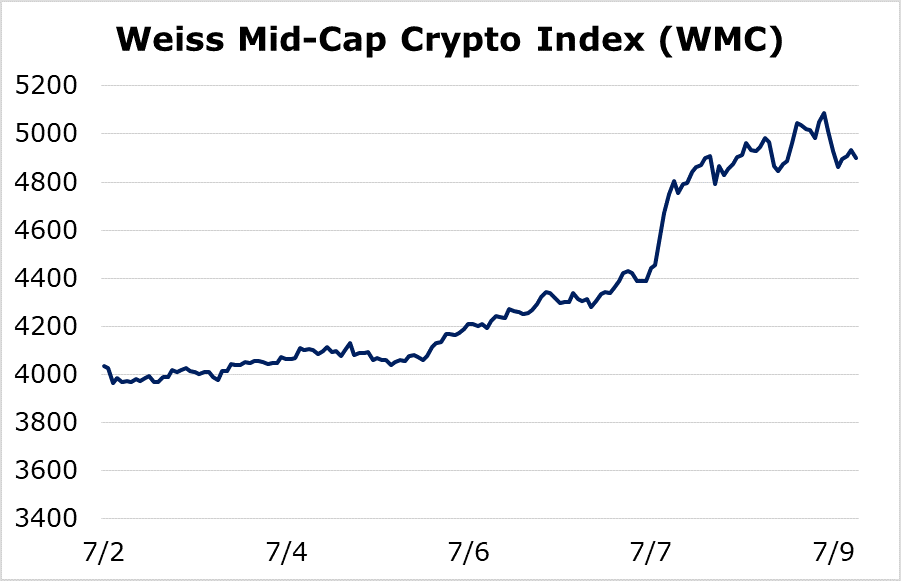 And the Weiss Small-Cap Crypto Index (WSC) also posted a strong number, rising 15.43%.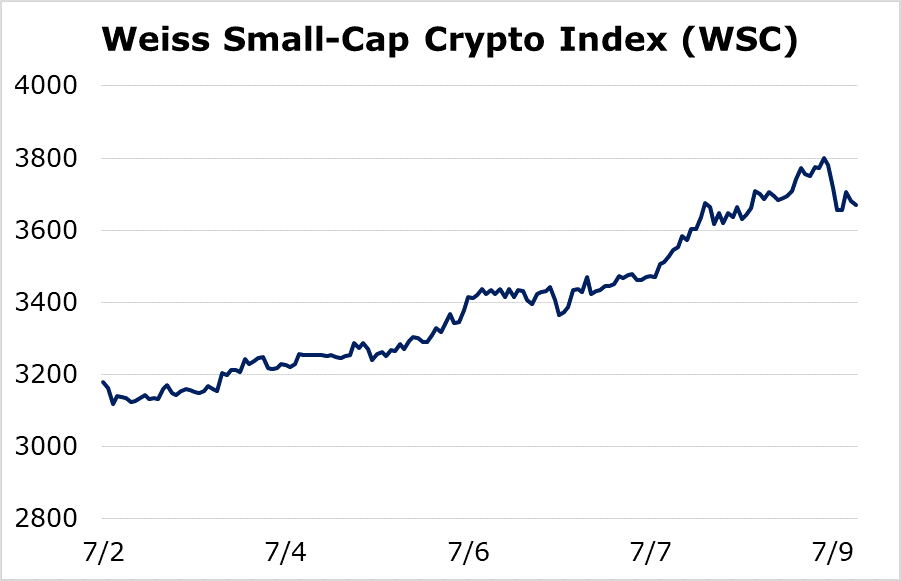 What's odd is that Bitcoin (BTC, Tech/Adoption Grade "A") was clearly a laggard, barely able to move higher during a week when crypto assets generally were quite strong. It's unusual to see such a stark contrast between the Weiss 50 Crypto Index and the Weiss 50 Ex-BTC Crypto Index.
In particular, it looks like Ethereum (ETH, Tech/Adoption Grade "A") led crypto markets over the last seven days, as it stood out as the clear winner on a volume-adjusted basis.
Beyond Ether, we note excitement around DeFi-related projects such as Chainlink (LINK, Weiss Liquidity/Availability Grade "B") and third-generation smart-contract platforms like Cardano (ADA, Tech/Adoption Grade "B+") and Tezos (XTZ, Weiss Tech/Adoption Grade "B-").
Price action for the trading week ended Thursday was certainly encouraging — signs of breadth and depth. But it would've been nice to see Bitcoin attract more attention from investors. Indeed, this is the key missing ingredient, and Bitcoin's absence from this rally so far leaves us cautious about the near future for the crypto market as a whole.
Will Bitcoin join the rally? That's the key question heading into next week.
It remains the most recognizable name in the space. And more and more people who don't consider themselves "crypto diehards" but who are looking for alternatives to traditional safe-haven assets are looking in its direction. That's the general narrative, and it's rooted in reality.
Bearing this in mind, it's only prudent to take any crypto rally that doesn't include Bitcoin with a grain of salt. At the same time, strong undercurrents continue to suggest this asset class is maturing — smaller names are getting stronger.
Putting that into our long-term working theory, the tide will soon be strong enough to lift the biggest boat too.
Best,
Juan
Weiss Ratings is the only financial rating agency that covers cryptocurrencies. Click here for more in-depth information about Weiss Crypto Ratings, including the Weiss Crypto Price Indexes and crypto-asset reviews.