What Happens Next as Bitcoin Recovers From Largest Weekly Drop in History?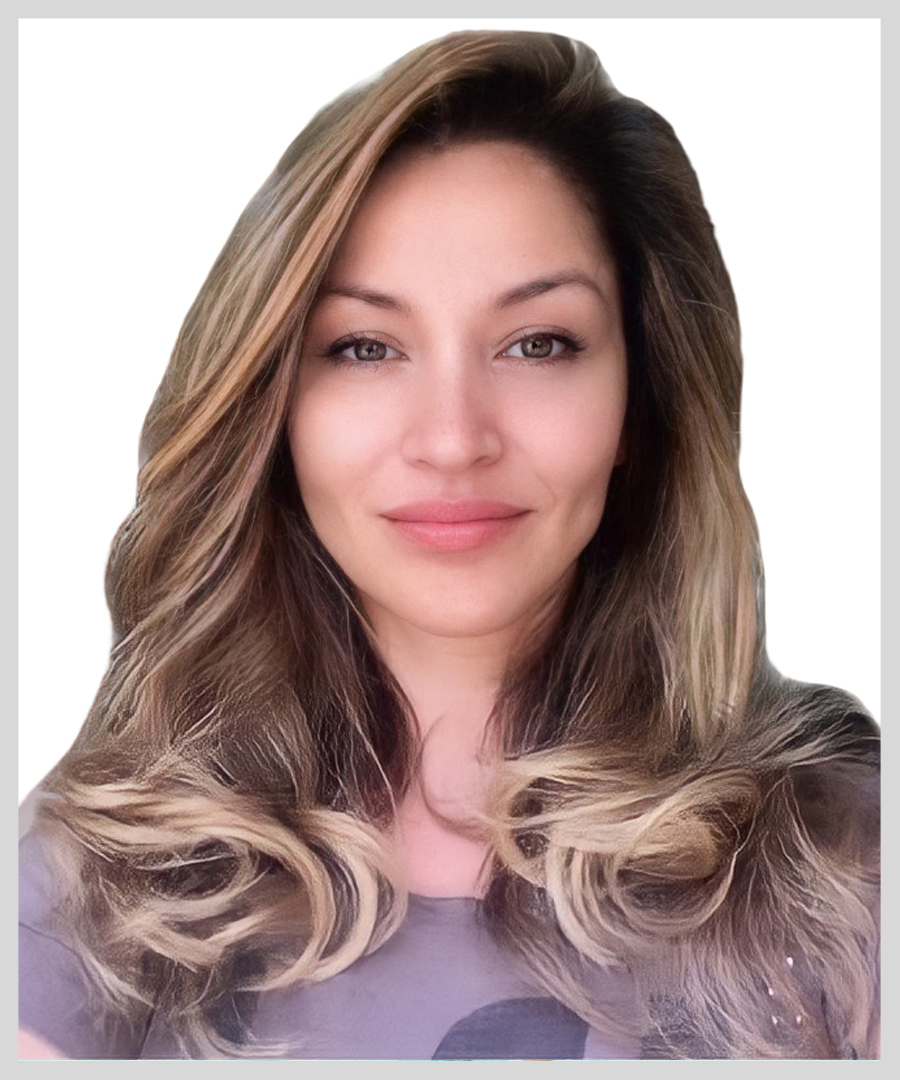 The crypto market took a beating over the weekend after China announced a crackdown on miners and traders in an effort to reduce "financial risks."
The cryptocurrency market reacted dramatically, with Bitcoin (BTC, Tech/Adoption Grade "A-") staying well off its all-time high established just over a month ago and with altcoins losing 9% market dominance to BTC.
If you think this sounds familiar, there's a good reason: China's anti-crypto stance has been repeated in headlines across the globe many times over the years.
While this latest announcement doesn't clarify exactly what the crackdown will look like, Chinese exchanges and miners still reacted quickly.
Huobi exchange has suspended mining and some trading services to new clients from mainland China, according to Reuters. Mining pools show significant BTC outflows which Glassnode, an on-chain data provider, claims may indicate possible sales.
However, the amount of BTC outflows from all miners wasn't as dramatic over the weekend as you may have expected ...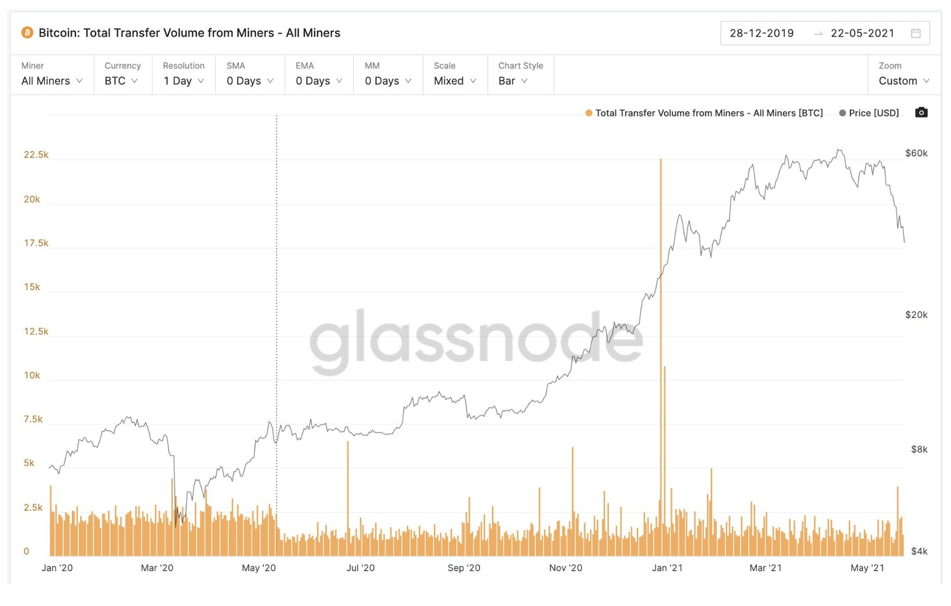 This tells us that miners weren't the ones responsible for the price drop.
As we've been reminding our readers, this correction was expected by our Timing Model. Bitcoin has a clear history of four phases, each averaging about 320 days, as follows:
The first phase is BEARISH. The most recent bearish cycle took place between December 2017 and December 2018.
The second phase is NEUTRAL and, in the most recent case, lasted significantly longer than 320 days, from December 2018 to March 2020.
The third phase is BULLISH. It began with the pandemic panic sell-off of March 2020 and is likely in the process of ending right now.
The fourth and final phase is PARABOLIC. In other words, bullish on steroids. This is where the lion's share of the gains from the entire four-year crypto cycle is made because prices go absolutely nuts to the upside.
Each new 320-day cycle begins when the previous one ends, and usually ends with a significant correction.
Still, how miners will react to possible changes to Chinese crypto policies is something to keep an eye on.
As we moved from the weekend into the new week, Bitcoin's support level of $30,000 has managed to hold thanks to strong buyers around the $31,000 to 32,000 area. As of writing, the King of Crypto is trading near $39,008.40.
This small recovery didn't come without heavy casualties, though: Since May 18, over 100,000 leveraged traders per day saw their positions liquidated.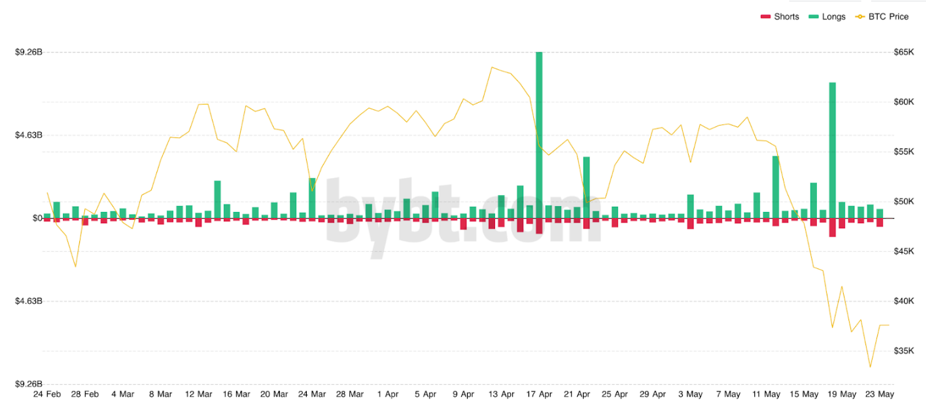 Source: Bybit
A substantial amount of wealth has been lost or redistributed over the last seven days. Overall, this was one of the largest deleveraging events in Bitcoin's history, leading to the lowest open interest, or the number of futures contracts outstanding, across all future markets since February 2021.
This, in turn, led to panic selling among newer retail traders, often called "weak hands" by veteran crypto traders. In fact, the largest spike in Bitcoin sales came from investors who only owned the asset between one and three months.
Bitcoin hit a new all-time high of realized losses on May 19 of $4.35 billion. Over the next several days, that number grew to $14.2 billion in realized losses.
The sale of altcoins was even more dramatic. Most altcoins dropped over 60% since their recent all-time highs. However, some have recovered faster than the others.
The ones leading that recovery are Celsius (CEL) and Polygon (MATIC), both of which have already recovered most of their weekly losses.

In fact, Matic saw the largest demand from all the top 100 cryptocurrencies, based on its 121.7% jump on Monday. Following close in the No. 2 spot is Maker (MKR), which jumped 102.8%.

How about the other altcoins?
Some have a long way to go in order to recover their losses.
Here is a table that shows how much the price needs to grow in order to recover the losses: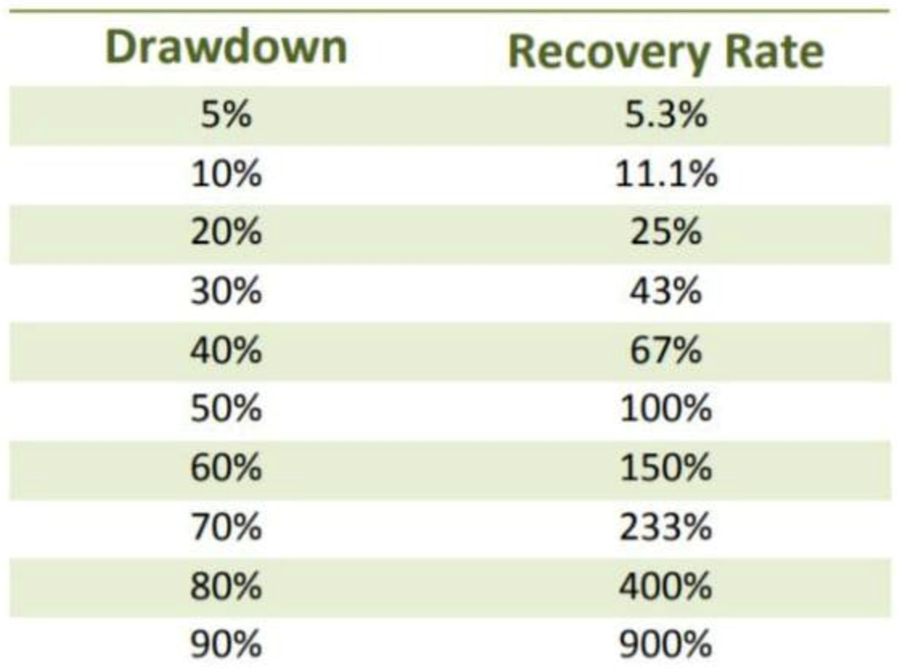 Source: Stack Exchange
If the price of a coin has dropped by 50% from its all-time high, it would need to double from its current price to reach that all-time high again.
While our long-term outlook is still bullish, a lot of altcoins will need to bag big gains just to recover what they lost in Bloody Wednesday's sell-off.
Notable News, Notes and Tweets
• The speed & severity of this crash may give the SEC an easy excuse to deny this year's Bitcoin ETF proposals Jake Chervinsky, a famous crypto lawyer, thinks.

• Pretty wild that Ray Dalio owns bitcoin now," tweets Frank Chaparro, Director of News at The Block. "Dude literally spent the last three years saying on national TV how it doesn't work as a currency."

• European Central Bank Vice President talks about crypto assets.
What's Next
There are owners of underwater coins that could still panic sell. However, the majority of weak hands have been washed out.
Still, it remains to be seen how Chinese miners and traders will react to China's policies in the coming days and weeks. Additional selling from them could spark reactions around the world.
Deleveraging the futures market has led to the increased importance of the spot market that houses real demand and less speculation.
This is usually healthy for the overall crypto market, and has our team particularly bullish in the long-term considering where we are according to the cycles theory and our Timing Model.
Stay tuned for more as this crypto correction develops.
Best,
Marija Matic