Louisiana, Mississippi, and Texas Have the Fewest Strong Insurers with Hurricane Season Right Around the Corner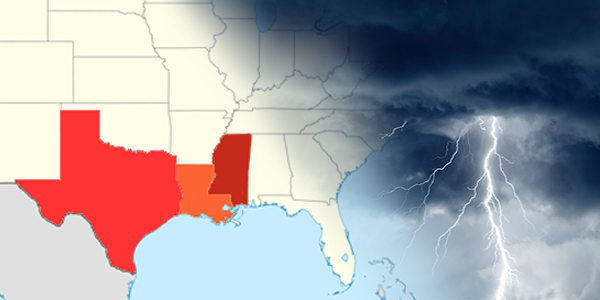 June 1st marks beginning of the Atlantic hurricane season. It lasts six months through November 30, so this is the time of year for residents of vulnerable states to prepare.
That includes things like developing an evacuation plan, getting disaster supplies, strengthening your home, and trimming any trees in the yard. But most importantly, it's also time to check up on the financial health of your homeowner's insurance company. Unfortunately, many states that are the most vulnerable to hurricane strikes also have the fewest top-rated insurers, according to our proprietary Weiss Ratings data.
According to the National Hurricane Center, Florida, Texas, and Louisiana have historically suffered from hurricanes the most. Yet they are on the lower end of the spectrum when it comes to having recommended insurers (those rated "B+" or higher), as you can see in the graphic below.
Louisiana, the third-most active hurricane state, comes in last with only four insurers meriting a Weiss safety rating of "B+" or higher. Mississippi and Texas share the second-worst spot, with six recommended insurers in each state. And Florida, the state with the most direct hurricane hits, comes in as the fourth-worst state with seven recommended insurers.
Although towards the bottom of the list, Florida is also the only state in the country with an "A+" rated homeowner's insurer. It's Citizens Property Insurance Corporation, a state-backed company created to take over claim payments after a number of insurance company failures in the aftermath of the early 2000s storms.
Meanwhile, Georgia and Alabama have the highest number of recommended insurers offering policies in those states — 13 and 11, respectively. Alabama is sixth on the most-active hurricane list and Georgia is seventh, suggesting that lower levels of hurricane activity can allow for better financial preparedness and faster recovery.
Why aren't there many highly rated homeowner's insurers around in states prone to hurricane damage? In some cases, this is because large, well-established companies are reluctant to move into the market due to a potentially catastrophic risk exposure.
Newly organized companies can grow the business quite rapidly in the matter of a few years, and especially during the time periods without major storms. But as Florida found out, these small start-up companies, if undercapitalized, can be wiped out even if there are no hurricanes.
This is bad for the consumer when a major storm or series of storms hit. It can be disastrous for families that suddenly find out that their company is unable to pay on time, or at all, and they have to rely on state guaranty funds to cover the losses.
Here at Weiss Ratings, we look at these risks. In order to receive a recommended safety rating from Weiss, an insurer must demonstrate stability in claims-paying ability, capital levels, growth, and a number of other areas.
Keep in mind: Hurricanes can also be extremely unpredictable and change direction without notice. Even states like New York and New Jersey aren't safe from the threat. Hurricane Sandy in 2012 wreaked havoc there, causing billions of dollars in damage.
So regardless of where you live, be sure to learn more about your homeowner's insurance company. Find your policy terms and read them to know what's covered and what's not. In addition, look up its safety rating on our website to see what we think about the company. It could help you decide whether to stay with your insurer or begin looking for another one – before a storm is bearing down on you!
Think Safety,
Gavin Magor
Insurance Insights Edition, By Gavin Magor, Senior Financial Analyst
Gavin has more than 30 years of international experience in credit-risk management, commercial lending and insurance, banking and stock analysis and holds an MBA. Gavin oversees the Weiss ratings process, developing the methodology for Weiss' Sovereign Debt and Global Bank Ratings. Gavin has appeared on both radio and television, including ABC and NBC as an expert in insurance, bank and stock ratings and has been quoted by CNBC, The New York Times, Los Angeles Times, and Reuters as well as several regional newspapers and trade media.