The New Weiss Ratings Stock Screener
When I recently headed over to weissratings.com, I was greeted by our new and improved website. It looks great and only takes a few moments to get used to: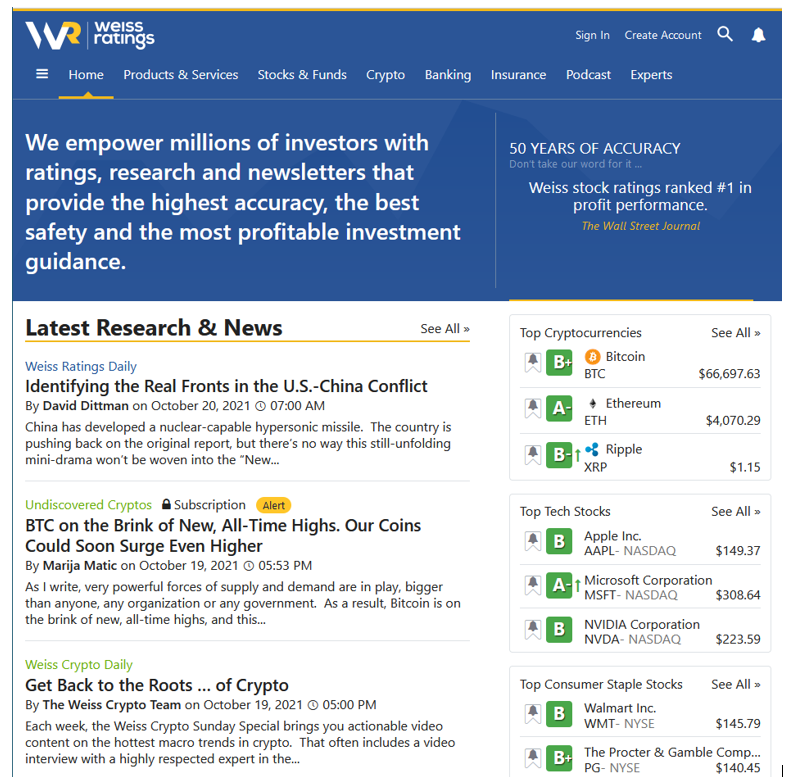 All of our latest research is front and center, and you'll see some quick ratings picks on the right. I've found that the easiest way to get to the screener is to pick one of the ratings categories and click "See All."
The screener then opens that entire configuration, enabling you to see more or add your own filters. Or, you can clear them all and start over.
Today, I shook it up a little by looking at a combination of criteria.
I was looking for companies that have the potential to keep soaring.
Here's what I settled on:
• Recent ratings upgrade.

• "A" "B" or "B-" rating.

• Positive 7-day total return.

• Hit a 52-week high in that past week.

• Traded on the U.S. exchange.
These criteria pointed to three companies. So, let's take a look:
1. First Industrial Realty Trust (FR - B)

FR is the leading owner, operator and developer of logistics real estate. The company has been around since 1994 and has clients ranging from small commercial firms to Fortune 500 companies. And it operates like a real estate investment trust (REIT).

Over the past seven years, FR has been in the buy range all but 15 days. Earlier this week, the company was upgraded to a solid "B," and it hit a new 52-week high. Take a look at the daily chart:

Shares have been on a run since the bottom last March and saw a bit of a plateau over the past few months. But by looking for companies that have hit a 52-week high in the past week, we can see that lull has broken.

Shares are up 41% so far year to date and 102% over the past three years. Plus, the company pays a dividend of 1.8%.

2. Perficient (PRFT - B)

PRFT provides digital consultancy services and solutions to companies worldwide. It has approximately 300 Fortune 1000 client relationships and a 90% repeat business rate.

Over the past few years, the company has bounced in and out of the "buy" and "hold" range … but it looks like it's climbing the ratings again. And the share price reflects that sentiment.

Shares are up 185% year to date and 200% over the past year.

3. Triumph Bancorp (TBK - B)

TBK is a values-driven financial service company. Its portfolio of five brands has one purpose: to help people triumph. The company was founded in 1981 and now has over 60 branches.

This is another company that has bounced back and forth between "buy" and "hold" ratings. It's now back up to a solid "B."

TBK looks poised for profit. It's climbing the ratings and just hit a new 52-week high. Shares are up 125% year to date and 151% over the past year.
This is just another example of the endless possibilities of the Weiss Ratings stock screener. You can mix and match almost any criteria you can think of.
I'd love to hear if you've invested in anything I've mentioned here, or if you have used the stock screener to find some investments on your own!
Best,
Kelly Green