A Great Opportunity to Buy Gold
Gold has spent the past month compressing, coiling up and building up energy for a potentially explosive move. Is that move going to be up or down? I'm thinking up. And I strongly believe we are entering the time for you to buy gold and miners at a discount.
What discount am I talking about? I mean the discount to prices the yellow metal and miners will be trading at in the future.
Let me show you a short-term chart for gold. For me, daily charts are short-term charts. I don't bother with that five-minute, 10-minute horse-hockey. The brutal lessons of long experience taught me the hard way that daily charts are the shortest possible time frame for successful trades.
So, here is a daily chart of gold, through Thursday's close: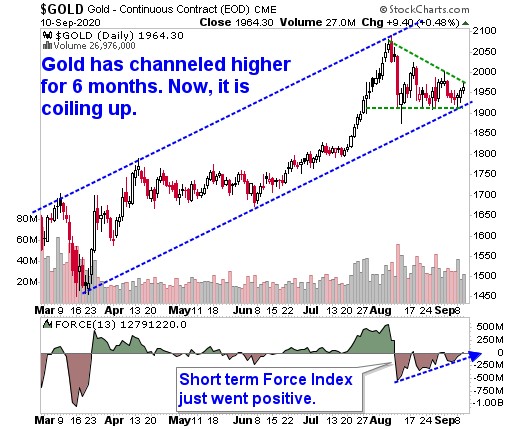 You can see that gold has been trending higher since March. It is still in that uptrend. More recently — beginning in August — gold began coiling up. At the same time, the Force Index, my favorite momentum indicator, just shifted to positive in the short-term. In the intermediate (weekly) and long-term (monthly), the Force Index has remained positive all this time.
There are no guarantees. But that coiling up is often what you see before a big move higher. I believe gold will move AT LEAST to the top of its channel. Longer-term, I believe gold will zig-zag higher than that. Over the next few years, I expect we'll see $5,000 gold. At least!
Silver, meanwhile, should rise to $125. That's a much bigger move than gold, percentagewise. And that's why we're buying so many silver miners in my Gold & Silver Trader publication.
Hey, you know who else is buying silver miners? Eric Sprott, the famed Canadian mega-investor. In fact, yesterday, First Majestic Silver Corp. (NYSE: AG, Rated D) announced a bought deal wherein Eric Sprott will buy 5 million shares of the silver producer. The deal is valued at $78 million Canadian. Or roughly $59 million in U.S. dollars.
Guess who has two thumbs and recommended First Majestic to his subscribers before the Canadian billionaire bought it?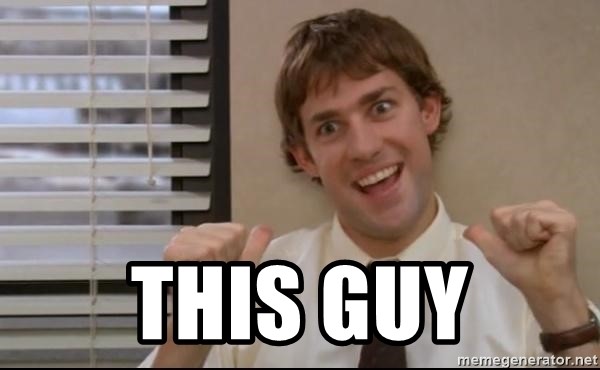 This guy right here! And I mean me, not actor John Krasinski. I'm a big fan of "Jack Ryan" and "The Office", by the way.
Anyway, before I get too sidetracked, Eric Sprott obviously thinks we're on the right track, considering we bought First Majestic ahead of him.
And yet, Mr. Sprott is buying precious metals miners when gold and silver have spent the past six weeks going lower. Does he have high-grade rocks in his head? Heck, no. He can just see the big picture.
And let me show you the big picture in a weekly chart of gold …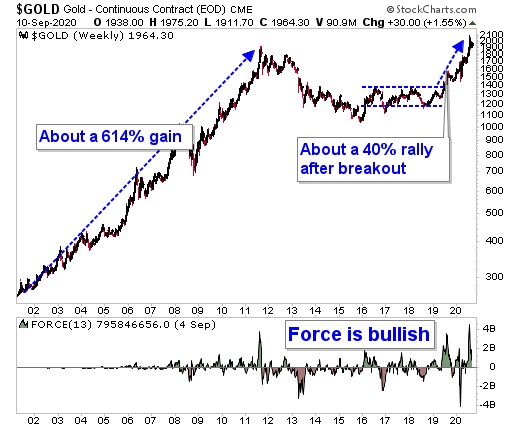 In gold's last big bull market, it rallied about 614% after breaking out. This time around, it's only rallied about 40%. History doesn't always repeat, but it often rhymes.
And THAT's why we've been buying gold and silver miners and will continue to buy more. Because this discount won't last for too much longer.
Now, what if gold is faking us out? It could happen, in the short-term anyway. The market loves to make the most amount of people miserable. But all the long-term forces I've been pounding the table are in play: A worsening supply/demand squeeze, high-speed government money printing, insane levels of government and private debt, economic worries, the war cycle and more.
All these fundamentals point the way higher for gold and silver. And we'll ride that megatrend for all it's worth.
I've told you about many ways to ride the coming surge in gold and silver prices. You can start with the VanEck Vectors Gold Miners ETF (NYSE: GDX, Rated B-). You can go back and read my previous articles to find other ideas.
But this discount will end. When it does, you won't be wondering whether you should have bought gold miners. You might be sad because you didn't buy more.
All the best,
Sean