3 EV Speedbumps & 3 Potential Profits
Right now, some small, up-and-coming cryptos stand to offer Bitcoin-sized profit potential. Dr. Martin Weiss is planning to tell you all about them in a live Q&A session this coming Tuesday, Oct. 5 at 2 p.m. Sign up for that FREE event here.
And speaking of profit potential …
The electric vehicle (EV) revolution is coming fast. Every month, EV sales break records. President Biden recently issued an executive order calling for half of new cars sold to be EVs or plug-in hybrids by 2030.
But there are a few speedbumps along the way. But those problems can be solved, and the companies that solve them could prove very profitable for investors.
Let me tell you about three of these speedbumps.
1. The Chips Are Down
Modern cars are requiring more and more computer chips. EVs even more so. So it's a bit of a dilemma given that the world is facing a shortage of chips. The kind that are used in cars could be in scarcity well into 2022 … or beyond!
The chip shortage is already delaying production of some popular EVs. Tesla (Nasdaq: TSLA) has postponed the debut of their commercial trucking EV, Tesla Semi, until 2022. Ford (NYSE: F) told customers who've placed orders for Mach-E Mustangs that "the global semiconductor chip shortages are affecting our ability to keep up with demand." The real worry for Ford must be its F-150 Lightning, the electric version of its best-selling pickup.
Profit potential: Taiwan Semiconductor Manufacturing (NYSE: TSM) supplies more chips than anyone else to the automotive industry. NXP Semiconductors (Nasdaq: NXPI) makes a lot of the "smart" chips for cars. Or you could buy an exchange-traded fund (ETF) like the iShares Semiconductor ETF (Nasdaq: SOXX) that holds all sorts of chip manufacturers.
2. Lengthy Charging Times
EVs are fine for tootling around town when you can plug them in at home at night. But traveling can be a real pain because recharging takes so danged long. Here's why …
There are three major "levels" of chargers for EVs.
1. The standard 120-volt plug charges slowly but can fill a battery to near full capacity over a couple nights … about 20-40 hours.

2. The second level is the 240-volt charger, which generally provides 20-25 miles of charge per hour. So you can charge many EVs in eight hours or less. A 240-volt charger can plug into the same kind of outlet you use for your washer and dryer.

3. The third level is the direct current (DC) charger, or "fast charging" units. These can charge EV batteries up to 80% in just 30 minutes.
The U.S. Department of Energy lists 5,437 public charging stations in the U.S., with more than 19,934 connectors between them. Oh, and here's where I should mention that Tesla fast-chargers don't work with other EVs … because of course they wouldn't.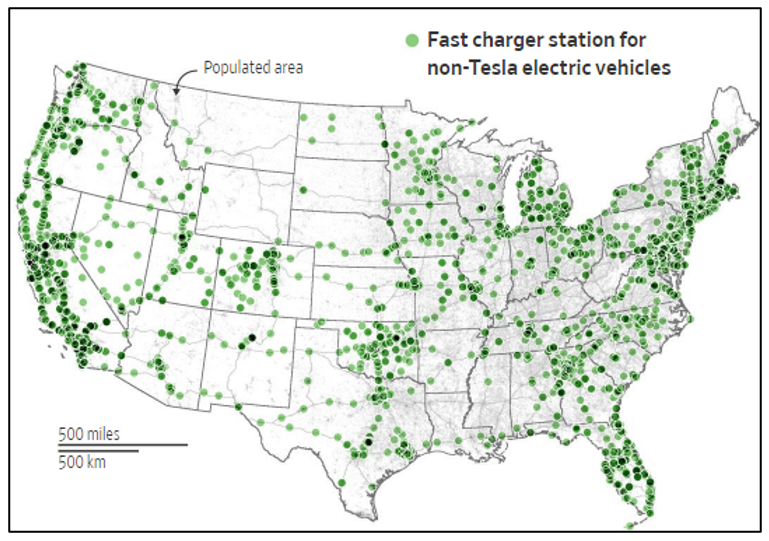 Source: US Department of Energy/Wall Street Journal
Level two chargers are the most widely available at public stations. But so far, only 16% of public stations are level 3 DC fast-charging units.
Profit potential: A bunch of companies are working on building out charging networks, including fast-charging units. Publicly-traded companies include Blink Charging (Nasdaq: BLNK), Chargepoint Holdings (CHPT), EVgo (Nasdaq: EVGO) and Tesla itself. Volkswagen (OTCQX: VWAGY) has its own charging network, Electrify America.
The three pure-charging stocks I mentioned above are all hitting the snooze button for now. They're probably waiting to see if the $7.5 billion for charging station buildouts included in President Biden's infrastructure plan actually passes Congress.
And that brings us to our next speedbump …
3. Lack of Public Charging Stations
Most EV owners charge their cars overnight at home. But what if you live in an apartment? Or are traveling? Then it becomes a royal pain in the patoot.
•  Yes, there are more than 5,400 existing public charging stations. But a recent study indicated that 10,000 MORE charging stations will be required to support EVs traveling on inter-city corridors by 2025, based on trends of increasing EV ownership.
And that's the bare minimum.
The good news is the Biden administration has proposed building a network of 500,000 chargers in the next five years.
All the companies I mentioned above would benefit from such a buildout. And to that list, let me add ABB (NYSE: ABB). This industrial company is headquartered in Switzerland, but it's installing charging stations across America for everything from cars to industrial fleets to buses. It pays a nice dividend, too.
Profit potential: If you don't want the risk of an individual stock, you may decide to buy a fund. That's a good idea, if you buy the right fund (some funds can be dead ends).
For example, the SmartETFs Smart Transportation & Technology ETF (NYSE: MOTO) may seem like a good fund to ride this trend. It specifically invests in EV transportation companies, smart grids and charging tech. But MOTO only averages 1,200 shares per day in volume. You might buy it … then not be able to sell it.
Similarly, the SPDR S&P Kensho Smart Mobility ETF (NYSE: HAIL) holds Blink Charging and other EV charging stocks. But it only trades 32,500 shares a day. That's okay, but still kind of light.
You might be better off going with the SmartETFs Smart Transportation & Technology ETF (Nasdaq: BATT). Along with holding up better than the other two funds in September's market shellacking, BATT holds both Blink Charging Co. and Chargepoint Holdings. AND it averages volume of more than 131,000 shares per day.
Here's a performance chart for all three of those ETFs for the last six months:
As you can see, BATT is up more than 11% in the past six months. Meanwhile, MOTO is spinning its wheels and HAIL has actually lost more than 10%.
It's a tricky market.
If you're doing this on your own, do plenty of research before you buy anything … but don't pass up this opportunity. Profits for select EV-leveraged companies are about to shift into high gear.
And the companies that can solve these speedbumps should be richly rewarded.
All the best,
Sean
P.S. I'll have more insights on the EV revolution and the energy metals that are accelerating at the New Orleans Investment Conference, which runs Oct. 19 through 22. This is a fantastic conference in a wonderful city with plenty of great speakers, including Rick Rule, Ron Paul, James Grant, Grant Williams and many more. You can check out the details HERE.
What's more, the conference organizers have pledged to donate $100 from each new primary registration to the New Orleans Second Harvest Food Bank. It's a win-win. So, I hope to see you in New Orleans.