3 Reasons to Buy the Lightest Metal Right Now
Omicron, the latest COVID-19 variant, shook markets the past two weeks, but it knocked some great investments down to attractive levels … and I've got one very attractive 'light' idea to share with you today.
I'm talking about lithium and lithium-leveraged stocks.
Lithium is the lightest metal — so light that it floats in water — and it's one of the three original elements created in the Big Bang, so there's a lot of it around.
Despite that, it's rare for lithium to clump up in deposits that are economical to mine. And lithium is absolutely crucial for electric vehicle (EV) batteries. That's setting up an opportunity for investors.
Here are three reasons why …
1. Prices Are Surging
Lithium prices in China have increased fivefold in the past year and now are at record highs.
Prices are being bid up-up-and-away because EV battery manufacturers are desperate to lock in supply to feed a booming market.
There are different types of lithium: (1) Lithium brine produces (2) lithium carbonate, which is then converted into (3) lithium hydroxide.
And different markets have different prices.
Benchmark Mineral Intelligence (BMI) combines them into the Lithium Price Index, which gives you a good view of the trend.

Bottom line? Prices are being squeezed higher by limited supply and ravenous demand from battery makers.
Here's the thing …
2. The Supply Squeeze Will Get Worse
Here's a chart from BMI that shows the problem: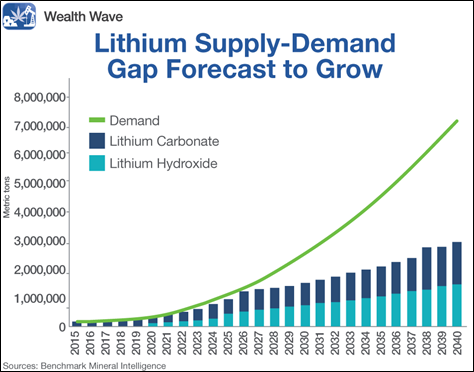 BMI forecasts a global supply gap of 4.3 million tons of lithium carbonate and lithium hydroxide by 2040.
In fact, BMI says lithium demand is growing at THREE TIMES the rate of supply growth.
What's more, BMI forecasts that demand will outstrip metal production for at least the next five years.
It's not just BMI, and it's not just the next five years.
Albemarle (NYSE: ALB) is the world's largest lithium miner. And according to the company …
Global demand for lithium carbonate equivalent (LCE) is projected to grow more than eightfold from just about 0.3 million metric tons in 2020 to 2.5 million metric tons by 2030.
LCE is the standard unit of measurement in the lithium industry. This demand will be driven almost entirely by growth in the market for EV battery-grade lithium.
3. Companies Are Snatching Each Other Up
Millennial Lithium in Canada was snatched up by Lithium Americas (NYSE: LAC), after a bidding war.
Australian lithium miners Orocobre (OTC Pink: OROCF) and Galaxy Resources merged in a friendly deal to make a new mining giant, the world's fifth-largest lithium producer.
Chinese companies are racing through South America making deals, with the latest being Zijin Mining's acquisition of Neo Lithium. In September, two other Chinese companies made deals to buy two Canadian lithium mining companies operating in Argentina's Salta province.
Mergers and acquisitions are red-hot in the lithium space. And that tells you something:
These companies consider their competition to be bargains, even when they pay premium prices.
Put it all together and it's a good time to buy select lithium stocks.
You can buy individual stocks, as I've been recommending to subscribers of my premium services.
If you want broad market exposure you could buy the Global X Lithium & Battery Tech ETF (NYSE: LIT), which owns a basket of leading lithium stocks, and has an expense ratio of 0.75%.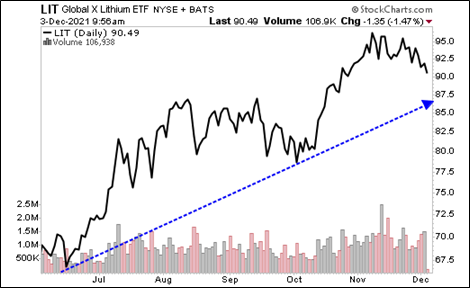 You can see that LIT has a pattern of consolidating, then making explosive moves higher. It's consolidating right now, helped along by the panic over the Omicron variant.
I don't expect this latest pullback to last too much longer. The next move in LIT could be a blastoff … and that goes double for select individual lithium stocks.
This lightest of metal is ready to float higher. Don't be left behind.
Best wishes,
Sean