Brace for Fed-Driven Volatility
The Federal Reserve just hiked interest rates another 75 basis points, marking the fourth consecutive increase of the same magnitude, and bringing the benchmark interest rate to its highest level since 2008.
That's good for a 14-year high.

Effective federal funds rate.
Click here
to see full-sized image.
The move was expected. Significantly, the Fed changed the language of its statement, saying:
"In determining the pace of future increases in the target range, the Committee will take into account the cumulative tightening of monetary policy, the lags with which monetary policy affects economic activity and inflation, and economic and financial development."
The market is seeing this as signaling more increases … but possibly in smaller increments. Stocks swung back and forth after the news, but the market turned lower after Fed chair Jay Powell said in his press conference that it is "very premature to think about pausing interest rates."
For now, Fed Fund futures point to a near 50/50 chance of a step down to a 50-basis-point hike in December. Central bankers will watch the data, but investors' optimism — which has been on the rise recently — could prove to be misplaced if it doesn't change quickly.
As political leaders and organizations call for halting rate hikes, the biggest obstacle remains taming inflation.
September's Consumer Price Index report showed 8.2% inflation, while core CPI, which excludes food and energy, made its biggest jump in four decades at 6.6%. That doesn't look like the meaningful progress the Fed needs to pivot.
Inflation continues wreaking havoc on household budgets. As the Fed's top current priority, slow progress could throw a wrench in the market's hopes.
Just look at the U.S. personal savings rate, which sits near its historical low: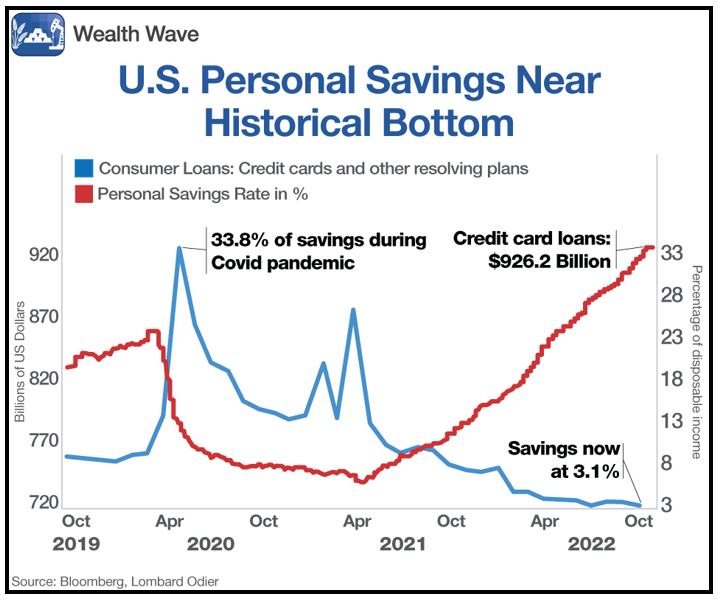 U.S. personal savings.
Click here
to see full-sized image.
As savings dwindle, credit card balances soar because tougher times lead households to spend first and worry about paying later.
In both August and September, the U.S. personal spending increases of 0.6% was 50% faster than the 0.4% rates of income growth.
Now add in a tight labor market with full employment. The U.S. unemployment rate of 3.5% sits well below the Fed's historical 5% target. That gives the Fed plenty more room to hike rates.
Until we see a significant disruption in the labor market, the Fed has less reason to slow down its aggressive economic tightening.
Regardless, the market will have plenty of data to digest over the next seven days.
On Friday, the U.S. Bureau of Labor Statistics will release its monthly jobs report, while October's consumer price inflation report will come on Nov. 10.
With all eyes on the Fed's interest rate decisions moving forward, these two economic reports will be critical.
Add in the Bank of England's upcoming interest rate decision tomorrow and the U.S. midterm elections on Nov. 8, and greater volatility is likely on the horizon.
How to Play the Trend
As interest rates move higher, value-oriented companies generally hold their ground better because they generate stable cash flows. Higher interest rates mean higher discount rates for future cash flows, hurting valuations for stocks that aren't generating them yet.
Value stocks often pay dividends, which cushion downside and help historically outperform companies that don't.
One fund to help weather the macroeconomic uncertainty is the SPDR Portfolio S&P 500 Value ETF (SPYV). It offers exposure to undervalued companies within the S&P 500 and mirrors the price action of the S&P 500 Value Index. SPYV holds stocks with attractive price/book, price/earnings and price/sales ratios.
SPYV's dividend recently yielded 2.32%, or 58 times greater than its expense ratio of 0.04%. It manages over $11.5 billion in net assets and trades with a liquid average daily volume of 2.8 million shares.
The fund's top three holdings are Berkshire Hathaway Class B (BRKB), Exxon Mobil (XOM) and Johnson & Johnson (JNJ).
SPYV's chart shows that it's swiftly rebounded since late-September.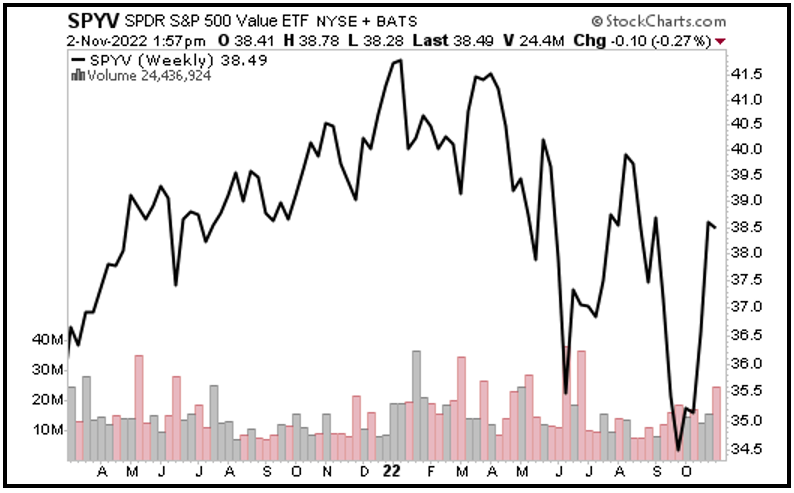 One-year chart of the SPYV.
Click here
to see full-sized image.
The fund could face overhead resistance, but it should trade more resiliently than the broader market as the Fed continues raising rates.
If you'd like my tailored value stock picks, members of my trading service, Wealth Megatrends, are currently sitting on multiple double-digit gains while being paid generous dividends in almost all of their portfolio positions.
No matter what you decide, always conduct your own due diligence before buying anything. But it could help to position your portfolio in companies with undervalued fundamentals.
All the best,
Sean