Can Cannabis Boost Your Sex Life?
This past week saw most marijuana stocks go on a rollercoaster — way up, then a jaw-dropping fall down on Thursday.
AdvisorShares Pure Cannabis ETF (NYSE: YOLO), a fund I recommend a lot, fell 12%. Ouch! Does that sound bad? A larger marijuana-focused fund, ETFMG Alternative Harvest ETF (NYSE: MJ), which holds more Canadian cannabis stocks, swooned by 24%.
Holy burnt Canadian bacon!
So, while U.S. cannabis stocks took a hit, north of the border, it was a real beatdown. Still, even with this big one-day correction, both funds are way up since the start of the year.
You can see that despite the tumble on Thursday, YOLO is up 63.29% so far this year, while MJ is up 82.51%. That leaves the S&P 500 — up 4.69% — in the dust.
What are we to make of this market? Also, what does this have to do with boosting your sex life, which I teased in the headline? Hold your danged horses! I'll get there.
It's a truism of Wall Street that bull markets are often interrupted by short, savage corrections. Time will tell if that's what Thursday was. In Marijuana Millionaire Portfolio, we took the fall as an excuse to take gains by the bale-load. We still have plenty of positions on the table, to enjoy a continued bull market. But a gain isn't a gain until you bank it.
In fact, if you haven't bought yet, or are underweight cannabis, this might be the buying opportunity you're looking for.
Anyway, on to how cannabis can boost your sex life. That's just one of the cannabis stories I wanted to share with you today in my latest Weed Wire. Since this is Valentine's Day weekend, sex seems a good place to start.
 Weed Wire 1: Yes, Cannabis Can Improve Your Sex Life
Leafly has a good roundup of five studies on cannabis and sex. All of them showed that cannabis can enhance couples' sex lives. From helping women have better orgasms, to frequency of sex, to increasing women's desire, to less back pain.
What does back pain have to do with sex? Ask an old person! And this may (partly) explain the explosive growth of marijuana use among seniors in Florida.
Happy Valentine's Day indeed!
With that, let's take a look at some of recent news on the industry …
Weed Wire 2: Legalization Is Coming
Senate Majority Leader Chuck Schumer is aggressively pursuing the legalization of marijuana federally.
Full legalization could be difficult because it will require approval of 60 senators, if someone decides to pull a filibuster. And that's likely in our highly polarized political environment. Republican lawmakers have historically voted against legalization. On the bright side, with more and more states legalizing cannabis on their own, these lawmakers now find themselves representing states that are pro-marijuana.
And the real silver lining is that cannabis banking approval has bipartisan support. This is huge. Right now, federally insured banks can't do business with marijuana companies because the weed is illegal on the federal level. Rescheduling would be huge for the industry because banks would no longer fear governmental repercussions.
Indeed, marijuana legalization is the most popular of the Biden administration policy proposals. At 61% approval, it's more popular with voters than rejoining the Paris Climate Agreement (57%) or a $15 minimum wage (54%).
Meanwhile, more and more states aren't waiting on federal legalization.
Weed Wire 3: Pennsylvania's Pot Plans
Pennsylvania is one of the big states that hasn't legalized recreational marijuana yet. That may change in the next session, as Gov. Tom Wolf now says cannabis legalization is a priority and that he's going to include that in budget negotiations.
Indeed, cannabis might be a heck of a bargaining tool. Colorado reports that state tax and fee revenue from marijuana sales hit $34 million in January. Since January 2014, Colorado has collected more than $1.6 billion in tax revenue.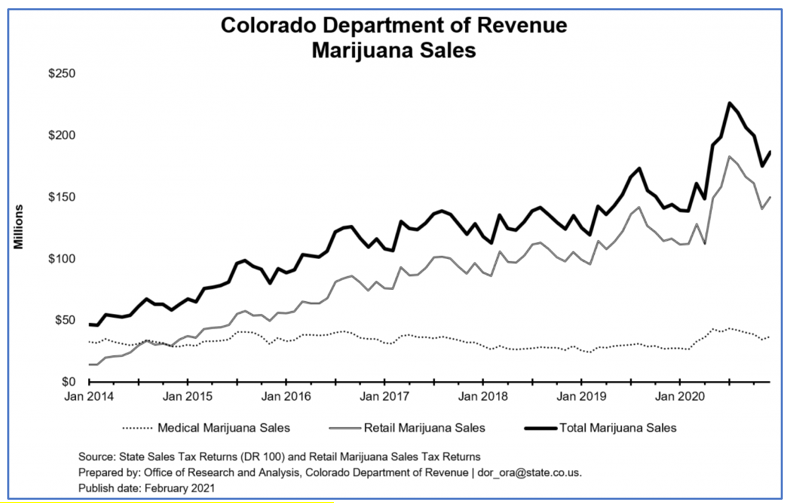 ­
An online Harris Poll sponsored by Curaleaf Holdings, Inc. (OTCQX: CURLF) found that 45% of cannabis consumers age 21 and up have replaced or reduced their alcohol consumption with marijuana since the beginning of the coronavirus pandemic.
What's more, one-third of those who use cannabis recreationally prefer cannabis to drinking alcohol.
Half of the respondents (50%) said they increased their use because cannabis helped them relax, and 48% said they did so to help them sleep.
No wonder beverage companies, like the ones below, are investing in cannabis:
•  Constellation Brands, Inc. (NYSE: STZ), which makes Corona and Modelo beers, acquired a 6% stake in Canada's largest cannabis producer Canopy Growth Corp. (NYSE: CGC). Their aim is to collaborate on and market cannabis-based beverages.

•  Heineken NV (OTCQX: HEINY) has launched "Hi-Fi Hops," which is available at select California cannabis dispensaries.

•  Molson Coors Brewing Company (NYSE: TAP) partnered with Canadian cannabis company Hexo Corp. (NYSE: HEXO) to found a joint venture, Truss Beverage, which is launching a line of cannabis-infused beverages across Canada.
So, if you were looking for a back-door entry into cannabis, those beverage companies may be the way to go. If cannabis is legalized on a federal level soon, you know every Tom, Dick and Cheech & Chong will be rolling out cannabis beverages. The companies I just mentioned have a leg up on the competition.
Just some news tidbits to get you thinking. And have a happy Valentine's Day.
All the best,
Sean